Howard Hanna Launches 2018 Luxury Magazine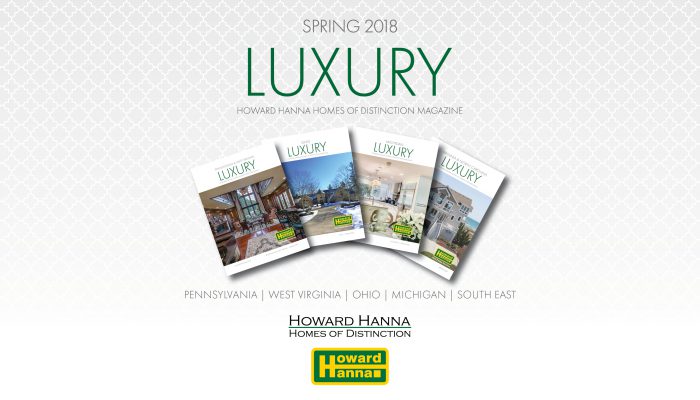 Pittsburgh, PA (May 11th, 2018) – Howard Hanna Real Estate Services has been serving the luxury home market for over six decades as a preferred high-end broker. This month, the company is celebrating its legacy with the newest edition of the carefully crafted Homes of Distinction Magazine.
The beautiful Spring 2018 magazine delivers curated content and luxury homes available for sale throughout our market areas. Within its pages is a collection of impressive homes priced at $750,000 and above that define sophistication. Each property is backed by the unmatched power of Howard Hanna, a family-owned company that appreciates refinement.
"The exclusive Howard Hanna Homes of Distinction program sets our company and our agents apart. This program allows us to reach luxury markets worldwide and provides our agents extensive opportunities as Homes of Distinction Specialists to market like no one else," said Kristine Burdick, Howard Hanna Midwest Regional President. "Howard Hanna is known as the only company to use in the Midwest when a homeowner requires exclusive luxury marketing and attention to detail."
"The culture of Howard Hanna is one that considers the specific needs of our high-end clientele," said Tom Ceponis, Pennsylvania Regional President. "We tailor our marketing, including the Homes of Distinction magazine, to a global luxury audience. This beautiful magazine is just another way to draw attention to the finest properties we offer."
"Our Homes of Distinction program and the curated magazine give us the power to be effective and successful with luxury buyers and sellers," said Gail Coleman, Southeast Regional President. "With our market share across the states we serve, we continue to be able to separate ourselves from other brokers and are the consumer's choice when it comes to marketing luxury properties."
HowardHanna.com is also a hub for luxury that maximizes the Homes of Distinction audience with over 30,000 high-end home searches yearly. In addition to the online presence, the print edition of the magazine will reach an audience of over 95,000 readers.
The Homes of Distinction program has one of the largest global networks, with an international reach of 650 affiliates in 60 countries. Through our affiliation with Luxury Portfolio, we offer a tailored strategy for promoting high-end properties, including inclusion on their award-winning website.
Howard Hanna is the market leader in high-end home sales and among the top real estate companies in the nation. Each and every day, more upscale homes are being listed and sold with Howard Hanna.
Visit the new Homes of Distinction Magazine to learn why: ebrochure.howardhanna.com
Howard Hanna Real Estate Services is the 3rd largest real estate company in America, the #1 privately owned broker in the nation, and the largest home seller in Pennsylvania, Ohio and New York. The family-owned and operated real estate company specializes in residential and commercial brokerage service, mortgages, closing and title insurance, land development, appraisal services, insurance services, corporate relocation and property management. With 262 offices across PA, OH, NY, VA, MI, WV, NC and MD, our more than 9,200 sales associates and staff are guided by a spirit of integrity in all aspects of the real estate process.
For more information, please visit www.howardhanna.com or www.facebook.com/howardhanna
Media contacts:
Elizabeth Grepp, 216-447-4477 x115, elizabethgrepp@howardhanna.com
Debbie Donahue, 412-784-3816, ddonahue@howardhanna.com