Howard Hanna Lists Three of the Top Five Most Expensive Homes Sold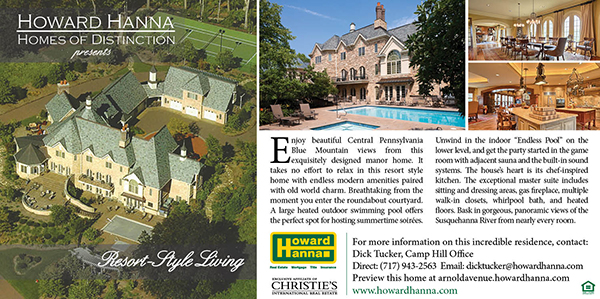 Howard Hanna Lists Three of the Top Five Most Expensive Homes Sold
Harrisburg, PA (January 4, 2017) – In 2016, Howard Hanna listed three of the top five most expensive homes sold in the Harrisburg region, including the most expensive, 345 Arnold Avenue in Harrisburg, which sold for $1,800,000. The listing agent was Dick Tucker of the Howard Hanna Camp Hill office.
1921 Strawberry Fields in York was listed by Glenda Kane, Howard Hanna York office, and sold for $1,395,000.
1827 Red Spruce Lane in Mechanicsburg was listed by Jodi Diego, Howard Hanna Camp Hill office, and sold for $1,350,000.
Per the Greater Harrisburg Association of Realtors Multi-List System, a total of 16 homes in the region sold for over $1 million in 2016.
As a leader in the luxury homes market, Howard Hanna features its Homes of Distinction program to serve the best luxury homes on the market.   Providing these clients with distinctive services for their unique homes, Howard Hanna Homes of Distinction specialists are trained and certified to provide unmatched marketing power.  The family-owned company, in business for sixty years, has created a multi-generational marketing approach and affiliation with Luxury Portfolio International to promote its luxury properties to affluent buyers here and worldwide.
Howard Hanna Real Estate Services is the 3rd largest real estate company in America, the #1 privately owned broker in the nation, and the largest home seller in Pennsylvania, Ohio, and New York. The family-owned and operated real estate company specializes in residential and commercial brokerage service, mortgages, closing and title insurance, land development, appraisal services, insurance services, corporate relocation, and property management. With 271 offices across PA, OH, NY, VA, MI, WV, NC, and MD, more than 9,000 sales associates and staff are guided by a spirit of integrity in all aspects of the real estate process.
For more information, please visit: www.howardhanna.com or facebook.com/howardhanna.
Media contact: Debbie Donahue, 412-967-9000, ddonahue@howardhanna.com