Howard Hanna Mortgage Announces Lock & Shop Program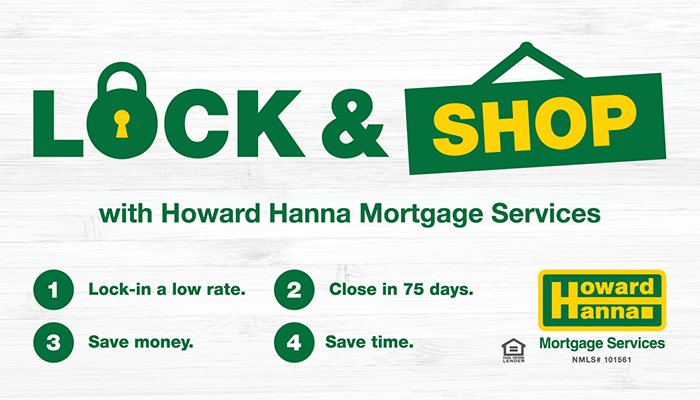 Pittsburgh, PA (January 17, 2019) – Howard Hanna Mortgage Services has announced an exciting new program to protect homebuyers from  interest rates.  The exclusive Howard Hanna Mortgage Lock & Shop program gives buyers the opportunity to get pre-qualified for a mortgage and lock in a mortgage interest rate while they shop for a home.  If rates go up before they find that home, the borrower's rate stays locked.
"We have experienced a reduction in interest rates recently, but signs point that rates will go up throughout the year, which could leave buyers with unexpected higher payments, making this a great time to use our Lock & Shop program," said F. Duffy Hanna, President of Howard Hanna Mortgage. "Normally, a homebuyer would have to have a purchase contract before they could lock in an interest rate on their mortgage.  This program gives the buyer their mortgage interest rate up front.  Anxiety over rising interest rates is reduced, giving buyers peace of mind while they are looking for a home."
In addition to the Lock & Shop benefit of saving money should interest rates rise, buyers are pre-qualified for their mortgage.  "As listings continue to be low in most of our market areas, being pre-qualified gives the buyer a needed advantage when it comes time to make an offer," said Hanna.
"Our mortgage loan originators are extremely knowledgeable and take the time to explore various options to determine the best mortgage product tailored to a buyer's needs at a very competitive cost," added Howard W. "Hoddy" Hanna, III, Chairman of Hanna Holdings, Inc.  "Lock & Shop is just one of our many innovative programs designed to benefit you, the homebuyer, and provide a truly one-stop-shopping experience."
The Howard Hanna Mortgage Lock & Shop program provides rate protection of up to 75 days.  Borrowers have 30 days* to find a home and execute a sales agreement and then use the remaining term of the rate lock period to close on their property.
For more information on Howard Hanna Mortgage programs and Lock & Shop click here, contact your Howard Hanna agent, or visit a Howard Hanna Real Estate Services office.
*Fully executed sales agreement must be provided to Howard Hanna Mortgage within 30 days of rate lock or lock is void. Loan must close within 75 days of the rate lock. Other product restrictions apply.
**Restrictions apply.
***REAL Trends 500 rankings, March 2018; March 31, 2018, HIB Consulting, LLC.
NMLS# 101561. Restrictions apply. Advanced Equity Loan must be in 1st or 2nd lien position. Offer of credit is subject to credit approval. Contact Howard Hanna Mortgage Services for mortgage products and eligibility. Howard Hanna Mortgage Services is licensed by: The Pennsylvania Department of Banking and Securities as a Mortgage Lender – License number 21415. The Ohio Department of Commerce – Division of Financial Institutions – License number RM.804531.000. The Michigan Department of Licensing and Regulatory Affairs, Office of Financial and Insurance Regulation, First Mortgage Broker/Lender License number FL0022570, Second Mortgage Lender Registration number SR0022571. The West Virginia Division of Banking – License number ML-20884. Howard Hanna Mortgage Services is registered to do business in Pennsylvania, Ohio, Michigan and West Virginia. Contact a Howard Hanna Mortgage Loan Originator for full details.  PA (800) 474-4437, 1000 Gamma Drive – Pittsburgh, PA 15238. OH and MI – (800) 589-1118, 6000 Parkland Blvd. – Mayfield Hts., OH 44124. mortgage@howardhanna.com.
About Howard Hanna Mortgage
Founded in 1983, Howard Hanna Mortgage is the fourth largest real estate mortgage company in the United States and the largest provider of purchase money mortgages in the Pittsburgh and Cleveland metropolitan areas.*** Howard Hanna Mortgage offers a wide range of residential mortgage products and local in-house processing and underwriting.  Its innovative and entrepreneurial culture enables it to deliver top-notch levels of customer service.  Howard Hanna's highly trained professionals are experienced to serve the needs of many types of homebuyers. HowardHannaMortgage.com
About Howard Hanna Real Estate Services
Howard Hanna Real Estate Services is the 3rd largest real estate company in the United States, the #1 privately owned broker in the nation, and the largest home seller in Pennsylvania, Ohio, and New York. The family-owned and operated real estate company specializes in residential and commercial brokerage service, mortgages, closing and title insurance, land development, appraisal services, property and casualty, corporate relocation, and property management. With 279 offices across PA, OH, NY, VA, MI, WV, NC, and MD, more than 9,200 sales associates and staff are guided by a spirit of integrity in all aspects of the real estate process. HowardHanna.com or facebook.com/howardhanna
Contact: Deborah Donahue, 412-784-3816, ddonahue@howardhanna.com