Howard Hanna Mortgage Services Recognized as a Top Lender by PHFA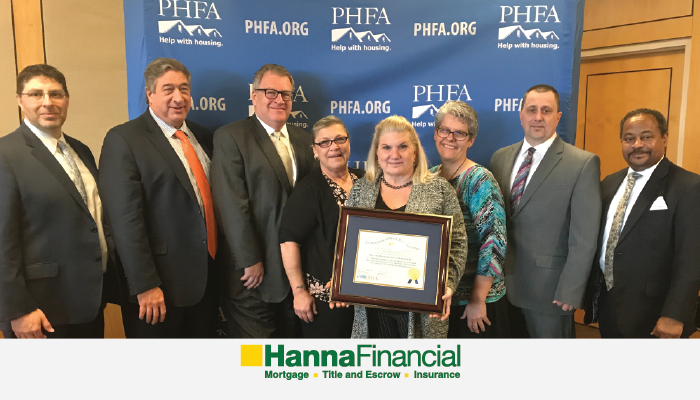 Pittsburgh, PA (April 23, 2018) – Howard Hanna Mortgage Services was honored by the Pennsylvania Housing Finance Agency (PHFA), at its annual homeownership awards event held April 11, 2018 in Harrisburg, as one of their top lenders in 2018 in assisting buyers with the application, processing, and closing of PHFA home loans.
Out of approximately 81 lending partners, Howard Hanna Mortgage was one of the Top 10 presented with awards during the event.
"Howard Hanna is pleased once again this year to be counted among the best of the best mortgage providers with Pennsylvania Housing Finance Agency programs. This demonstrates our commitment to the PHFA programs and to the many, many first-time homebuyers we were able to help achieve their goal of home ownership.  Our loan officers are to be commended for their part in helping those borrowers, and we are proud to have six of the top originators for PHFA – Forrest Jewell, Jeff Collins, Jeff Mountain, Robin Caruso, Judy Malcolm and Ken Katis," said F. Duffy Hanna, President of Hanna Financial Services.
Pennsylvania Executive Deputy Secretary of Banking and Securities Brian LaForme was a special guest and helped honor the top lenders.  "Buying a home is a dream of many Pennsylvania residents and is possibly the biggest purchase they'll ever make," LaForme said. "The lenders honored today play an important role by helping them find housing that fits their budget."
Howard Hanna Mortgage Services  was also honored for Best Quality Underwriting Submissions and Most Keystone Advantage Assistance Loans.
About PHFA
The Pennsylvania Housing Finance Agency works to provide affordable homeownership and rental housing options for older adults, low- and moderate-income families, and people with special housing needs. Through its carefully managed mortgage programs and investments in multifamily housing developments, PHFA also promotes economic development across the state. Since its creation by the legislature in 1972, it has generated more than $14.1 billion of funding for more than 175,000 single-family home mortgage loans, helped fund the construction of 134,507 rental units, and saved the homes of nearly 49,600 families from foreclosure. PHFA programs and operations are funded primarily by the sale of securities and from fees paid by program users, not by public tax dollars. The agency is governed by a 14-member board.
About Howard Hanna
Howard Hanna Real Estate Services is the third largest real estate company in the United States, the #1 privately owned broker in the nation, and the largest home seller in Pennsylvania, Ohio, New York, and the Carolinas. The family-owned and -operated real estate company specializes in residential and commercial brokerage service, mortgage, closing and title insurance, land development, appraisal, property and casualty insurance, corporate relocation, and property management. In early 2019, Howard Hanna completed a partnership with the Allen Tate Companies, the 14th largest real estate company in the nation.  The combined company has 312 offices across PA, OH, NY, VA, MI, WV, MD, NC and SC, with more than 11,000 sales associates and staff who are guided by a spirit of integrity in all aspects of the real estate process. For more information, visit www.howardhanna.com or www.facebook.com/howardhanna.
Contact: Deborah Donahue, 412-784-3816, ddonahue@howardhanna.com
Pictured L to R:  Brian LaForme, PA Executive Deputy Secretary of Banking and Securities; Bill Ryan, Howard Hanna Mortgage Sales Manager; Jeff Collins, Howard Hanna Mortgage Loan Officer;  Nikki Santucci-Theis, Howard Hanna Mortgage Post Closing Coordinator; Kathy Alexander, Howard Hanna Mortgage Vice President and Operations Manager; Susan Burke, Howard Hanna Mortgage Director of Regulatory Compliance; Ken Katis, Howard Hanna Mortgage Loan Officer; Brian Hudson, Executive Director of PHFA.