Howard Hanna Moves Up in Rankings of the Top Residential Real Estate Brokerage Firms across America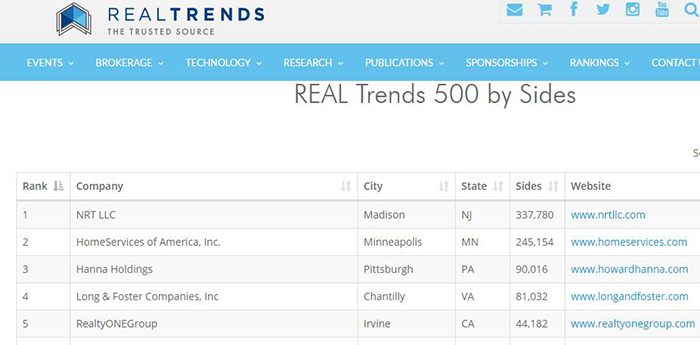 Howard Hanna Real Estate Services has moved up in the national rankings of residential real estate firms and now ranks as the 3rd largest company in the United States, based on total transaction sides closed last year.  The family-owned and operated company recorded 90,016 closed transactions sides, up 45.9% over the year before.
The new rankings were published in the annual REAL Trends 500, a list of the top real estate brokerages distributed by REAL Trends, Inc., a leading source of statistical analysis for the residential real estate industry, and in RISMedia's annual Power Broker Report, both of which were released earlier this week.
"2016 was a record year at Howard Hanna spearheaded by organic internal growth and acquisitions.  In fact, Howard Hanna Realtors individually out performed our competitors' agents by 18%.  The results can be attributed to the overall hard work, dedication and pride in performance of our more than 9,000 colleagues in eight states," said Chairman Howard W. "Hoddy" Hanna, III.
Howard Hanna advanced in the rankings of closed sales volume ranking as well, moving from 7th to 5th largest in the United States, with closed sales volume of $16.8 billion last year, an increase of 39.6% over the year before.
The company's year-to-year increases in closed transactions and closed volume were the highest among the residential real estate firms ranked.
About Howard Hanna – Howard Hanna Real Estate Services is the third largest real estate company in America, the #1 privately owned broker in the nation, and the largest home seller in Pennsylvania, Ohio, and New York. The family-owned and operated real estate company specializes in residential and commercial brokerage service, mortgages, closing and title insurance, land development, appraisal services, insurance services, corporate relocation and property management. With more than 270 offices across PA, OH, NY, VA, MI, WV, NC and MD, our more than 9,000 sales associates and employees are guided by a spirit of integrity in all aspects of the real estate process.
For more information, please visit howardhanna.com or facebook.com/howardhanna
Media contacts:  Debbie Donahue, 412-784-3816, ddonahue@howardhanna.com or  Elizabeth Grepp, 216-643-9796, elizabethgrepp@howardhanna.com