Howard Hanna Names Baby Penguin at Pittsburgh Zoo & PPG Aquarium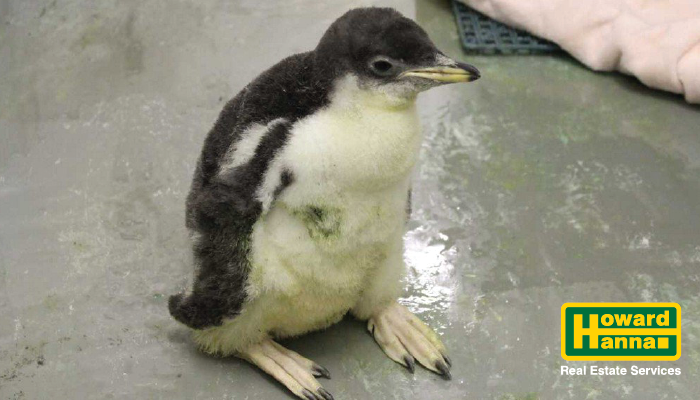 Pittsburgh, PA (July 9, 2019) – To the public, real estate companies and their agents can all appear to be the same.  "For sale and sold signs, multi-listing services, websites, and claims of helpful tools are many times indistinguishable; it's like a colony of penguins," says Howard W. "Hoby" Hanna, IV, President of Real Estate Brokerage at Howard Hanna, the nation's third largest real estate company.  "This can be true of all professions, unless individuals and companies distinguish themselves and stand out from the rest.  At Howard Hanna, we have established a 'green' penguin culture with green penguin service and programs – above and beyond the black and white penguins."
"When the opportunity at the Pittsburgh Zoo & PPG Aquarium became available to name the new Gentoo penguin chick, we knew we had to jump on it.  We talk about penguins all the time  – green penguins, but nonetheless, penguins!" added Annie Hanna Cestra, Executive Vice President and Chief Operating Officer.   "We've named him 'Iggy' Hanna.  My young niece suggested the name, thinking penguins live in igloos, and we are in the home business. We are extremely proud to partner with the Pittsburgh Zoo and PPG Aquarium and support their conservation efforts."
"We do things differently as a company to help buyers move faster to get the homes they want, to help sellers get more money for their homes, so in that sea of black and white, we stand out. Being a green penguin, we stand out from the rest," added Hanna.
Recent examples of Howard Hanna standing out from the crowd include the major marketing initiative, Move Faster, promoting its Buy Before You Sell program, and Find It First™, recently launched in Ohio.  The Move Faster campaign communicates that working with Howard Hanna makes it easier to buy or sell a home in today's fast-paced world and competitive real estate market.
About Howard Hanna:  Howard Hanna Real Estate Services is the 3rd largest real estate company in the United States, the #1 privately owned broker in the nation, and the largest home seller in Pennsylvania, Ohio, New York, and the Carolinas. The family-owned and -operated real estate company specializes in residential and commercial brokerage service, mortgage, closing and title insurance, land development, appraisal, property and casualty insurance, corporate relocation, and property management. In early 2019, Howard Hanna completed a partnership with the Allen Tate Companies, the 14th largest real estate company in the nation.  The combined company has 312 offices across PA, OH, NY, VA, MI, WV, MD, NC, and SC, with more than 11,000 sales associates and staff who are guided by a spirit of integrity in all aspects of the real estate process. For more information, visit www.howardhanna.com or www.facebook.com/howardhanna.
Contact: Deborah Donahue, 412-784-3816, ddonahue@howardhanna.com