Howard Hanna Stow, Ohio Office Participates in Dragons on the Lake Fundraiser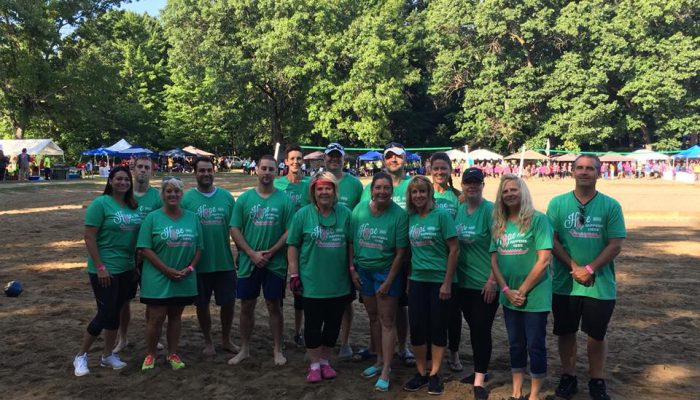 Stow, OH (August 27, 2018) – For the past three years, the Howard Hanna Stow office has participated in the Dragons on the Lake Festival in Portage Lakes State Park.
Each year, a group of real estate professionals from the office form a dedicated team to support the Dragon Dream Team, Ohio's first team of all breast cancer survivors. All proceeds from the event benefit breast cancer research and educational outreach. This year on July 28, the Howard Hanna team raced alongside more than 1,000 other participants.
Barbara Oakes, an agent with the Stow office who has headed up their efforts over the years, was thrilled that they not only improved their time this year but also made the finals. "The festival is beautiful, and the event supports a cause near to my heart. Paddling is so much fun, an easy skill to pick up, men and women can participate, and you don't have to be an athlete to do it," she said. "It is something we all can do and a great way to support our local community. We look forward to the 2019 festival next July with an even bigger and better team!"
Participants from the Howard Hanna Stow office included Barb Oakes, Sue Farmer, Andy Wargo, Nick Wargo, Robert Lagasse, Donna Tanno, Joie Boughner, Justin and Kristin Berthiaume, Teresa Fiorentino, Robin Greene, and Kathy Seminaroti. Additional support during the event was provided by Carol Coia, Val Ursetta, Jodi Workman and Steve Wargo.
The Howard Hanna team was one of 37 teams of 20 paddlers who helped to raise more than $15,000 that day. In addition to the racing, other activities included a Ceremony of Life event that offers hope and supports breast cancer awareness.
To learn more about this event, please visit the Dragons on the Lake website, and to learn more about the Howard Hanna Stow office, please call 330-686-1166.
Howard Hanna Real Estate Services is the 3rd largest real estate company in America, the #1 privately owned broker in the nation, and the largest home seller in Ohio, Pennsylvania and New York. The family-owned and operated real estate company specializes in residential and commercial brokerage service, mortgages, closing and title insurance, land development, appraisal services, insurance services, corporate relocation and property management. With 262 offices across OH, PA, NY, VA, MI, WV, NC and MD, our more than 9,200 sales associates and staff are guided by a spirit of integrity in all aspects of the real estate process.
For more information, please visit www.howardhanna.com or www.facebook.com/howardhanna
Media contacts:
Elizabeth Grepp, 216-447-4477 x115, elizabethgrepp@howardhanna.com