Howard Hanna Ohio Management Changes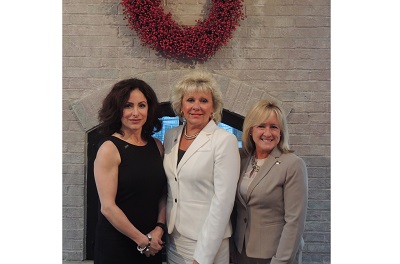 Cleveland, OH (May 8th, 2017) –  Howard Hanna Real Estate Services has experienced unprecedented growth and record-breaking sales over the past few years. This growth means the company can have in place the best management in the industry. Most recently, we are pleased to announce two important changes to the Ohio Management team; Vice President Alicia Kosec is now the Northeast Ohio Regional Manager, and Vice President Melissa Crockett Willis is the Ohio West Regional Manager.
Kristine Burdick, Howard Hanna Midwest President, is thrilled to have Kosec as a Regional Manager. "We are pleased to have Alicia Kosec join our Regional management team as the Northeast Regional Manager," she said. "I have known Alicia for many years, and she has always been focused on growth and development.  We look forward to Alicia's continued leadership as we continue to grow."
Kosec is a graduate of Youngstown State University with a degree in business administration, and in 1998, she began her career in real estate. For more than a decade, she has been a Howard Hanna manager, supervising the award-winning Poland office. During that time, she was awarded "Most Improved Office" and "Top Regional Office" for seven years straight. In her new role, she will be overseeing the Northeast Region, which consists of ten offices and almost 400 agents.
"I look forward to the opportunity of enhancing my role and leadership skills within Howard Hanna's Mahoning Valley and Northeast Cleveland Regions," said Kosec. "I am excited to move forward with the same sales excellence that our Regional offices have long brought to their respective hometown marketplaces."
The West Region has nearly 600 agents across 12 offices. In 2016, the region had a listing volume of almost $1.1 billion and closed sales volume of more than $1.5 billion. Crockett Willis will be leading the region with over 30 years of real estate experience. She started as a sales associate in 1987 and joined the Howard Hanna management team in 2007, overseeing the Mentor office. The following year, she became Vice President and Northeast Regional Manager, and she has been in this role ever since.
"I'm excited about the opportunity to work with the managers and agents in the West Region. They have a long tradition of sales excellence!" said Crockett Willis.
"Melissa Crockett Willis has a great amount of knowledge and experience in our industry," remarked Burdick. "We look forward to Melissa taking the helm of our West Region, and she will continue our growth objectives while providing great leadership to the region."
Howard Hanna has been helping buyers and sellers in Ohio for decades and has a dominant market share in all regions where the company is present. Under the capable leadership of managers such as Kosec and Crockett Willis, the company expects to continue its market share and growth.
Howard Hanna Real Estate Services is the 3rd largest real estate company in America, the #1 privately owned broker in the nation, and the largest home seller in Pennsylvania, Ohio, and New York. The family-owned and operated real estate company specializes in residential and commercial brokerage service, mortgages, closing and title insurance, land development, appraisal services, insurance services, corporate relocation and property management. With 270 offices across PA, OH, NY, VA, MI, WV, NC and MD, our more than 9,000 sales associates and staff are guided by a spirit of integrity in all aspects of the real estate process.
To learn more please visit www.howardhanna.com or www.facebook.com/howardhanna
Media contact:
Elizabeth Grepp, 216-447-4477 x115, elizabethgrepp@howardhanna.com