Howard Hanna Opening New Office on Outer Banks of North Carolina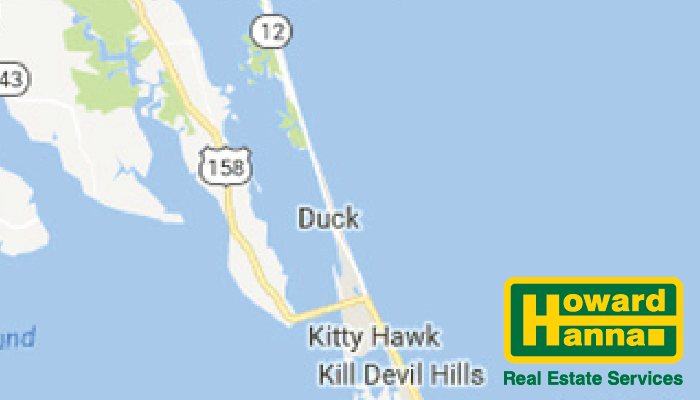 Kitty Hawk, NC (April 27, 2018) – Howard Hanna Real Estate Services has announced the opening of a new Outer Banks office in Kitty Hawk at 3928 N. Croatan Highway.  The office is currently under renovation and is expected to open soon.
Howard Hanna has been doing business in North Carolina since 2006 with offices in Elizabeth City and Currituck. Currently, the Howard Hanna Currituck office ranks #1 in market share, both selling and listing more houses than any other real estate company in the area.
The Outer Banks office welcomes Karen Ritenour as managing broker.  She joins Howard Hanna with over 16 years of local experience, having successfully managed several commercial properties, assisted in the acquisition of new business ventures and properties, and managed the transactions for 50+ agents in four offices of other prominent real estate companies.
Also joining the Howard Hanna Outer Banks office are two of the top local real estate teams: the Siers team of Michael Siers, Stacy Siers, Yuliya Vishneuskaya, and Maria Daniels and the Jones Group of Randy Jones and Lynn Sherman.
Since 2012, Michael Siers has been repeatedly recognized as a top producer. With a wide array of listings, from starter homes to oceanfront mansions, Siers has worked with a variety of clients throughout the Outer Banks marketplace. From Corolla to Hatteras, he is an expert on the area and each town's distinguished communities.  In addition, he currently serves on the Board of Commissioners in Nags Head.
Randy Jones, also a consistent top producer in Outer Banks real estate, joins as a graduate of UNC-Wilmington and the Wake Forest University School of Law. Randy is well-versed in real estate law and brings many years of experience brokering commercial and residential transactions.
"With the amazing growth we have experienced in Northeast North Carolina, the decision to open an office on the Outer Banks was a natural next step.  We are excited about the great team we already have in place and the opportunities that lie ahead for continued growth and expansion," said Gail Coleman, President Southeast Region, Howard Hanna Real Estate Services.
Howard Hanna's customer-centric 100% Money Back Guarantee program will be offered to clients in the Outer Banks, along with one-stop shopping that gives both home buyers and sellers the opportunity to take advantage of mortgage, closing, and insurance services, all under one roof.
Howard Hanna Real Estate Services is the 3rd largest real estate company in America and the largest home seller in Pennsylvania, Ohio, and New York.  The family-owned and operated real estate company specializes in residential and commercial brokerage service, mortgages, closing and title insurance, land development, appraisal services, insurance services, corporate relocation and property management. With 262 offices across PA, OH, NY, VA, MI, WV, NC and MD, our more than 9,200 sales associates and staff are guided by a spirit of integrity in all aspects of the real estate process.
To learn more please visit www.howardhanna.com or www.facebook.com/howardhanna
Media contact:
Kathy Lamm, 757-499-9663, kathylamm@howardhanna.com