Howard Hanna Opens New Office in Newport News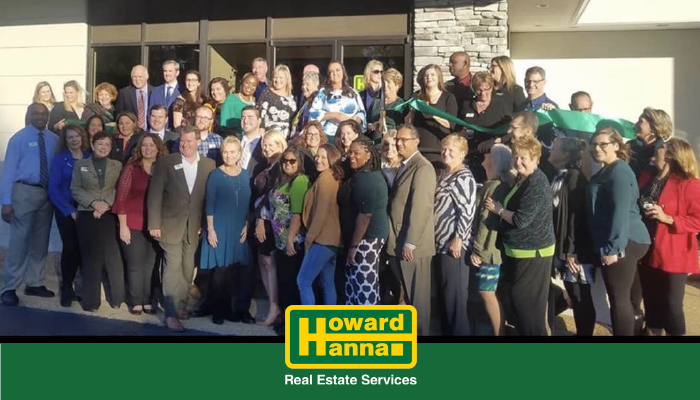 Newport News, VA (October 25, 2018) – Howard Hanna Real Estate, the nation's 3rd largest real estate company, opened a new office in the heart of the Peninsula's Central Business District, City Center at Oyster Point.  An open house and ribbon cutting ceremony were held October 24, 2018.
The new Howard Hanna office is located at 724 Thimble Shoals Boulevard in City Center at Oyster Point.  City Center is the gathering place for businesses and community events.  Corporate headquarters and the region's premier banking, insurance, and legal firms have located at City Center for its premier Class A office space.  The mixed-use development surrounded by an 8-acre Fountain Park gives tenants and visitors numerous shopping, dining, and entertainment options, all within easy walking distance from on-site parking.   With more than 10,250 square feet of space, the new Howard Hanna Peninsula office was designed with an open floor plan with plug and play workstations for sales associates on the go.  Floor-to-ceiling windows create a bright and energetic work environment that features a 'Central Park' gathering area for collaboration of like-minded professionals.  Well-appointed conference rooms and private offices create a balanced workflow.
"City Center is a prime spot for a new Howard Hanna office," said Gail Coleman, President of the Howard Hanna Southeast Region. "This is a great location for our agents to engage with the community and clients.  Our new office concept is unique to our company in the region, and we are thrilled with the clean, contemporary look and feel of the office.  Pairing this new style of office with the technology and programs we offer our agents creates a win-win for our sales associates and clients alike."
Sandy Yoder Wagner is the managing broker of the office and has been affiliated with the firm since 2005.  "We are thrilled to be relocating to our new home in City Center and look forward to serving clients at the highest level from this state-of-the-art facility.  We are excited about the future and our plans to grow and expand on the Peninsula," said Yoder Wagner.  A graduate of Christopher Newport University with a B.S. in business administration, she is a lifelong resident of the Virginia Peninsula.  She can be reached in the Howard Hanna office at 757-595-8895.
About Howard Hanna Real Estate Services:  Howard Hanna Real Estate Services is the 3rd largest real estate company in the United States, the #1 privately owned broker in the nation, and the largest home seller in Pennsylvania, Ohio, New York and the Carolinas. The family-owned and operated real estate company specializes in residential and commercial brokerage service, mortgages, closing and title insurance, land development, appraisal services, property and casualty, corporate relocation, and property management. With 279 offices across PA, OH, NY, VA, MI, WV, NC, SC and MD, more than 9,200 sales associates and staff are guided by a spirit of integrity in all aspects of the real estate process. For more information, visit www.howardhanna.com or www.facebook.com/howardhanna
Media contacts: Deborah Donahue, 412-784-3816, ddonahue@howardhanna.com or Kathy Lamm, 757-499-9663, kathylamm@howardhanna.com.