Howard Hanna Property Management Expands Its Footprint through Joint Venture in Lexington, VA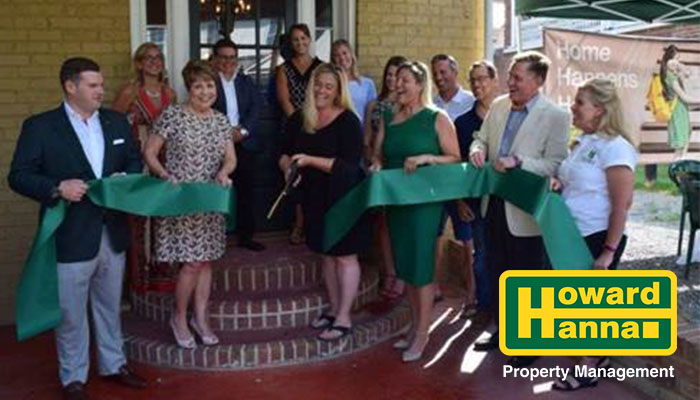 Lexington, VA (July 29, 2018) – Howard Hanna Property Management's Southeast Division, based in Virginia Beach, has announced a joint venture with Valley Roads, LLC and owner Bruce Schweizer in Lexington.  A grand opening celebration was held at the office, located at The Dutch Inn, on July 13th.
Located at 114 Washington Street in the Downtown Lexington Historic District, The Dutch Inn was renovated in 2007 and converted into apartments.  In addition to the Howard Hanna Property Management office on the street level, there is a grocery store and restaurant onsite.
Melissa Hennis has been named Managing Broker of the Howard Hanna Lexington office. She previously was with James River Realty and has been in the real estate business for 12 years.
"Thank you so much to the Lexington Chamber of Commerce and all of our clients, vendors, family, and friends who came out to celebrate the grand opening of Howard Hanna Property Management," said Hennis.  "Howard Hanna is a highly respected real estate company with a very successful property management division. I am so excited to join the company and lead the rental market in Lexington and surrounding area."
Howard Hanna Property Management's Southeast Division, headed by Director Amy Gianniny, manages over 2,900 rental properties in Virginia and North Carolina.  "Our business has grown exponentially in units managed through our constant focus on the future and our clients' ever-evolving needs," said Gianniny.  "We look forward to extending our property management services and technology to our new clients in the Shenandoah Valley of Virginia."
To contact Howard Hanna Property Management in Lexington, please call 540-319-6140; to contact Howard Hanna Property Management in Virginia Beach, please call 757-499-5688; or visit HowardHanna.com/property-management.
Howard Hanna Real Estate Services is the 3rd largest real estate company in the United States, the #1 privately owned broker in the nation, and the largest home seller in Pennsylvania, Ohio, and New York. The family-owned and operated real estate company specializes in residential and commercial brokerage service, mortgages, closing and title insurance, land development, appraisal services, insurance services, corporate relocation, and property management. With 262 offices across PA, OH, NY, VA, MI, WV, NC, and MD, more than 9,200 sales associates and staff are guided by a spirit of integrity in all aspects of the real estate process. For more information, visit www.howardhanna.com, or www.facebook.com/howardhanna
Media contact:
Deborah Donahue, 412-784-3816, ddonahue@howardhanna.com