Howard Hanna Ranks #1 on List of Women-Owned Businesses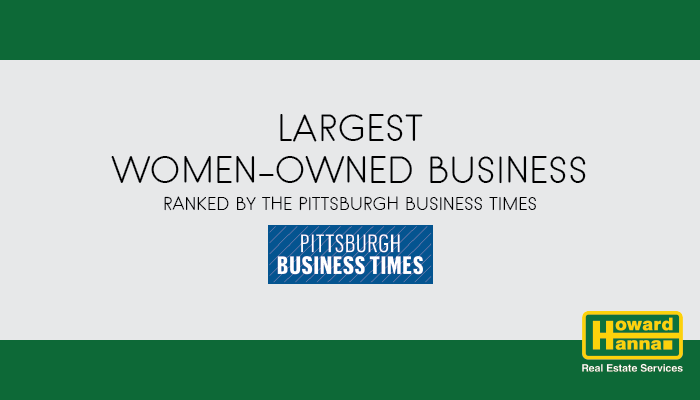 Pittsburgh, PA (March 8, 2019) –  Howard Hanna Real Estate Services ranks #1 on a list of Women-Owned Business in Western Pennsylvania and the tri-state area published by the Pittsburgh Business Times on February 22, 2019.
CEO Helen Hanna Casey leads Howard Hanna, the largest independent real estate company and third largest broker in the United States.  In the real estate business for more than four decades, Casey joined the company in 1975 and her role has changed as the company has expanded.  In addition to Casey, other Hanna women include sister Annie Hanna Cestra, Executive Vice President and Chief Operating Officer; daughter Annie Hanna Engel, Esq., President of Howard Hanna Insurance Services and Chief Legal Officer; niece Kelly Hanna Riley, Vice President and PA North Regional Manager; and niece Helen Cestra, Sales Associate, Fox Chapel office.
"The depth of women's leadership at Howard Hanna is a testament to the company's commitment to women leaders throughout the entirety of their careers," said Casey.  "Through learning and innovation, we encourage our leadership team to understand the needs of our clients and of our agents, to build strong teams and to commit to being great leaders."
Fifty percent of the Howard Hanna Executive Management Team are women, including the Chief Financial Officer, the Midwest and Southeast state presidents, many vice presidents and department heads.  More than 7,000 female agents and employees call Howard Hanna home.
About Howard Hanna:  Howard Hanna Real Estate Services is the 3rd largest real estate company in the United States, the #1 privately owned broker in the nation, and the largest home seller in Pennsylvania, Ohio, and New York. The family-owned and operated real estate company specializes in residential and commercial brokerage service, mortgages, closing and title insurance, land development, appraisal services, property and casualty, corporate relocation, and property management. With 312 offices across PA, OH, NY, VA, MI, WV,MD, and the Carolinas, more than 11,000 sales associates and staff are guided by a spirit of integrity in all aspects of the real estate process. For more information, visit www.howardhanna.com, or www.facebook.com/howardhanna.
Contact: Deborah Donahue, 412-784-3816, ddonahue@howardhanna.com