Howard Hanna Real Estate Services Announces Sara Petrie as New Sales Director of Monroeville Office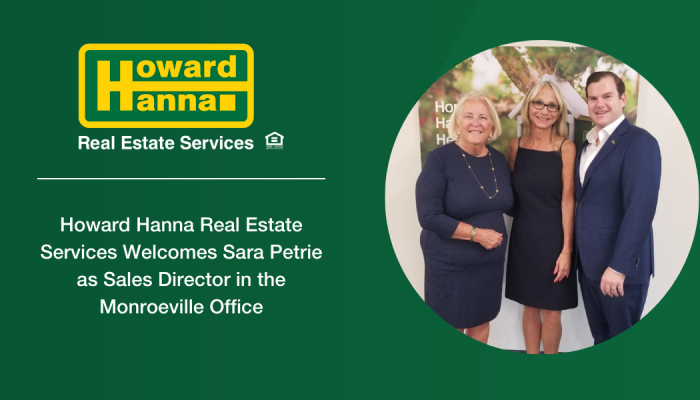 MONROEVILLE, PA (August 4, 2022) – Howard Hanna Real Estate Services is pleased to announce Sara Petrie has been named as the new sales director of their Monroeville office.
Petrie's career with Howard Hanna began in 2013 when she joined the Greensburg office as a sales associate. Sara's career accomplishments include recognition as a multi-million-dollar producer and PA Champion's Club member. Prior to that, she worked in sales and marketing for 25 years for a family-owned business based in Etna, PA.
"Over the years, the sales associates in the Monroeville office have built a strong customer service-oriented operation. Sara's passion and enthusiasm will only help to continue strengthening what has been built," said Dennis Cestra, Jr., Howard Hanna Pennsylvania President.
Petrie will be focused on agent growth, exceeding market share goals, and maximizing productivity. She will continue to build and grow business relationships for the Monroeville office.
"Sara's growth has proven her leadership and commitment to her business, and now she will share her knowledge with the Monroeville agents. I am thrilled to have her on the East Region team," said Vice President and East Regional Manager Bebe English.
Petrie is a lifelong resident of Westmoreland County. She currently resides in Unity Township with her husband and four of their five children.
"I believe knowledge is power, and with all the tools Howard Hanna has to offer, I'm confident the Monroeville office will thrive under my leadership," said Petrie.
About Howard Hanna Real Estate Services
Howard Hanna Real Estate Services is the largest privately held real estate broker in the United States. The full-service real estate company has nearly 500 real estate, mortgage, insurance, title, and escrow service offices across 13 states, including Allen Tate Realtors® in the Carolinas and F.C. Tucker Company in Indiana, with more than 14,000 sales associates and staff, including many of the industry's top-producing real estate agents. For more information, visit www.HowardHanna.com.
Contact: Leah Gibbons l leahgibbons@howardhanna.com