Howard Hanna Real Estate Services Kicks Off Fundraising Campaign in Rochester for the Care of Children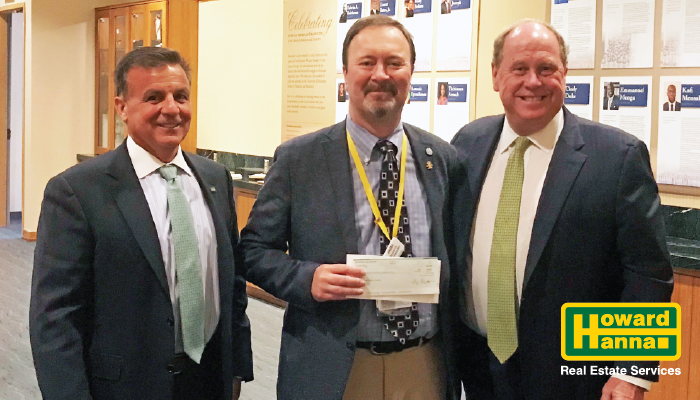 Rochester, NY (August 16, 2019) – The Howard Hanna management team gathered at Golisano Children's Hospital this week for a tour of the hospital and a 'kick-off' of the Howard Hanna Children's Free Care Fundraising campaign in Rochester.
"This is the 32nd year of our annual fundraising campaign for children's hospitals in our market areas.  We are very excited to add Golisano Children's Hospital to our list of children's hospital partners," said Chairman Howard W. "Hoddy" Hanna, III.  "Giving back to the community is a big part of our company culture."
Patrick Brophy, M.D., Chair of Pediatrics and the Physician-in-Chief of Golisano Children's Hospital, spoke to the group and expressed his gratitude for the new partnership.  "Every day, our team of pediatric specialists strives to provide the best, most compassionate care to our patients and their families," he said.  "But it's also the community that helps to build it into the beacon of hope it is for families of premature babies or sick children."
Howard Hanna Real Estate Services supports many educational, health and social causes and events every year, however, the biggest and most impactful commitment is the annual Howard Hanna Children's Free Care Fundraising campaign.  Established in 1988, the mission of the Howard Hanna Children's Free Care Fund is to assure that children never be denied the best medical care available, whether helping families without insurance afford care for their children or to fund cutting-edge care that insurance may not cover.
The annual campaign features "Choo Choo Chow Chow" events planned, organized and executed by the volunteer efforts of the agents and employees in Howard Hanna offices.  These fun, themed events are supported by local business donations and sponsorships, and by the members of the community who attend these events.  The 2018 campaign produced $1,000,499 – the fourth consecutive year that more than a million dollars was raised!
 "Our agents, staff and managers work tirelessly to hold great events while continuing to sell real estate, negotiate deals, keep up with market activity, coordinate appointments, hold open houses and market their listings. They care about the well-being of their communities and demonstrate that year after year," added Hanna.
The Howard Hanna Children's Free Care Fund is a registered 501(c)(3) charitable organization.
For more information, visit HannaFreeCareFund.com or HowardHanna.com.
About Howard Hanna:  Howard Hanna Real Estate Services is the 3rd largest real estate company in the United States, the #1 privately owned broker in the nation, and the largest home seller in Pennsylvania, Ohio, New York, and the Carolinas. The family-owned and -operated real estate company specializes in residential and commercial brokerage service, mortgage, closing and title insurance, land development, appraisal, property and casualty insurance, corporate relocation, and property management. In early 2019, Howard Hanna completed a partnership with the Allen Tate Companies, the 14th largest real estate company in the nation.  The combined company has 312 offices across PA, OH, NY, VA, MI, WV, MD, NC and SC, with more than 11,000 sales associates and staff who are guided by a spirit of integrity in all aspects of the real estate process. For more information, visit www.howardhanna.com or www.facebook.com/howardhanna.
Contact: Deborah Donahue, 412-784-3816, ddonahue@howardhanna.com
Pictured L to R:  Armand D'Alfonso, Howard Hanna Real Estate; Patrick Brophy, MD, Golisano Children's Hopsital, Hoddy Hanna, Howard Hanna Real Estate.