Howard Hanna Real Estate Services Named Best of Westmoreland County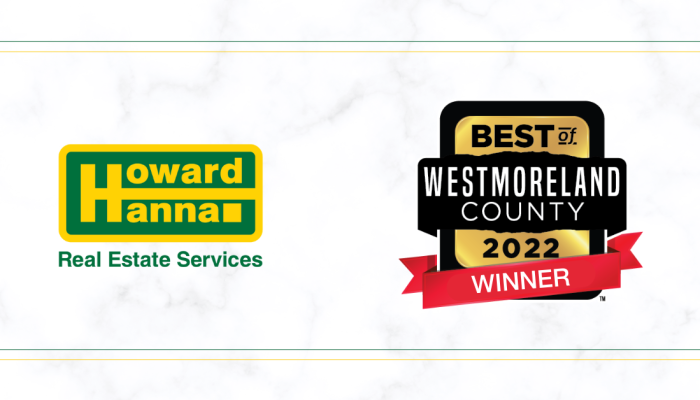 WESTMORELAND COUNTY, Pa. – Howard Hanna Real Estate Services was named Best Real Estate Company in the 2022 Best of Westmoreland County awards. Presented by Renda Broadcasting Corporation, the contest is vote based, focusing on and highlighting the best businesses, companies, groups, locations, items and services in Westmoreland County.
"I am very proud of our Howard Hanna team for achieving the 2022 gold award," said Tony Molnar-Strejcek, Howard Hanna sales director. "The agents, AA, loan originator, title company and insurance reps work very hard, and it is truly an honor to be recognized by the residents of Westmoreland County."
Nominations were provided by the local community in March 2022, with winners announced in August on the Best of Westmoreland County 2022 website. To view the complete list of winners, visit www.bestofwestmorelandcounty.com.
About Howard Hanna: Howard Hanna Real Estate Services is the #1 family-owned and -operated independent broker in the U.S.A. The full-service real estate company has nearly 400 real estate, mortgage, insurance, title, and escrow service offices across 13 states, including Allen Tate Realtors® in the Carolinas and The F.C. Tucker Company in Indiana, with more than 13,000 sales associates and staff, including many of the industry's top-producing real estate agents. For more information, visit www.HowardHanna.com.
Contact: Lindsay Kovach l lindsaykovach@howardhanna.com