Howard Hanna Real Estate Services, One of Pittsburgh's Fastest Growing Companies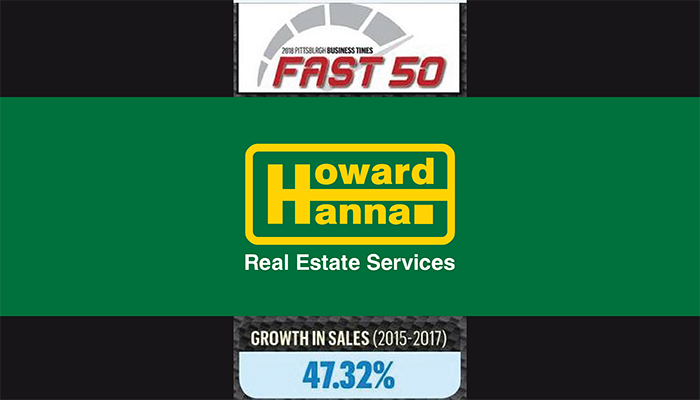 Pittsburgh, PA (August 29, 2018) – The Pittsburgh Business Times list of Fastest Growing Companies was published on August 24, 2018.  The list ranks the top 50 privately owned companies in Pittsburgh with the highest percentage of revenue growth between 2015 and 2017.  Howard Hanna, the region's largest real estate firm, posted a 47.31% increase in revenue from 2015-2017.
"Managing changes in the market, delivering exceptional customer service with the best and brightest real estate professionals in the market and providing clients and agents with cutting-edge marketing and technology keeps us at the forefront of real estate transactions in the Pittsburgh area and Western Pennsylvania," said Tom Ceponis, president of Howard Hanna Pennsylvania.
Howard Hanna also ranks on Largest Pittsburgh-area Residential Real Estate Firms, published April 6, 2018. Howard Hanna is #1 with $3.848 billion in closed sales last year in the Pittsburgh area and 18,367 homes sold.  On the Largest Pittsburgh-area Private Companies list, published July 5, 2018, Howard Hanna ranks #17 with revenue in 2017 of $632,000 million.  Additionally, the company ranks on the Largest Pittsburgh-area Employers list, published July 27, 2018.
www.bizjournals.com/pittsburgh
Howard Hanna Real Estate Services is the 3rd largest real estate company in the United States, the #1 privately owned broker in the nation, and the largest home seller in Pennsylvania, Ohio, and New York. The family-owned and operated real estate company specializes in residential and commercial brokerage service, mortgages, closing and title insurance, land development, appraisal services, insurance services, corporate relocation, and property management. With 262 offices across PA, OH, NY, VA, MI, WV, NC, and MD, more than 9,200 sales associates and staff are guided by a spirit of integrity in all aspects of the real estate process. For more information, visit www.howardhanna.com, or www.facebook.com/howardhanna
Media contact:
Deborah Donahue, 412-784-3816, ddonahue@howardhanna.com