Howard Hanna Realtor Honored with 2018 Best of Wexford Award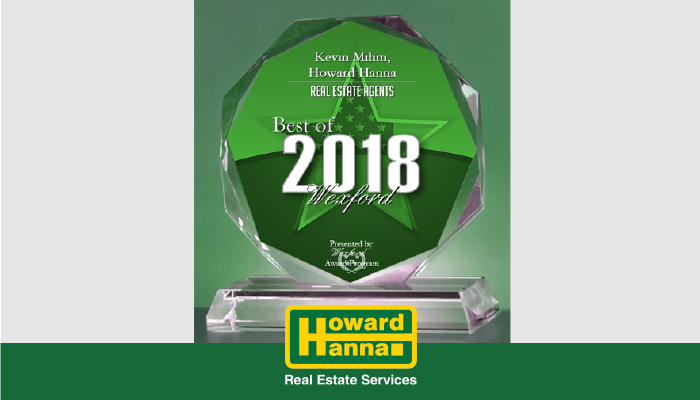 WEXFORD, PA (January 11, 2019) – Howard Hanna Realtor Kevin Mihm has been selected for the 2018 Best of Wexford Award in the Real Estate Agents category by the Wexford Award Program.  Mihm is an agent in the Adams Township/Seven Fields office of Howard Hanna Real Estate Services.  In the business for 34+ years, he has been a consistent top agent for buyers and sellers since 1998.  "For me, the true measure of success is delivering on my client's expectations. I think that's what they deserve. When purchasing a new home, I help find you the best investment and ideal home to suit your lifestyle. And when selling your home, I help you maximize your return on investment," said Mihm.
Each year, the Wexford Award Program recognizes those who have achieved exceptional marketing success in their local community and business category, while enhancing the positive image of small business through service to their customers and our community. These exceptional awardees help make the Wexford area a great place to live, work and play.
Various sources of information were gathered and analyzed to choose the winners in each category. The 2018 Wexford Award Program focuses on quality, not quantity. Winners are determined based on the information gathered both internally by the Wexford Award Program and data provided by third parties.
Kevin Mihm can be reached at 412-260-5854 or KevinMihm@HowardHanna.com.
www.KevinMihmLuxuryRealtor.com
About Wexford Award Program
The Wexford Award Program is an annual awards program honoring the achievements and accomplishments of local businesses throughout the Wexford area. Recognition is given to those that have shown the ability to use their best practices and implemented programs to generate competitive advantages and long-term value.  SOURCE: Wexford Award Program
CONTACT:  Wexford Award Program PublicRelations@city-recognition.com
About Howard Hanna
Howard Hanna Real Estate Services is the 3rd largest real estate company in the United States, the #1 privately owned broker in the nation, and the largest home seller in Pennsylvania, Ohio and New York. The family-owned and operated real estate company specializes in residential and commercial brokerage service, mortgages, closing and title insurance, land development, appraisal services, property and casualty, corporate relocation, and property management. With 279 offices across PA, OH, NY, VA, MI, WV, NC, and MD, more than 9,200 sales associates and staff are guided by a spirit of integrity in all aspects of the real estate process. For more information, visit www.howardhanna.com, or www.facebook.com/howardhanna
Contact: Deborah Donahue, 412-784-3816, ddonahue@howardhanna.com