Howard Hanna Receives Board of the Year Award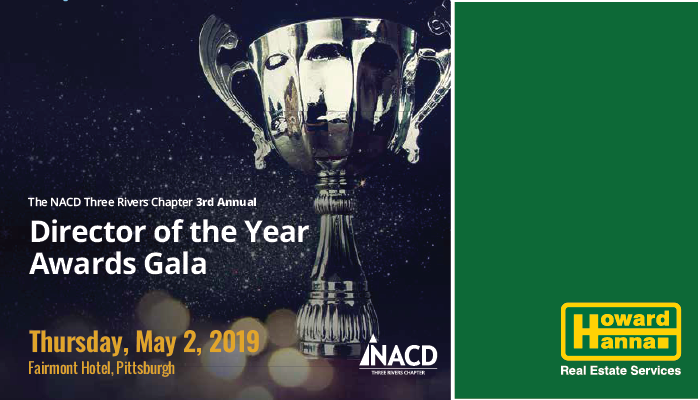 Pittsburgh, PA (May 15, 2019) – On May 3, 2019, Howard Hanna Real Estate Services' Executive Committee received the Private Company Board of the Year Award from the National Association of Corporate Directors (NACD) at a dinner and awards presentation held at the Fairmont Hotel.
"While their work often goes unrecognized beyond their company, the contributions of tonight's celebrated group of directors are invaluable and immeasurable," said Kelly S. Szejko, President of the NACD Three Rivers Chapter.
The Howard Hanna Executive Committee was recognized for its leadership, integrity, high standards, and responsible board leadership.
The Howard Hanna Company was founded in 1957 by a family with a dream to be the best in the business.  The company's Executive Committee leads with this purpose in the increasingly more challenging world of real estate.  They are the visionaries of the company, and their foresight, integrity, and wisdom lead the management team, and more than 11,000 sales associates and employees across nine states, to have a passion for success and making the American Dream of home ownership come true in their communities.
"Through the years, we have grown to be the top real estate company in the markets we serve. And with that success, we continue to be mindful of our purpose. It is to this simple philosophy, and to the exceptional people with whom we work, that we owe our past, present, and future success," said Howard Hanna CEO Helen Hanna Casey.
The Howard Hanna Mission Statement
 We are a family-owned, full-service real estate company, providing the finest in real estate, mortgage, title and insurance services. We strive every day, in every transaction, to reflect our pride in our company, ourselves and each other, and in the people and communities that we serve. Through our knowledge, integrity and innovation, we are able to participate in our customers' realization of the American Dream.
About Howard Hanna
 Howard Hanna Real Estate Services is the 3rd largest real estate company in the United States, the #1 privately owned broker in the nation, and the largest home seller in Pennsylvania, Ohio, New York, and the Carolinas. The family-owned and -operated real estate company specializes in residential and commercial brokerage service, mortgage, closing and title insurance, land development, appraisal, property and casualty insurance, corporate relocation, and property management.
In early 2019, Howard Hanna completed a partnership with the Allen Tate Companies, the 14th largest real estate company in the nation.  The combined company has 312 offices across PA, OH, NY, VA, MI, WV, MD, NC and SC, with more than 11,000 sales associates and staff who are guided by a spirit of integrity in all aspects of the real estate process. For more information, visit www.howardhanna.com or www.facebook.com/howardhanna.
Contact: Deborah Donahue, 412-784-3816, ddonahue@howardhanna.com