Howard Hanna Twilight Open Houses: Why You Should Visit a House for Sale in the Evening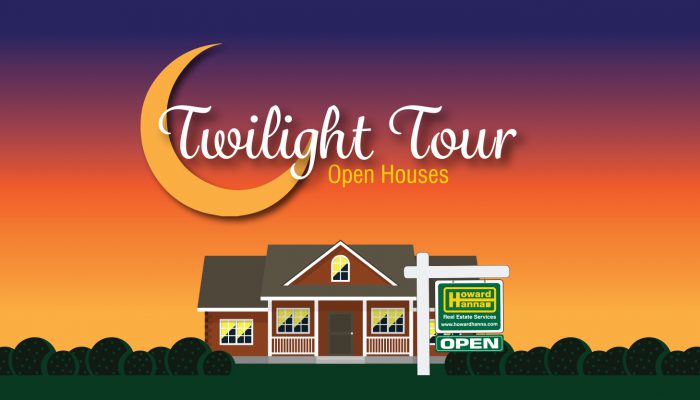 Pittsburgh, PA  (July 11, 2019) – Howard Hanna Real Estate State Services continues its tradition of hosting mid-week evening open houses during the summer months from 5:00 pm to 7:00 pm.  "Our Twilight Open Houses give buyers another opportunity to see homes for sale," says Howard W. "Hoby" Hanna, IV, President of Real Estate Brokerage.  "In addition to the traditional weekend open houses, we want to give you a chance to see your potential next home in a new light.  When you visit a home has a big impact on how the lighting will look.  Rooms that are bright by day may look totally different in the evening, or the home may have great outdoor lighting that cannot be seen during the day.  Plus, we have found that many people like the convenience of weekday evenings, leaving weekends free for outdoor activities during the warmer weather."
Howard Hanna offices hold Twilight Open Houses in Pennslyvania, Michigan, New York, Virginia and North Carolina on Wednesday evenings from 5:00pm to 7:00 pm; in Ohio, they are held Thursday evenings from 5:00 pm to 7:00 pm.  The remaining schedule is below.
Wednesday, July 17 & Thursday, July 18
Wednesday, August 14 & Thursday, August 15
Each open house is hosted by a Howard Hanna agent who is available to discuss the home's features along with exclusive programs such as Move Faster, Buy Before You Sell, and Find It First™ (in Ohio).
To view the list of Twilight Open Houses, visit here:  https://www.howardhanna.com/Property and check the Twilight Open Houses box.
About Howard Hanna:  Howard Hanna Real Estate Services is the 3rd largest real estate company in the United States, the #1 privately owned broker in the nation, and the largest home seller in Pennsylvania, Ohio, New York, and the Carolinas. The family-owned and -operated real estate company specializes in residential and commercial brokerage service, mortgage, closing and title insurance, land development, appraisal, property and casualty insurance, corporate relocation, and property management. In early 2019, Howard Hanna completed a partnership with the Allen Tate Companies, the 14th largest real estate company in the nation.  The combined company has 312 offices across PA, OH, NY, VA, MI, WV, MD, NC, and SC, with more than 11,000 sales associates and staff who are guided by a spirit of integrity in all aspects of the real estate process. For more information, visit www.howardhanna.com or www.facebook.com/howardhanna.  Contact: Deborah Donahue, 412-784-3816, ddonahue@howardhanna.com