Howard Hanna Unveils 2017 Luxury Homes Magazine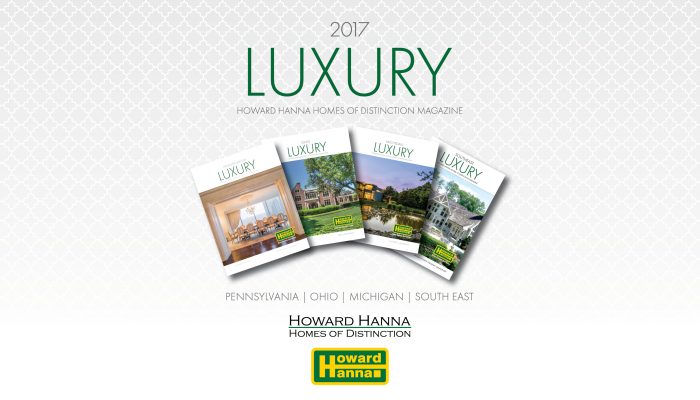 Pittsburgh, PA (September 28, 2017) – With over 60 years of experience and an impressive market share, it's easy to understand why Howard Hanna is the luxury home leader. Our Homes of Distinction program was created out of the need to serve this special buyer and seller demographic.
Each year, Howard Hanna gathers the most beautiful high-end homes to create a stunning Homes of Distinction magazine. This sophisticated magazine is a vital part of the luxury Homes of Distinction program that has been providing specialty services to upscale buyers and sellers for decades.
As a market leader, Howard Hanna recognizes the importance of a complementary Homes of Distinction Magazine with curated content from the company's eight states. The annual magazine offers a collection of homes priced at $750,000 or above and delivers a sneak peek into the world of upscale real estate.
The Homes of Distinction program reaches affluent audiences nationally and internationally, bringing together buyers and sellers in an exceptional way. "Over the past 60 years, we have refined our programs and services that target those looking to buy or sell in the high-end real estate market," said Helen Hanna Casey, CEO of Howard Hanna. "The Homes of Distinction Magazine speaks to our ability as a market leader to bring compelling content to our buyers and sellers."
The Howard Hanna website has over 30,000 searches for high-end homes yearly, and this year's magazine reached an audience of over 45,000 readers. "This beautiful magazine gives us a chance to take that audience offline," said Marketing Director Shannon Barr, who oversaw the project. "We offer a unique piece that our buyers and sellers can hold in their hands, a showcase of some of the best our market areas have to offer. It also gives our agents the chance to highlight the exceptional features of their listings."
Discerning buyers and sellers choose Howard Hanna and the Homes of Distinction program for its many proven benefits including a customized marketing plan, tailored property URL, elegant direct mail pieces, email outreach and more. It also includes six decades of Howard Hanna experience, unmatched market share, and an international affiliation with Luxury Portfolio International.
Each day, more luxury homes are being listed and sold with Howard Hanna. Visit the new Homes of Distinction Magazine to learn why: ebrochure.howardhanna.com
Howard Hanna Real Estate Services is the 3rd largest real estate company in America, the #1 privately owned broker in the nation, and the largest home seller in Pennsylvania, Ohio, and New York. The family-owned and operated real estate company specializes in residential and commercial brokerage service, mortgages, closing and title insurance, land development, appraisal services, insurance services, corporate relocation and property management. With 259 offices across PA, OH, NY, VA, MI, WV, NC and MD, our more than 9,000 sales associates and staff are guided by a spirit of integrity in all aspects of the real estate process.
To learn more please visit www.howardhanna.com or www.facebook.com/howardhanna
Media contacts:
Elizabeth Grepp, 216-447-4477 x115, elizabethgrepp@howardhanna.com
Debbie Donahue, 412-784-3816, ddonahue@howardhanna.com