Howard Hanna Unveils New Marketing Campaign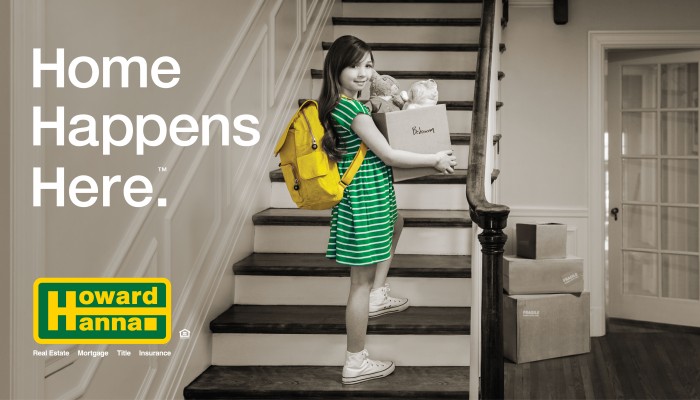 April 8, 2016  – Home.  It all starts with the right house. This is the essence of the new marketing campaign Howard Hanna Real Estate Services will launch April 10, 2016, which will reveal Howard Hanna's new tagline:  Home Happens Here.™
The real estate giant will roll out the new tagline and a robust, integrated print and digital advertising campaign that focuses on people, families and homes, and how we all "love being home."
"The message 'Home Happens Here' communicates that we are industry leaders, with the most extraordinary combination of agents, services and products, and the experience to back it up.  We make the dream of home ownership a reality.  We make it happen," said Helen Hanna Casey.
"Home Happens Here truly reflects the strength of the Howard Hanna brand combined with the happiness of buying a new home," added Kelly Silver, Executive Vice President of Marketing at Howard Hanna.  "The campaign is as distinctive as our brand and truly sets us apart."
On Sunday, April 10, 2016, the Home Happens Here.™ television spot will begin airing in all Howard Hanna markets.  TV schedules vary by market, but the impressive array of programming includes popular network shows like "The Voice" and "Dancing with the Stars" and early morning news on all network channels, including "Good Morning America" and "The Today Show." The greater Cleveland market will pick up the NBA Round 1 playoffs with the Cleveland Cavaliers, while Hanna's Southeast Region (Hampton Roads/Norfolk/Virginia Beach, Virginia and northeastern North Carolina) will feature a spot on the Kentucky Derby and more.
Print advertising and community outreach also begin April 10th and include full-page magazine ads in every market, as well as newspaper support.
For a sneak preview of the television spot, click below:
https://www.youtube.com/watch?v=0fLvR_Wh5rw&feature=youtu.be
Howard Hanna Real Estate Services is the #1 real estate company in Pennsylvania and Ohio and the 4th largest real estate company in the United States. The family-owned and operated company specializes in residential and commercial brokerage service, mortgages, closing and title insurance, land development, appraisal services, insurance services, corporate relocation and property management. With 205 offices across PA, OH, NY, VA, MI, WV, NC & MD, Howard Hanna's more than 7,100 sales associates, managers and employees are guided by a spirit of integrity in all aspects of the real estate process.
For more information, please visit HowardHanna.com or Facebook.com/HowardHanna
Media contact:
Debbie Donahue, 412-967-9000, ddonahue@howardhanna.com
Elizabeth Grepp, 216-447-4477, elizabethgrepp@howardhanna.com