Howard Hanna WALKS for Children's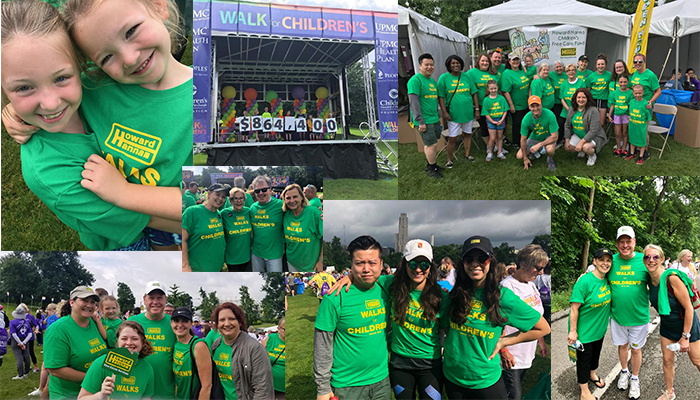 Pittsburgh, PA (June 27, 2018) – Howard Hanna Real Estate Services agents, employees and their families participated in the 3rd Annual WALK for Children's on Saturday, June 23rd.  There were over 5,100 participants and 329 teams who walked with one mission – Children's Hospital of Pittsburgh.  Walkers on the Howard Hanna team could easily be spotted in their Hanna green t-shirts printed for the event. Howard Hanna was a Supporter Sponsor of the event with a tent where agents passed out fun things for kids and then green ponchos when rain arrived.
Chairman Hoddy Hanna joined his team for the walk and said, "This is a great day.  To see this many people in support of the sick and injured kids at Children's Hospital.  We have a great city. I am thankful for our great hospital and proud that so many of our agents and employees are here today for the walk!"
Children's Hospital of Pittsburgh reports that $845,992.06 has been raised and is continuing to strive towards the goal of $1,000,000.  The money raised goes into funding cutting-edge research, community outreach, healing spaces, and overall improvements in the lives of the children and their families.
The walk began at Flagstaff Hill in Schenley Park and wound through the golf course for approximately two miles.  The event began with a Patient Champions Parade, in which current and former patients of Children's Hospital of Pittsburgh officially started the walk.
After the walk, there were fun foods and activities for all participants. Some of the fun activities included musical entertainment, giant lawn games, obstacles courses, photo booths, bounce houses, Dilly bars and food trucks.
Aside from participating in the WALK for Children's, Howard Hanna Real Estate Services continues to support Children's Hospital of Pittsburgh with annual donations from its office Choo Choo Chow Chow fundraising events held by Howard Hanna offices in Western Pennsylvania.  Established in 1988, the Howard Hanna Children's Free Care Fund partners with 15 children's hospitals in the areas where the company does business.  Donations are made to these hospitals and related programs/activities from the annual Choo Choo Chow Chow fundraising campaign.  To date, more than $15 million has been raised and donated.
Find out where a Choo Choo Chow Chow event will be near you by visiting HowardHanna.com.  Click on PHILANTHROPY, then Children's Free Care Fund or call your local Howard Hanna office.
About Howard Hanna
Howard Hanna Real Estate Services is the 3rd largest real estate company in the United States, the #1 privately owned broker in the nation, and the largest home seller in Pennsylvania, Ohio, and New York. The family-owned and operated real estate company specializes in residential and commercial brokerage service, mortgages, closing and title insurance, land development, appraisal services, insurance services, corporate relocation, and property management. With 259 offices across PA, OH, NY, VA, MI, WV, NC, and MD, more than 9,200 sales associates and staff are guided by a spirit of integrity in all aspects of the real estate process. For more information, visit www.howardhanna.com, or www.facebook.com/howardhanna
Media contact: Deborah Donahue, 412-784-3816, ddonahue@howardhanna.com