Howard Hanna Welcomes Michael Hornung to Management Team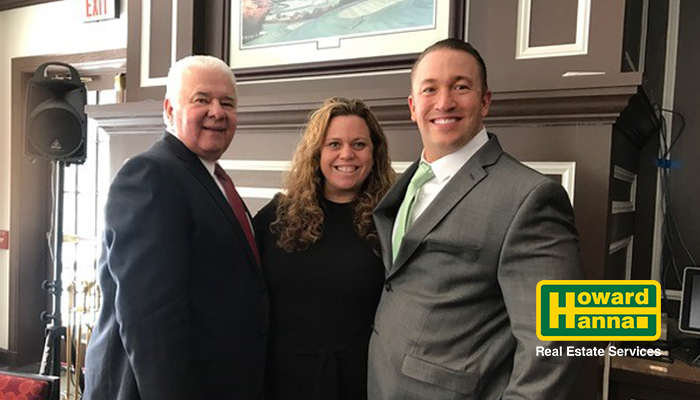 Seven Fields, PA (February 5, 2018) –  Howard Hanna Real Estate Services President of  Pennsylvania Tom Ceponis and Vice President/Regional Manager Kelly Hanna Riley announced that Michael Hornung has been named Sales Director of the Adams Township/Seven Fields office.  The announcement was made at a luncheon held February 2, 2018 at Treesdale Country Club.
Hornung has over 13 years of experience in the Pittsburgh real estate market in new homes sales. He joins Howard Hanna from Maronda Homes, Inc. where he was ranked #1 in sales volume in the nation for the past four years.  He has extensive expertise in business acumen, negotiation, training, presenting, and closing contracts along with proficiency in latest technologies and online and social media marketing.
"Mike demonstrates a level of charisma that connects very well with people," said Kelly Hanna Riley who was the Sales Director of the Adams Township/Seven Fields office for the past five years.  She recently was named Regional Manager of Howard Hanna offices in the Northern Suburbs of Pittsburgh including Adams Township, Butler, Cranberry, Wexford, Fox Chapel, North Hills, and Sewickley.  "Most importantly, I believe Mike is a good fit for our great Adams Township team and that he will successfully guide them to new heights in 2018 and beyond."
"It's going to be another good year for real estate and an exciting year for our Adams Township/Seven Fields office under Mike's leadership," said Tom Ceponis. "We look for him to carry on the reputation of excellence Kelly Hanna Riley has established in this office and continue to grow our market share.  Inventory continues to be tight, which makes now a great time to sell."
Hornung is a 1999/2000 graduate of the University of Pittsburgh and holds Bachelor of Science degrees in Information Technology, Business Management and Economics.
The Howard Hanna Adams Township/Seven Fields office is located at 100 Highpointe Drive in Seven Fields, PA 16046.  Mike Hornung can be reached in the office at 724-772-8822, on his cell phone at 412-512-7181 or by email at michaelhornung@howardhanna.com.
Pictured L to R:  Tom Ceponis, Kelly Hanna Riley, Mike Hornung
About Howard Hanna:
Howard Hanna Real Estate Services is the 3rd largest real estate company in the United States, the #1 privately owned broker in the nation, and the largest home seller in Pennsylvania, Ohio, and New York. The family-owned and operated real estate company specializes in residential and commercial brokerage service, mortgages, closing and title insurance, land development, appraisal services, insurance services, corporate relocation, and property management. With 259 offices across PA, OH, NY, VA, MI, WV, NC, and MD, more than 9,000 sales associates and staff are guided by a spirit of integrity in all aspects of the real estate process. For more information, visit www.howardhanna.com, or www.facebook.com/howardhanna
Media contact: 
Deborah Donahue, 412-784-3816, ddonahue@howardhanna.com