Howard Hanna Welcomes New Little Creek Office Manager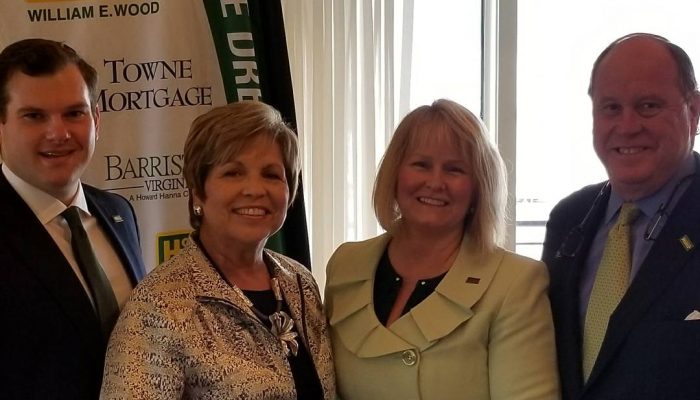 Norfolk, Virginia (October 5, 2017) – Howard W. "Hoddy" Hanna, III, Chairman of Howard Hanna Real Estate Services, was on hand for the announcement of Susan McCutcheon Thomasson as the Managing Broker for the company's Little Creek Road Office.
Thomasson has had an award-winning career, spanning over 20 years as a Sales Associate, Managing Broker, and Relocation Director.  Her accolades include multiple Circle of Excellence Awards as well as the Eagle Award for highest producing office in the region.
"It takes a village in life to succeed, and Howard Hanna has that and more. With great people, tools, and experience to support your business, you will succeed," said Thomasson.
Gail H. Coleman, President of the Southeast Region, is thrilled to have Thomasson joining the region. "Susan brings a wealth of real estate knowledge and experience in both sales and management to our Little Creek team. We are pleased to welcome her to the Howard Hanna family," she said.
Thomasson brings to Howard Hanna the unique combination of extensive leadership experience and fresh ideas.
"Little Creek Road is having a record-breaking year. With Susan at the helm, there is no doubt that this success will continue for many years to come," commented Dennis A. Cestra, Jr., Regional Vice President.
Thomasson has a Bachelor of Science degree in occupational and technical studies and a minor in marketing from Old Dominion University. She currently lives in Norfolk with her husband, Craig, and two sons, Michael and Graham. Craig is a Navy Veteran and currently works for the Joint Staff.
Howard Hanna Real Estate Services is the 3rd largest real estate company in America, the #1 privately owned broker in the nation, and the largest home seller in Pennsylvania, Ohio, and New York. The family-owned and operated real estate company specializes in residential and commercial brokerage service, mortgages, closing and title insurance, land development, appraisal services, insurance services, corporate relocation and property management. With 259 offices across VA, PA, OH, NY, MI, WV, NC and MD, our more than 9,000 sales associates and staff are guided by a spirit of integrity in all aspects of the real estate process.
To learn more please visit www.howardhanna.com or www.facebook.com/howardhanna
Media contact:
Elizabeth Grepp, 216-447-4477 x115, elizabethgrepp@howardhanna.com
Debbie Donahue, 412-784-3816, ddonahue@howardhanna.com