Howard Hanna Wins 2015 MarCom Awards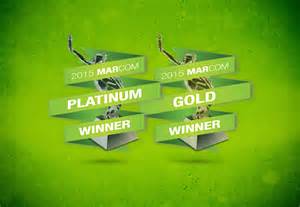 Pittsburgh, PA (November 24, 2015) – MarCom Awards has announced the winners of the 2015 international awards competition that recognizes outstanding creative achievement by marketing and communication professionals.  There were over 6,500 entries from throughout the United States, Canada and 15 other countries in the 2015 competition.
Howard Hanna Real Estate Services was announced as a 2015 winner of two Platinum MarCom Awards and two Gold MarCom Awards, and additionally received Honorable Mentions for three entries.
"The Marketing Department continues to display its strong creative design talents," said Kelly Silver, Executive Vice President of Marketing.  "Everything we do is genuinely a collaboration so everyone in the department deserves a big thank you from proofreading to PR; none of this is possible without everyone working together."
PLATINUM AWARD WINNERS
My First Home Campaign – Stacy Harrison, Jeff Nowak and Elizabeth Grepp
The Flight Handbook –Annual Report – Bryant Magnien
GOLD AWARD WINNERS
Hanna Commercial Branding – Jeff Nowak and Dave Janka
The "Above and Beyond" Video – Jeff Nowak
HONORABLE MENTIONS
The New Franchise Brochure – Brad Farabaugh
The Mayfield Heights Map – Jenn Coloma
The Homes of Distinction Brochure – Stacy Harrison
The MarCom Awards are administered and judged by the Association of Marketing and Communication Professionals.  The international organization consists of several thousand creative professionals and oversees awards, recognition programs, provides judges and sets standards of excellence.
Howard Hanna Real Estate Services is the #1 real estate company serving Pennsylvania and Ohio and the 4th largest real estate company in the United States. The family-owned and operated real estate company specializes in residential and commercial brokerage service, mortgages, closing and title insurance, land development, appraisal services, insurance services, corporate relocation and property management. With 205 offices across PA, OH, NY, VA, MI, WV, NC & MD, Howard Hanna's more than 7,000 sales associates and employees are guided by a spirit of integrity in all aspects of the real estate process.
For more information, visit www.howardhanna.com, www.facebook.com/howardhanna
Media contacts:
Deborah Donahue, 412-967-9000 x 1328, ddonahue@howardhanna.com
Elizabeth Grepp, 216-447-4477, elizabethgrepp@howardhanna.com