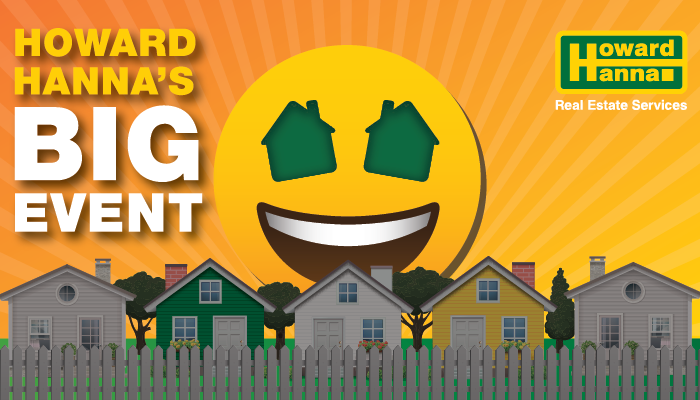 The biggest event of the year just got bigger!
February 7, 2019 –  Howard Hanna Real Estate Services, the 3rd largest real estate company in the country, will host four BIG Open House weekends in the coming weeks to provide home buyers excellent opportunities to explore thousands of houses that are available for sale in their communities.
"We decided to pump up our BIG Open House event this year; instead of holding just one big weekend, there will be four! We will have thousands of homes open for people to tour across our market areas.  All Howard Hanna offices are participating," said President of Real Estate Brokerage Howard W. "Hoby" Hanna, IV.  "Visiting open houses lets a buyer see more than they ever could see online.  They can get a feel for the neighborhood, the flow of the home, and many more details than are available in photos.  We think we will see many people out looking all four weekends."
The four BIG Open House weekends are:
February 23-24
March 9-10
April 13-14
April 27-28
The four BIG Open House events are a continued effort by Howard Hanna to maximize the opportunities for buyers to personally visit homes for sale, while also making it more convenient than one big weekend. "The internet can only do so much.  Making homes available for buyers to tour in person provides great opportunities to 'feel how the home lives'", said Howard Hanna PA Regional President, Tom Ceponis.
"It's also a great time to be selling your home with Howard Hanna," said Ceponis.  "The BIG Open House events will also benefit sellers, as homes scheduled for open houses will be part of increased print and digital advertising, video and social media promotion, signage and excitement."
With open houses, sellers get maximum exposure in today's market in addition to the 24/7 exposure on HowardHanna.com, the award-winning website with more than two-million views per month.
"Mortgage rates have backed down a half-percent from October, making this a great time to be shopping for a home," said Hanna Financial President, F. Duffy Hanna, Esq.  "The typical trend is for interest rates to rise with increased demand, which spring weather usually brings.  This is why Howard Hanna Mortgage introduced the Hanna Lock & Shop program – to give buyers the opportunity to get pre-qualified for a mortgage and lock in a mortgage interest rate while they shop for a home.  If rates go up before they find that home, the borrower's rate stays locked."
During the Big Event Open House weekends, Howard Hanna Mortgage loan originators will be on site at Howard Hanna offices to answer questions or pre-qualify interested buyers for a mortgage.
If you are thinking about buying or selling your home, or would like more information, contact your local Howard Hanna agent, stop by an Open House or visit HowardHanna.com/BigEvent.
To find open houses in your area, visit HowardHanna.com/BigEvent.
About Howard Hanna:  Howard Hanna Real Estate Services is the 3rd largest real estate company in the United States, the #1 privately owned broker in the nation, and the largest home seller in Pennsylvania, Ohio, New York and the Carolinas. The family-owned and operated real estate company specializes in residential and commercial brokerage service, mortgages, closing and title insurance, land development, appraisal services, property and casualty, corporate relocation, and property management. With 312 offices across PA, OH, NY, VA, MI, WV, NC, SC, and MD, more than 11,000 sales associates and staff are guided by a spirit of integrity in all aspects of the real estate process. For more information, visit www.howardhanna.com, or www.facebook.com/howardhanna
Contact: Deborah Donahue, Director of Public Relations, Howard Hanna Corporate Office, 412-967-9000, ddonahue@howardhanna.com.