Howard Hanna's Nick Bozovich Named to Board of Broker Public Portal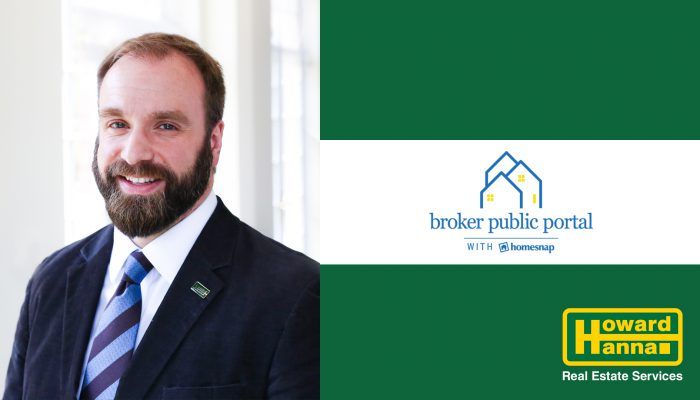 Pittsburgh, PA (December 18, 2019) – The Board of Managers of Broker Public Portal has announced that it has selected Nick Bozovich, Vice President of Information Technology for Howard Hanna Real Estate Services, as one of five new members that will serve on its Board in 2020.
Broker Public Portal (BPP) is a collaborative effort by real estate brokerages and MLS services, directly connecting home buyers with knowledgeable local real estate agents in their market of interest. Broker Public Portal is responsible for Homesnap, a national real estate portal powered by real-time MLS data from more than 200 MLS partners.
Homesnap efficiently delivers free and accurate home searches to prospective buyers and provides exclusive mobile tools to more than one million real estate agents nationwide, while also adhering to industry-leading Fair Display Guidelines that ensure accuracy, transparency, and the ethical handling of data.
"The surging success of the Broker Public Portal attracts real estate industry's most trusted and forward-looking leaders," noted John Mosey, the Chairman of Broker Public Portal.
In his role as Vice President of Information Technology, Bozovich is responsible for overseeing IT operations and numerous technology-driven initiatives for Howard Hanna, the third-largest real estate company in the United States. In this role on the Board of BPP, he will draw on his leadership skills in shepherding technical teams through periods of strategic growth and transformation, as well as prior experience in strategic, operational, and technical positions at a global law firm.
"I am excited to have the opportunity to collaborate with such an accomplished and diverse group of board members," said Bozovich, "and I look forward to helping them continue to provide a superior online search experience compared to those offered by advertising companies."
About Howard Hanna:  Howard Hanna Real Estate Services is the 3rd largest real estate company in the United States, the #1 privately owned broker in the nation, and the largest home seller in Pennsylvania, Ohio, New York, and the Carolinas. The family-owned and -operated real estate company specializes in residential and commercial brokerage service, mortgage, closing and title insurance, land development, appraisal, property and casualty insurance, corporate relocation, and property management. In early 2019, Howard Hanna completed a partnership with the Allen Tate Companies, the 14th largest real estate company in the nation.  The combined company has more than 300 offices across PA, OH, NY, VA, MI, WV, MD, NC, SC and IN, with more than 11,000 sales associates and staff who are guided by a spirit of integrity in all aspects of the real estate process. For more information, visit www.howardhanna.com or www.facebook.com/howardhanna.
Contact: Jasmine Davis, JasmineDavis@HowardHanna.com, 412-784-3821