Jennifer Isaac Named as New Manager for Howard Hanna Ontario, New York Office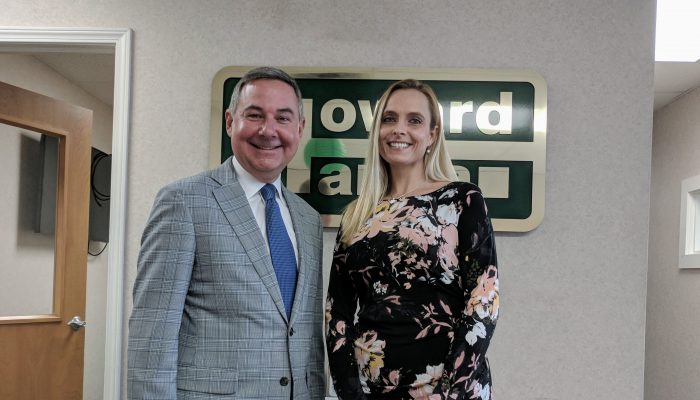 Rochester, New York (March 28, 2018) – In a celebration earlier this week, Howard Hanna Real Estate Services announced that Jennifer Isaac is the new manager for the Ontario, New York office. This office serves Ontario, NY and all surrounding towns in Wayne County. Isaac will be overseeing the more than 20 real estate professionals who currently work out of the Ontario office, with a focus on increasing market share.
An Ontario resident, Isaac is a local real estate expert who has been licensed for 20 years. In 2008, she was recognized by the National Association of Realtors as one of "30 Under 30" rising young stars. She is also a founding chair of Rochester's Young Realtors Network, has served as New York State Association of Realtors (NYSAR) Director, and has been honored with many Howard Hanna awards, including the Howard Hanna Platinum Award.
"I love my town and the real estate industry," said Isaac. "I'm so excited to use my decades of experience and the Howard Hanna advantages to serve our agents and this community."
"We are very excited to add Jennifer to our local leadership team. She has spent her career offering her expertise to agents, whether through training or the many local and statewide Realtor association positions she has held. We are confident she will continue to do the same for the Ontario agents," said Jay Teresi, Howard Hanna Rochester Regional Vice President.
Outside of real estate, Isaac is a board member for the Rochester Area Interfaith Hospitality Network, a non-profit that helps local homeless families to attain sustainable independence.
For all of your local real estate needs or to join the Howard Hanna Ontario team, Jennifer Isaac can be reached at 315-524-2331 or JenniferIsaac@HowardHanna.com.
Howard Hanna Real Estate Services is the 3rd largest real estate company in America, the #1 privately owned broker in the nation, and the largest home seller in Pennsylvania, Ohio, and New York. The family-owned and operated real estate company specializes in residential and commercial brokerage service, mortgages, closing and title insurance, land development, appraisal services, insurance services, corporate relocation and property management. With 259 offices across NY, PA, OH, VA, MI, WV, NC and MD, our more than 9,000 sales associates and staff are guided by a spirit of integrity in all aspects of the real estate process.
To learn more please visit www.howardhanna.com or www.facebook.com/howardhanna
Media contact:
Elizabeth Grepp, 216-447-4477 x115, elizabethgrepp@howardhanna.com