Ligonier Valley Real Estate Company Joins Howard Hanna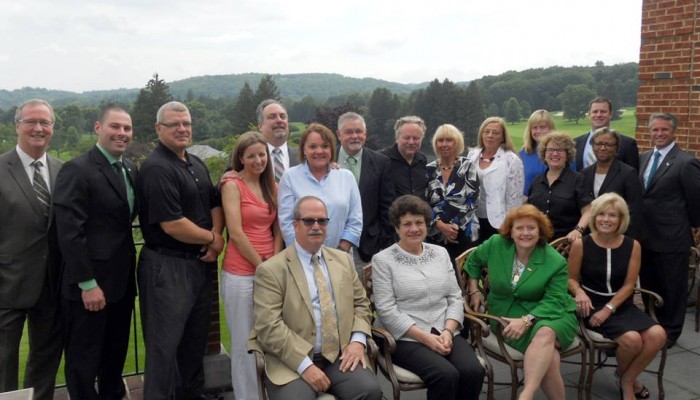 Company positioned for increased market share
Ligonier, PA (July 13, 2015) – This morning at a breakfast held at the Laurel Valley Golf Club, Helen Hanna Casey, president of Howard Hanna Real Estate Services, announced that Ligonier Valley Real Estate Company has joined Howard Hanna.  "We are both family companies, with the same values of agents and clients first and foremost.  This is a real opportunity for Howard Hanna to work with Ligonier's most established real estate company.  Thanks to Fran McCaffrey for choosing us and together, we are going to do great things," said Casey.
Fran McCaffrey is the owner of Ligonier Valley Real Estate Company, a fixture in the town of Ligonier since the early 1970s when her late husband John founded the company.   Fran has been a licensed real estate agent for almost 40 years.
"The Hanna and McCaffrey families have known each other for years and have always had a good relationship," added Greg Hammill, Howard Hanna General Manager.
Very instrumental in getting the two companies together was Howard Hanna Vice President and East Regional Manager Yvonne Guthrie, who said "We will both be stronger together with a larger presence and more signs, and Fran will be doing what she loves most, listing and selling real estate."
Agents and managers from both companies attended the breakfast and there was excitement about the two companies coming together.
Tom King, manager of the Howard Hanna Ligonier office, said he is looking forward to co-managing with Will Formato and welcomed the agents from Ligonier Valley Real Estate and said, "We're going to rock this town!"  King shared current market share data of the combined company – 34% of closed sales volume year-to-date and 49% of active listing volume.  Formato added that he is anxious to be working on even more deals bringing buyers and sellers together.  "I love what I do and I look forward to doing more of it.  From this point on we are Howard Hanna!"
Howard Hanna Real Estate Services opened their office in Ligonier in 2006 as their business had increased to the point that it was too much to be serviced out of the company's office in Greensburg.  Howard Hanna represents many of the region's finest homes and estates.
Ligonier Valley Real Estate's agents and clients will benefit from Howard Hanna services and programs including One Stop Shopping with mortgage, insurance, title and closing servings from one location, 100% Money Back Guarantee, which allows people to buy with confidence, a first time buyer program in which many of the closing costs associated with purchasing a home can be financed called My First Home, and Homes of Distinction, an exclusive marketing program for distinctive properties.   Visitors to their website will be re-directed to the Howard Hanna site, giving listings a greater reach; www.HowardHanna.com averages over 1 million visits per month.
About Howard Hanna:  Headquartered in Pittsburgh, Howard Hanna Real Estate Services is the largest seller of homes in Pennsylvania and Ohio and the 4th largest real estate company in the United States. The family-owned and operated company, founded in 1957, specializes in residential and commercial brokerage service, mortgages, closing and title insurance, land development, appraisal services, insurance services, corporate relocation and property management. With 205 offices across PA, OH, NY, VA, MI, WV, NC & MD, Howard Hanna's more than 7,300 sales associates and employees are guided by a spirit of integrity in all aspects of the real estate process.   For more information, please visit www.howardhanna.com, www.facebook.com/howardhanna
Media contact:
Deborah Donahue, 412-967-9000 x1328, ddonahue@howardhanna.com