Magnificent Equestrian Estate To Be Sold November 10, 2018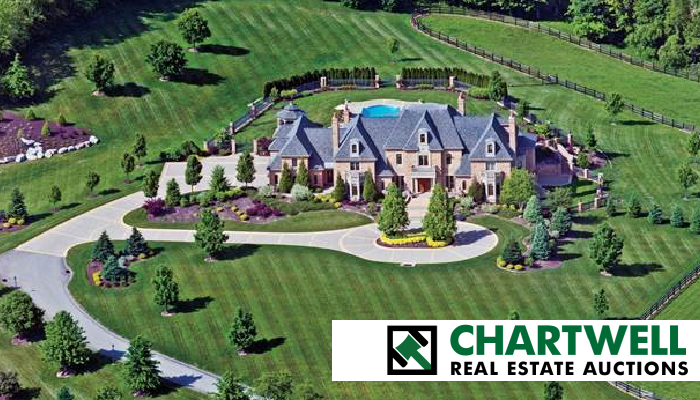 Pittsburgh, PA (October 3, 2018) – Cathy and Dave Johnson built their dream home at 179 Johnston Road in McMurray, Peters Twp., Washington County, 20 miles southwest of Pittsburgh.  As they became empty nesters, the 13,796 square foot home on 22 acres with equestrian facilities was listed for sale at over $12,000,000.
The Johnsons have become more time-sensitive than price-sensitive, and are willing to let the marketplace decide the price via auction. The bidding will commence at $2,850,000 on Saturday, November 10, 2018 at 12:00 p.m.  Mike Berland, Principal and Managing Director, Hanna Commerical Real Estate/Chartwell Auctions will lead the auction.
"More and more sellers are turning to selling their property by auction rather than the traditional listing method that can take years," said Berland.
"There are few companies such as Hanna Commercial who combine true real estate knowledge together with specialized real estate auction knowledge," said Howard W. 'Hoddy' Hanna, III, Chairman, Hanna Holdings, Inc.  "This combination is what leads essentially to a retail price for property as opposed to a liquidated price obtainable by auction companies without a good real estate background. Our job in any case is to focus marketplace attention to the property while creating a competitive bidding environment to insure a maximum pricing for each asset offered. Our auctioneers share a combined 125+ years of real estate auction experience."
The magnificent estate home was custom-built by noted builder Bill McCloskey in 2006 for the Johnsons;  construction took 4-½ years to complete.
Sited on the peak of a hill to take advantage of the panoramic vistas, t­­he home, separate 12-car heated garage/workshop and barns include a world-class indoor riding arena with sound system, regulation sized outdoor arena, and stables for 20 horses. Their dream home can become your dream home at a fraction of the Johnsons' original investment.
"This house is truly worth seeing, and at a starting bid of only $2,850,000, everyone should stop what they are doing and take a closer look," added Mac Biggar, President of Hanna Commercial and Chartwell Auctions.
For additional information, please contact:  Mike Berland, Chartwell Real Estate Auctions, 216-839-2032, mikeberland@hannacre.com
 About Hanna Commercial Real Estate
Hanna Commercial Real Estate is a full-service commercial real estate brokerage firm having offices in Cleveland, Ohio and Pittsburgh, Pennsylvania with reach into Ann Arbor, Michigan; Buffalo, New York; Charlotte, North Carolina; Hartford, Connecticut and Allentown, Pennsylvania.  Key services include commercial real estate brokerage, corporate services, appraisal and consulting, property management, accelerated marketing (auctions) and research.  Hanna Commercial is committed to listening to clients, understanding individual needs and unique business challenges.  As a result of this dedication, we are recognized by clients and peers alike for outstanding service and positive results.
About Howard Hanna Real Estate Services
Howard Hanna Real Estate Services is the 3rd largest real estate company in the United States, the #1 privately owned broker in the nation, and the largest home seller in Pennsylvania, Ohio and New York. The family-owned and operated real estate company specializes in residential and commercial brokerage service, mortgages, closing and title insurance, land development, appraisal services, property and casualty, corporate relocation, and property management. With 279 offices across PA, OH, NY, VA, MI, WV, NC, and MD, more than 9,200 sales associates and staff are guided by a spirit of integrity in all aspects of the real estate process. For more information, visit www.howardhanna.com, or www.facebook.com/howardhanna
Contact: Deborah Donahue, 412-784-3816, ddonahue@howardhanna.com