Management Changes for Howard Hanna Companies, Nothnagle Realtors & RealtyUSA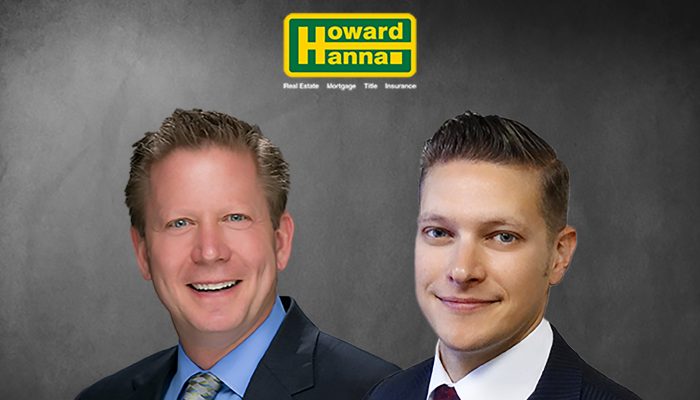 John E. Rummel and Matthew Whitehead Promoted to Buffalo/Niagara Vice Presidents
Buffalo, New York (June 30th, 2017) – Nothnagle Realtors and RealtyUSA, both Howard Hanna companies, are pleased to announce that John E. Rummel and Matthew Whitehead are now Vice Presidents of the Buffalo and Niagara regions, splitting duties by region equally.
Rummel is managing the Amherst, Batavia, Buffalo Residential, Crossroads, East Aurora, Grand Island, Hamburg, Lewiston, Tonawanda and West Seneca offices. These ten offices have 450 agents throughout the region.
Rummel has been working in the real estate industry for nearly thirty years, and in various management capacities since 1994. Since joining Nothnagle Realtors in 2015, he has recruited over 60 agents with yearly sales totaling more than $150 million. As Vice President, he will continue to fulfill the upper-management responsibilities that he began with the Howard Hanna and RealtyUSA acquisitions.
"As these two strong brands are combined to become Howard Hanna, we look forward to continuing to build on the dynamics of team building and the culture of hard work that has been the staple of our successes," said Rummel.
"John has a strong track record of building successful sales teams," said Armand D'Alfonso, Nothnagle Realtors President. "He has a reputation for increasing productivity in the offices where he has worked. I have the utmost faith that he will use those same skills as Vice President and Regional Manager for the Buffalo and Niagara regions."
"One of John's great strengths is in building and maintaining relationships with agents," said Merle Whitehead, Chairman of RealtyUSA. "This talent will make his transition to Regional Vice President an easy one. I look forward to all he can bring to the table in this new role, and the growth that we'll experience as a result."
Whitehead is managing the Amherst/Clarence, Arcade, Ellicottville, Cheektowaga, Lancaster, Orchard Park, Orchard Park Nothnagle, Williamsville and Williamsville Village offices. These nine offices have 466 agents throughout the region.
Whitehead is a Mercyhurst College graduate who began his real estate career in 2006 in sales and administration. In 2011, he became the Vice President focused on the oversight of real estate operations and Manager at the RealtyUSA West Seneca office. During his time as Manager, he expanded the sales and mortgage teams.
His current real estate involvement is both local and national. He is Director at Large for RealtyUSA on BNAR and is a member of NYSAR, NAR and GRAR and holds his Council of Real Estate Brokerage Managers Designation. He is also a graduate of the Ninja Leadership Installation and he is a Buffini & Company Peak Producers Instructor. Whitehead, his wife, and their two children currently live in Orchard Park.
"My goal as Vice President is to assist managers and agents in growing their business and achieving their goals," said Whitehead. "As we move forward and become one company, I am excited to assist in a seamless transition and to ensure that we continue to be the market choice when buying or selling a home."
"We are very proud that Matthew has accepted the new challenge of becoming Regional Vice President," said Merle Whitehead, Chairman of RealtyUSA. "With his more than a decade of real estate experience and his strong commitment to developing the region, I am certain that we can continue our position as a regional real estate leader."
"I've known Matthew personally for years and know that his previous experience will serve him well as he transitions to Regional Vice President," said President of Nothnagle Realtors Armand D'Alfonso. "He is a consummate professional with a reputation for excellence in leadership that has contributed to his overall real estate success. I have no doubt that he will bring this to the Buffalo and Niagara regions."
John E. Rummel can be reached at 716-932-5300 or JohnRummel@HowardHanna.com.
Matthew Whitehead can be reached at 716-825-0600 or MatthewWhitehead@HowardHanna.com.
Howard Hanna Real Estate Services is the 3rd largest real estate company in America, the #1 privately owned broker in the nation, and the largest home seller in Pennsylvania, Ohio, and New York. The family-owned and operated real estate company specializes in residential and commercial brokerage service, mortgages, closing and title insurance, land development, appraisal services, insurance services, corporate relocation and property management. With 270 offices across PA, OH, NY, VA, MI, WV, NC and MD, our more than 9,000 sales associates and staff are guided by a spirit of integrity in all aspects of the real estate process.
To learn more please visit www.howardhanna.com or www.facebook.com/howardhanna
Media contact:
Elizabeth Grepp, 216-447-4477 x115, elizabethgrepp@howardhanna.com
Debbie Donahue, 412-784-3816, ddonahue@howardhanna.com