New Manager for Howard Hanna Maumee-West Office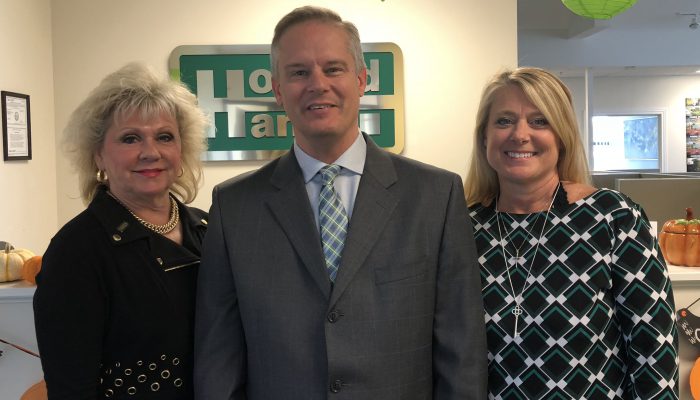 Cleveland, OH (October 31ST, 2018) – Yesterday, Howard Hanna Real Estate Services announced that John McIntyre is the new manager for the Maumee-West office in Ohio.
McIntyre is a graduate of the University of Toledo, where he studied real estate technology. His real estate career began in 1991, when he became a licensed real estate agent and then became an appraiser. He has continued working in recognized leadership positions in the Toledo and Maumee areas, where he has earned a reputation for excellence.
"I look forward to continuing the growth of Howard Hanna Maumee-West and ensuring best-in-class service to our clients, who trust us with their homes and moving their loved ones," said McIntyre.
He is also involved in many professional organizations, among them the Ohio Chapter of the Appraisal Institute, the Ohio Association of Realtors, and the Toledo Board of Realtors. In 2012, he was appointed by Governor Kasich to the Ohio Real Estate Appraisal Board and served as chairman until recently.
Both as a Realtor and as an appraiser, McIntyre has always focused his skills on the proper pricing and market segmentation of high-end, custom homes, regardless of whether the properties are new construction in premiere developments or historic mansions along the Maumee River. This ability will serve him well as he leads the Maumee office to new heights in 2019 and beyond.
"We are extremely happy to have John McIntyre join our management team as a leader in the Maumee market of our Northwest Region. He has many years of experience and knowledge and is very respected in our industry," said Kristine Burdick, President of the Midwest Region.
The more than 40 agents of the Maumee-West office serve Sylvania, Maumee, Monclova, Whitehouse, Waterville, Bowling Green, Pemberville, Swanton, Grand Rapids, and other areas near Toledo. In his new position, McIntyre will be responsible for overseeing office growth and ensuring that Howard Hanna remains the broker of choice in the area.
To buy or sell a home in the Maumee or Toledo areas, please contact John McIntyre at JohnMcIntyre@HowardHanna.com or (419) 861-7700.
Howard Hanna Real Estate Services is the 3rd largest real estate company in America, the #1 privately owned broker in the nation, and the largest home seller in Ohio, Pennsylvania and New York. The family-owned and operated real estate company specializes in residential and commercial brokerage service, mortgages, closing and title insurance, land development, appraisal services, insurance services, corporate relocation and property management. With 262 offices across OH, PA, NY, VA, MI, WV, NC and MD, our more than 9,200 sales associates and staff are guided by a spirit of integrity in all aspects of the real estate process.
For more information, please visit www.howardhanna.com or www.facebook.com/howardhanna
Media contacts:
Elizabeth Grepp, 216-447-4477 x115, elizabethgrepp@howardhanna.com