New Year Brings Management Changes for Howard Hanna Ohio East Region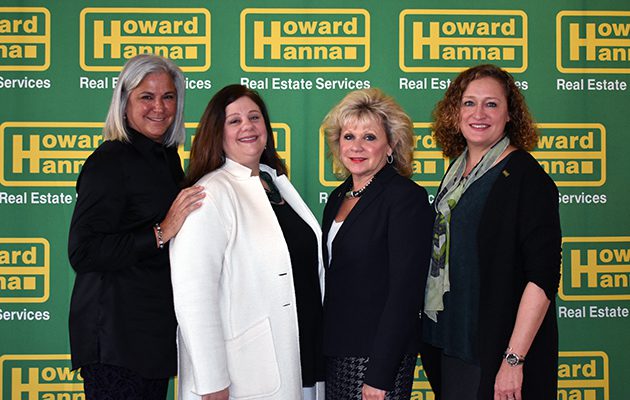 Cleveland, OH (January 14th, 2019) – Earlier this week, at The Country Club in Pepper Pike, Howard Hanna Real Estate Services announced two important management changes. These updates will strengthen the leadership team and ensure the company's position as a broker of choice. Michelle DeGulis, Vice President, was named the manager of the Pepper Pike office, and Mary Beth Wolfe was named the manager of the Chagrin Falls office.
DeGulis was licensed in 2004 and joined Howard Hanna as a sales associate. She has been recognized by the Ohio Association of Realtors with the "Award of Achievement" and the "Award of Distinction." In 2008, she was promoted to manager of the Gates Mills office and then transitioned to also manage the Chagrin Falls office in 2010. In her role as manager of a top office, she has coached, mentored, trained, and supported her staff as they work with buyers and sellers.
Outside of real estate, DeGulis is an active member of the local community. She is on the board of the Howard Hanna Children's Free Care Fund, and the Chagrin Falls fundraiser, "Taste in the Chagrin Valley," has regularly been among the top fundraising events in the company. She has also been a chairperson for the Heights Heritage Home Tour and volunteered as Chair and Secretary for the Cleveland Orchestra committee.
"I am honored to take on this new opportunity as manager of the Pepper Pike team," said DeGulis. "The office and agents are recognized as being among the best in the business. I look forward to continuing that reputation and hope to bring the team to even greater accomplishments and recognition. I'm grateful to the Hanna family, Kristine Burdick, and Leah Gibbons for their confidence in me."
Wolfe became licensed in 2004, and the management team quickly recognized her leadership and savvy, nominating her as "Rookie of the Year." Her collaborative spirit, management experience, and knowledge in sales and marketing will serve her well as she leads the Chagrin Falls office to new heights in 2019 and beyond.
In addition to working as a sales associate at Howard Hanna, Wolfe has also held many community leadership positions. She has served as an elected official on the South Russell Village Council, on the Chagrin Valley Chamber of Commerce Board of Directors, and on various strategic planning committees for the Chagrin Falls Exempted Village Schools.
"I have lived, worked and raised my family in Chagrin Falls. I am very proud to live in this community that I call home. I am thrilled to take the reins and lead this prestigious office and this group of talented, professional and caring agents," said Wolfe. "Howard Hanna has provided us with amazing, talented people from the staff to the upper management level. I very much look forward to continuing the high standards and tradition of excellence in the Chagrin Falls office."
"Both Michelle and Mary Beth have a great amount of market knowledge and experience in our industry," said Kristine Burdick, President of the Midwest Region. "We are excited about the continued growth objectives that their great leadership will bring to Ohio's East Region."
Nationally, Howard Hanna ranks as the 3rd largest real estate broker according to RealTrends Magazine, and locally it has dominant market share in the East Region, including Pepper Pike.
Howard Hanna Real Estate Services is the largest family-owned real estate company in the country and has been Northeast Ohio's leading broker for decades. Through the accomplished leadership of managers such as DeGulis and Wolfe, the company expects to maintain its market leadership and experience growth in 2019.
Howard Hanna Real Estate Services is the 3rd largest real estate company in America, the #1 privately owned broker in the nation, and the largest home seller in Ohio, Pennsylvania and New York. The family-owned and operated real estate company specializes in residential and commercial brokerage service, mortgages, closing and title insurance, land development, appraisal services, insurance services, corporate relocation and property management. With 262 offices across OH, PA, NY, VA, MI, WV, NC and MD, our more than 9,200 sales associates and staff are guided by a spirit of integrity in all aspects of the real estate process.
For more information, please visit www.howardhanna.com or www.facebook.com/howardhanna
Media contacts:
Elizabeth Grepp, 216-643-9796, elizabethgrepp@howardhanna.com