RealtyUSA Partners with Trulia, Zillow, and Realtor.com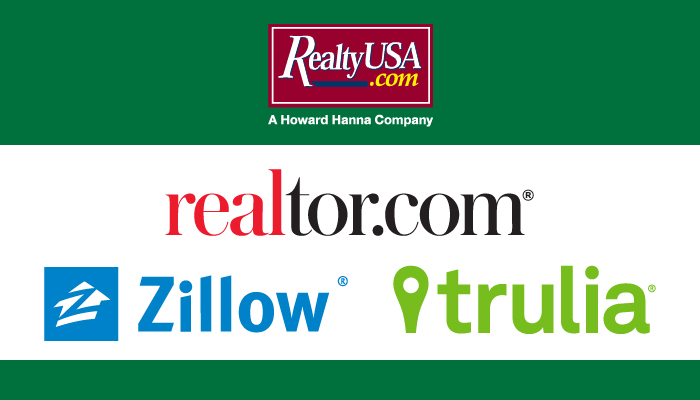 Albany, New York (November 8th, 2016) – Beginning this week RealtyUSA, a Howard Hanna company, will have expanded listing reach through a strategic partnership with Trulia, Zillow and Realtor.com. Now, RealtyUSA has the most powerful web presence for those looking to buy or sell a home in New York, improving the real estate search experience.
RealtyUSA home listings will appear as featured listings on all three sites, helping to protect and strengthen the power of the brand. Agents will be able to answer requests for their own listings and have increased brand recognition with agent contact information, photo, and a link to the property on the RealtyUSA website.
"At RealtyUSA, our customers are our first priority," said Merle Whitehead, President and CEO of RealtyUSA and Chairman of Howard Hanna New York. "In forming this elite partnership with these top real estate portals, we are offering broader exposure for all of our listings while assuring that buyers will be connected with the listing agent, who is most knowledgeable about the property and the community."
With listings now appearing on these three additional websites, RealtyUSA buyers and sellers will benefit from accurate listing information, high quality photos and maximum online exposure. Buyers will easily be able to determine the listing agent for a home, because no other companies will appear on RealtyUSA listings. Sellers will receive free marketing exposure for their listings on some of the most highly trafficked real estate sites nationally.
Howard W. "Hoby" Hanna, IV, President of Real Estate Brokerage, believes in the value of this partnership and looks forward to the benefits for both buyers and sellers in New York. "We have a customer-centric focus to everything that we do, letting it guide our way of business. This partnership with Trulia, Zillow and Realtor.com gives us a new way to showcase listings across some of the industry websites with the most views."
Five years ago, Howard Hanna decided to create exclusive, strategic partnerships with industry-leading online advertisers. Since then, website traffic in 2015 generated 153,679 leads. This partnership with Trulia, Zillow and Realtor.com is expected to have an equally positive result for RealtyUSA.
Howard Hanna Real Estate Services is the 3rd largest real estate company in America, the #1 privately owned broker in the nation, and the largest home seller in Pennsylvania, Ohio, and New York. The family-owned and operated real estate company specializes in residential and commercial brokerage service, mortgages, closing and title insurance, land development, appraisal services, insurance services, corporate relocation and property management. With 270 offices across PA, OH, NY, VA, MI, WV, NC and MD, our more than 9,000 sales associates and staff are guided by a spirit of integrity in all aspects of the real estate process.
Media contact:
Elizabeth Grepp, 216-643-9796, elizabethgrepp@howardhanna.com