Renee Brown-Wagner Named Sales Director of Erie Southwest/Sterrettania Office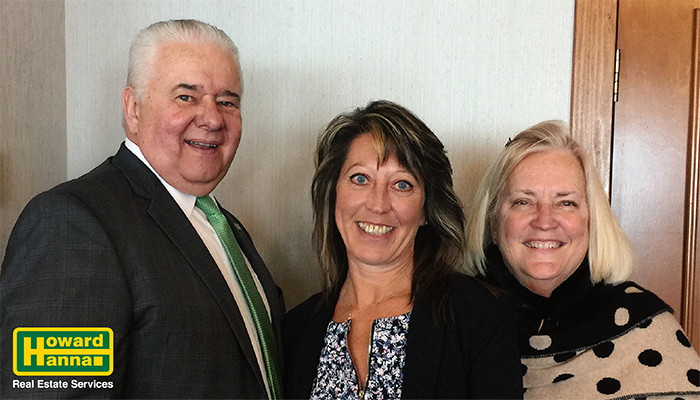 Erie, PA (January 18, 2018) – On Tuesday, January 16, 2018, at a gathering of the Howard Hanna Southwest/Sterrettania office at the Erie Yacht Club, President of Howard Hanna Pennsylvania Tom Ceponis was joined by Vice President & Regional Manager Bebe English, Howard Hanna Mortgage Regional Manager Peter Bauer, Barristers Title Vice President and General Manager Cathy Hopkins, Barristers Title General Counsel Emily Fullerton, Esq., and Erie managers to announce Renee Brown-Wagner as the new Sales Director of the Southwest/Sterrettania office.
Howard Hanna Real Estate Services ranks as the #1 home seller in Erie with a 28.48% market share of homes sold in 2017.   The nearest competitor's market share was 16.19%.
"With Renee's knowledge of the real estate transaction and of the homes in the Erie market, she will continue be a great resource for the office in her new role, and helpful in leading our agents to great successes in 2018 and beyond," said Ceponis.
A licensed Realtor since 2001, Renee has been the top producer of the Southwest/Sterrettania office since 2003 with more than $79 million in closed sales.  She is a multi-year recipient of the National Sales Excellence Award and the Quality Service Award. Active in the real estate community, Renee is a member of the Pennsylvania Association of Realtors, Greater Erie Board of Realtors, the Council of Residential Specialists, and the National Association of Realtors, from which she has earned the following designations:
Certified Residential Specialist
Residential Relocation Expert
Master Certified Negotiation Expert
The Howard Hanna Southwest/Sterrettania office is located at 3738 Sterrettania Road, Erie PA, 16506.  Renee Brown Wagner can be reached there at 814-835-1200 or rebrown@howardhanna.com
Howard Hanna Real Estate Services is the 3rd largest real estate company in the United States, the #1 privately owned broker in the nation, and the largest home seller in Pennsylvania, Ohio, and New York. The family-owned and operated real estate company specializes in residential and commercial brokerage service, mortgages, closing and title insurance, land development, appraisal services, insurance services, corporate relocation, and property management. With 259 offices across PA, OH, NY, VA, MI, WV, NC, and MD, more than 9,000 sales associates and staff are guided by a spirit of integrity in all aspects of the real estate process. For more information, visit www.howardhanna.com, or www.facebook.com/howardhanna
Media contact:
Deborah Donahue, 412-784-3816, ddonahue@howardhanna.com
Pictured L to R:  Howard Hanna PA President Tom Ceponis, Renee Brown-Wagner and VP/Regional Manager Bebe English.