The River's Edge Groundbreaking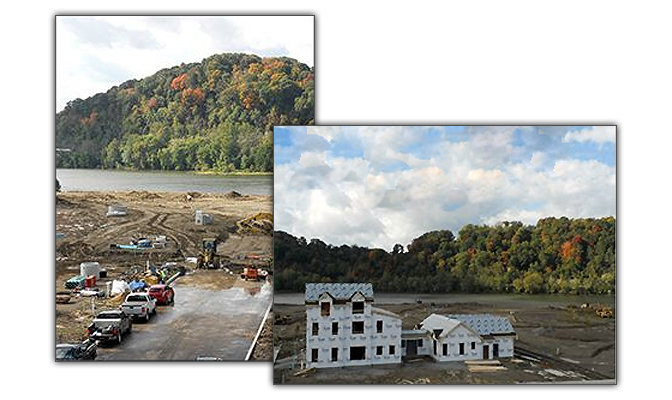 The River's Edge Groundbreaking
One of the last remaining parcels of land (28 acres) along the riverfront is being transformed into The River's Edge, a traditional neighborhood designed to be a walkable community, only steps from the charming shops and restaurants of Oakmont. Located on the site of the former Edgewater Steel Company, the Allegheny River frontage is free of train tracks, as they run behind the new development. "You don't find many areas along the river without train tracks," says John Thompson, co-owner of Brooks & Blair Homes. "And because of this unbelievable, unobstructed riverfront location, we are putting the most expensive homes where the tracks would usually be."
The River's Edge will have approximately 180 residences when complete, all with site-specific home design, including single homes, paired homes, apartments and condominiums. The River's Edge is designed to have lots of green spaces and walking trails, and all residents will have access to a clubhouse with fitness facilities, swimming pool and private boat docks. Seven different 'neighborhoods' will be created within The River's Edge, each with uniquely different views of the river, parks, wooded hills, tree-lined streets and public spaces.
Currently under construction is The Celebration, a 35-unit apartment building, and The Hastings and The Willows, paired brick homes with private courtyards and colonnade connection between the house and garage. The developer hopes to have these finished by November with one serving as the model and the other for sale; April is the target date for the apartments.
For more information, please contact Tony Ferro, Howard Hanna Real Estate Services, at 412-828-2000 or stop by the on-site Sales Office at 29 Allegheny Avenue, Friday through Sunday 12-5pm or Monday, Tuesday and Thursday 11am-6pm. Directions: Near the corner of Allegheny Avenue and College Avenue.
---
Developers: Brooks & Blair Fine Homes & Property Development, Dan Mancosh and John Thompson
Architect & Design: Rothschild Doyno Collaborative
Sales/Marketing: Howard Hanna Real Estate Services
Award-Winning Design: Rothschild Doyno and Brooks & Blair have received an American Institute of Architects Award for Regional and Urban Design of The River's Edge
---