Special Howard Hanna Evening Open Houses Begin in May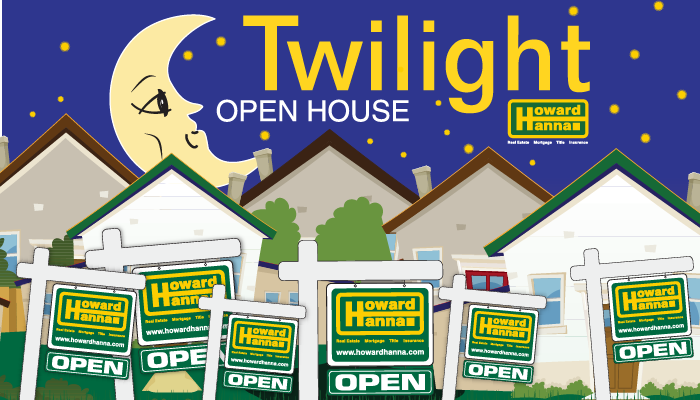 Cleveland, OH (May 16, 2016) – Following the successful open house event hosted by Howard Hanna in April, the company is offering home buyers another unique open house experience. Beginning on Wednesday, May 18 in Pennsylvania, Virginia, Michigan and North Carolina and on Thursday, May 19 in Ohio, offices throughout our market areas will be hosting mid-week Twilight Open House events from 5:00 p.m. to 7:00 p.m.
While it may be the digital age, open houses remain a top resource for those looking to purchase a home. The convenient Twilight Open Houses are designed as an alternative to weekend tours. Howard Hanna offices focus on a different neighborhood each month, offering buyers the chance to view homes that are clustered together in a shorter amount of time.
These monthly events bring together buyers and sellers in a new and convenient way. Each open house is being hosted by an experienced Howard Hanna sales associate, who will be available to discuss our exclusive programs, including "My First Home," "Buy Before You Sell," and our 100% Money-Back Guarantee.
For a chance to view these great open houses in Pennsylvania, Virginia, Michigan and North Carolina, stop by an event on June 22, July 20, August 17, or September 14. In Ohio, the events are on June 23, July 21, August 18, and September 15.
To view Twilight Open Houses visit here: http://www.howardhanna.com/Twilight
Howard Hanna Real Estate Services is the #1 real estate company in Pennsylvania and Ohio and the 4th largest real estate company in the United States. The family-owned and operated company specializes in residential and commercial brokerage service, mortgages, closing and title insurance, land development, appraisal services, insurance services, corporate relocation and property management. With 205 offices across PA, OH, NY, VA, MI, WV, NC & MD, Howard Hanna's more than 7,100 sales associates, managers and employees are guided by a spirit of integrity in all aspects of the real estate process.
For more information, visit www.howardhanna.com, www.facebook.com/howardhanna
Media contacts:
Elizabeth Grepp, 216-447-4477 x115, elizabethgrepp@howardhanna.com
Deborah Donahue, 412-967-9000 x328, ddonahue@howardhanna.com