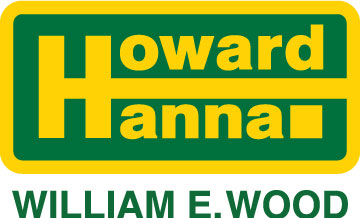 Company Goes From Red to Green
VIRGINIA BEACH, VA (July 15, 2015) – A year since their merger, Howard Hanna Real Estate Services and William E. Wood and Associates are becoming one in their branding. Residents in Virginia and North Carolina who are used to the familiar red William E. Wood signs in front of homes will, as of July 15, now see a new green one that bears the new name of the combined company, Howard Hanna William E. Wood.    
"We are proud to announce our new name in Southeastern Virginia and Northeastern North Carolina and are glad to add William E. Wood to the Howard Hanna family of companies," says Helen Hanna Casey, President of Howard Hanna Real Estate Services. "During the past 18 months, we have expanded the range of services for consumers by introducing One Stop Shopping with mortgage, insurance, title and closing servings, our 100% Money Back Guarantee, which allows people to buy with confidence, a first time buyer program in which many of the closing costs associated with purchasing a home can be financed called My First Home, and our Homes of Distinction exclusive marketing program."
"This will be a seamless transition for our clients with the same extraordinary people and the same extraordinary service securely in place," says Gail Coleman, Executive Vice President and General Manager of Howard Hanna William E. Wood.  "Buyers and sellers will continue to receive the same personal services of our agents and management team, along with the strength and support of the Hanna family and the outstanding resource of Howard Hanna's 7,300 agents and employees in 205 offices across Pennsylvania, Ohio, New York, Virginia, Michigan, West Virginia, North Carolina and Maryland."
Howard Hanna has also expanded the programs and advantages for agents, including Income Advantage that provides a monthly check instead of relying solely on commission, so agents can focus on what they do best – list and sell real estate; Secure Advantage, a program that provides insurance plans, tax planning accounts, long-term and estate planning strategies; and the opportunity to qualify for exciting trips with Hanna Travel to reward their excellence.
Besides the change in signs, there will be an immediate major marketing and advertising campaign in print and on digital billboards and TV, promoting Howard Hanna William E. Wood, The Sign of the Times.
Visitors to the William E. Wood website will be re-directed to the Howard Hanna site, giving listings a greater reach; www.HowardHanna.com averages over 1 million visits per month.
Known for innovative marketing, Howard Hanna has introduced many new ideas designed to maximize exposure of homes listed for sale into the marketplace including "Twilight Tours" mid-week open houses during the summer, "Pot O' Gold" Sunday held near St. Patrick's Day and their annual spring "Open House Extravaganza."
About Howard Hanna:  Headquartered in Pittsburgh, Howard Hanna Real Estate Services is the largest seller of homes in Pennsylvania and Ohio and the 4th largest real estate company in the United States. The family-owned and operated company, founded in 1957, specializes in residential and commercial brokerage service, mortgages, closing and title insurance, land development, appraisal services, insurance services, corporate relocation and property management. With 205 offices across PA, OH, NY, VA, MI, WV, NC & MD, Howard Hanna's more than 7,300 sales associates and employees are guided by a spirit of integrity in all aspects of the real estate process.   For more information, please visit www.howardhanna.com, www.facebook.com/howardhanna
Media Contacts:
Debbie Donahue, Director of Public Relations
ddonahue@howardhanna.com, 412-967-9000 x1328
Rick Schoew, Howard Hanna William E. Wood, Director of Marketing Southeast Region
Rick@williamewood.com, 757-499-9663