Tony Molnar-Strejcek named Sales Director of the Kiski Valley office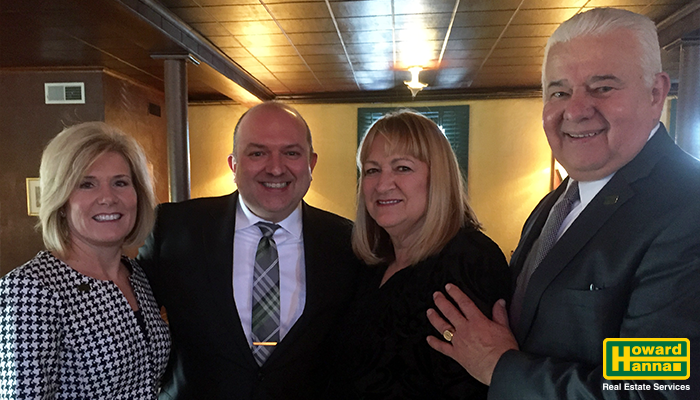 Pittsburgh, PA (January 4, 2018) – At a luncheon held for the agents of the Howard Hanna Kiski Valley office at Anna's Cucina Rustica in Vandergrift yesterday, Vice President and East Regional Manager Yvonne Guthrie announced that Tony Molnar-Strejcek has been named the Sales Director of the Kiski Valley office.
A licensed Realtor since 1993, Molnar-Strejcek lives in Plum but is a graduate of Kiski High School.  He owned and ran a successful publishing company for many years, which also produced online video shows and marketed businesses.  He has been one of the top agents in the Howard Hanna Murrysville office since 2014 and is a graduate of the Pennsylvania Realtor Association Leadership Program.  He is very involved with the Pennsylvania Association of Realtors (PAR) and local Realtor boards:
2018, 2017 Vice President (President Elect), Realtor Association of Westmoreland, Indiana, Mon Valley, and PAR
2018 Pennsylvania trustee Realtors Political Action Committee (RPAC)
Pennsylvania Association of Realtors Diversity Committee
RAWIM Committees: Technology, Bylaws, Policies, and Procedures
2017, 2016, 2015 Director, Westmoreland Realtors Association board and PAR
Molnar-Strejcek also has earned several special Realtor designations, including Certified Negotiation Expert (CNE), Certified New Home Specialist (CNHS) and Residential Construction Certified (RCC).
"When you look at the numbers and what has been accomplished by our Kisi Valley office, they are excellent at listing and selling real estate.  Add Tony's business and problem-solving abilities along with his customer service skills, and we know he will take this team successfully through 2018 and beyond," said Tom Ceponis, President of Howard Hanna Pennsylvania, who was on hand for the announcement, along with Hoby Hanna, IV, President of Howard Hanna Real Estate Brokerage.
"2018 is going to be another good year for real estate in our market areas," said Hanna.  "Inventory continues to trend on the low side, which makes now a great time to sell.  Don't wait until Spring when everyone else will.  This will be an exciting year for our Kiski Valley office under Tony's leadership."
The Howard Hanna Kiski Valley office is located at 451 Hyde Park Road in Leechburg. For all of your real estate needs, or to join the Hanna team, Tony Molnar-Strejcek can be reached in the office at 724-842-2200, on his cell phone at 412-638-2272 or by email at tonymolnar-strejcek@howardhanna.com.
Howard Hanna Real Estate Services is the 3rd largest real estate company in the United States, the #1 privately owned broker in the nation, and the largest home seller in Pennsylvania, Ohio, and New York. The family-owned and operated real estate company specializes in residential and commercial brokerage service, mortgages, closing and title insurance, land development, appraisal services, insurance services, corporate relocation, and property management. With 259 offices across PA, OH, NY, VA, MI, WV, NC, and MD, more than 9,000 sales associates and staff are guided by a spirit of integrity in all aspects of the real estate process. For more information, visit www.howardhanna.com, or www.facebook.com/howardhanna
Media contact: Deborah Donahue, 412-784-3816, ddonahue@howardhanna.com