Tony Molnar-Strejcek named Sales Director of the Greensburg office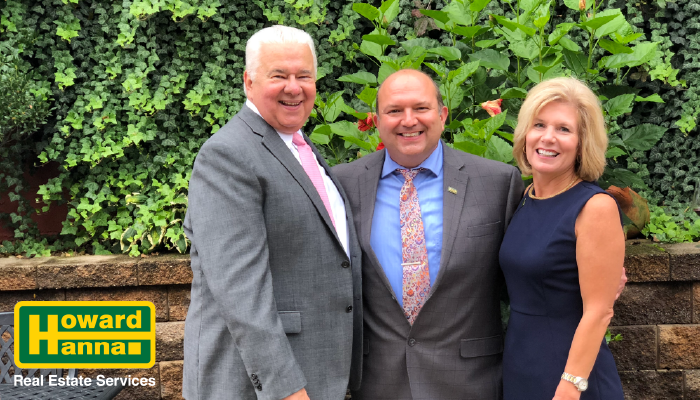 Pittsburgh, PA (October 9, 2018) – On Friday, October 5, 2018 at J. Corks restaurant, Vice President and East Regional Manger Yvonne Guthrie and President of Howard Hanna Pennsylvania Tom Ceponis gathered with the agents of the Greensburg office to announce that Tony Molnar-Strejcek was being named Sales Director of the office.
A licensed Realtor since 1993, Molnar-Strejcek most recently was the Sales Director at the Howard Hanna Kiski Valley office.  He is a graduate of the Pennsylvania Realtor Association Leadership Program and is very involved with the Pennsylvania Association of Realtors (PAR) and local Realtor boards:
2018, 2017 Vice President (President Elect), Realtor Association of Westmoreland, Indiana, Mon Valley, and PAR
2018 Pennsylvania trustee Realtors Political Action Committee (RPAC)
Pennsylvania Association of Realtors Diversity Committee
RAWIM Committees: Technology, Bylaws, Policies, and Procedures
2017, 2016, 2015 Director, Westmoreland Realtors Association board and PAR
"I will miss the Kiski Valley office very much. They are an amazing group of Realtors and I know they will continue to accomplish their goals and those of their clients," said Molnar-Strejcek.  "I am looking forward to the opportunity to work with the great Greensburg team and to share my knowledge that I've learned during my many years in the real estate industry.  Together, we will do great things!"
"We look forward to Tony joining our Greensburg team," said Ceponis.  "His business and problem-solving abilities along with his customer service skills will take this team successfully through 2018 and beyond. "
The Howard Hanna Greensburg office is located at 133 Donahoe Road.  For all of your real estate needs or to join the Hanna team, Tony Molnar-Strejcek can be reached in the office at 724-832-2300, on his cell phone at 412-638-2272, or by email at tonymolnar-strejcek@howardhanna.com.
Pictured L to R:  Tom Ceponis, Tony Molnar-Strejcek, Yvonne Guthrie.
Howard Hanna Real Estate Services is the 3rd largest real estate company in the United States, the #1 privately owned broker in the nation, and the largest home seller in Pennsylvania, Ohio, and New York. The family-owned and operated real estate company specializes in residential and commercial brokerage service, mortgages, closing and title insurance, land development, appraisal services, insurance services, corporate relocation, and property management. With 279 offices across PA, OH, NY, VA, MI, WV, NC, and MD, more than 9,200 sales associates and staff are guided by a spirit of integrity in all aspects of the real estate process. For more information, visit www.howardhanna.com or www.facebook.com/howardhanna
Media contact:
Deborah Donahue, 412-784-3816, ddonahue@howardhanna.com