Twilight Mid-Week Open Houses Begin in May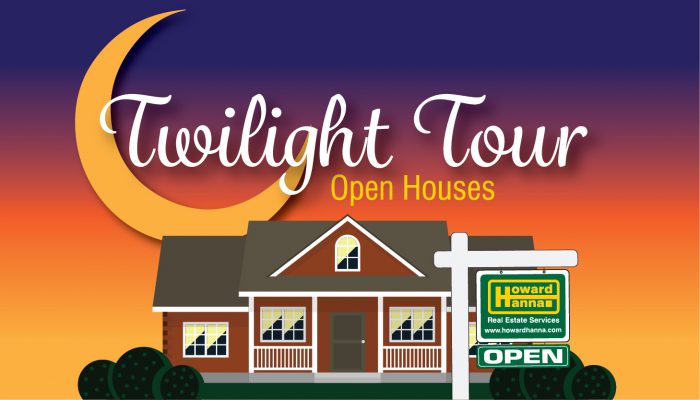 Pittsburgh, PA (May 8th, 2018) – As a real estate leader, Howard Hanna Real Estate Services understands the value of open houses as a resource for buyers and sellers. According to the National Association of Realtors, 92% of buyers find open houses to be useful.
Howard Hanna appreciates that the summertime can be busy for home buyers, making it difficult to attend weekend open houses. This is why the company offers special mid-week open houses in the evening during the warmer months, highlighting different neighborhoods. These "Twilight Open Houses" will be held across six of the eight states in which the company does business, beginning in May and continuing through September.
These unique "Twilight Open Houses" kick off on Wednesday, May 23 in Pennsylvania, New York, Virginia, Michigan and North Carolina and on Thursday, May 24 in Ohio. The open house hours across all participating states will run from 5:00 p.m. until 7:00 p.m.
The summer tours will continue on the below dates:
Wednesday, June 20 and Thursday June 21
Wednesday, July 18 and Thursday July 19
Wednesday, August 15 and Thursday August 16
Wednesday, September 12 and Thursday September 13
Howard Hanna's "Twilight Open House" tours are a different way to connect buyers and sellers, giving buyers the opportunity to tour homes in-person on weekday evenings as sellers showcase their homes and neighborhoods at their best.
A Howard Hanna sales associate will be on-site during each Twilight Open House to answer questions about the property or the neighborhood. The Hanna team will also be available to inform buyers and sellers about Hanna-exclusive programs such as "My First Home," "Buy Before You Sell," "Apartment Dwellers Trade-In," and our 100% Money-Back Guarantee.
To view all Twilight Open Houses, visit: http://www.howardhanna.com/Twilight
Howard Hanna Real Estate Services is the 3rd largest real estate company in America, the #1 privately owned broker in the nation, and the largest home seller in Pennsylvania, Ohio and New York. The family-owned and operated real estate company specializes in residential and commercial brokerage service, mortgages, closing and title insurance, land development, appraisal services, insurance services, corporate relocation and property management. With 262 offices across PA, OH, NY, VA, MI, WV, NC and MD, our more than 9,200 sales associates and staff are guided by a spirit of integrity in all aspects of the real estate process.
For more information, please visit www.howardhanna.com or www.facebook.com/howardhanna
Media contacts:
Elizabeth Grepp, 216-447-4477 x115, elizabethgrepp@howardhanna.com
Debbie Donahue, 412-784-3816, ddonahue@howardhanna.com