Wendy Feaser-Ryan Named Sales Director of the Hershey Office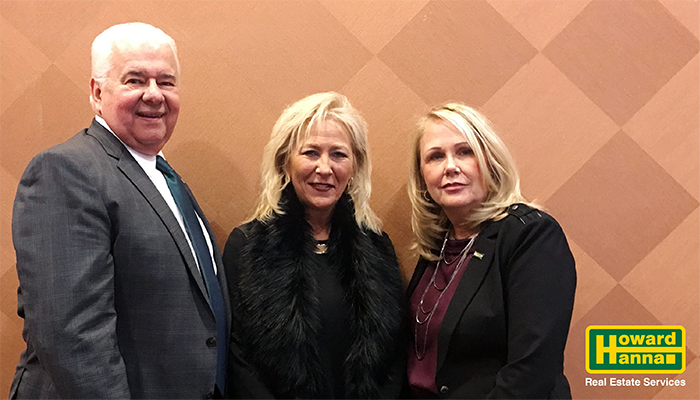 Hershey, PA (January 18, 2018) – On Wednesday, January 17, 2018, Howard Hanna Pennsylvania President Tom Ceponis and Central Pennsylvania Regional Manager JoAnne Freidly were joined by the company's Hershey office agents and other Central region managers at the Hershey Country Club as Wendy Feaser-Ryan was announced as the new Sales Director of the Howard Hanna Hershey office.
A native of the Hershey area, Feaser-Ryan has been a licensed Realtor since 1997, specializing in selling and marketing residential real estate with a secondary specialty in farms.  She currently resides in Derry Township and has spent her entire life in the region.  Real estate and helping people achieve the dream of home ownership have always been her passion, and she is excited to enter this new phase of her career.
"We are thrilled to have Wendy join Howard Hanna Real Estate Services," said Ceponis.  "We look for her to drive our business forward and to be a great resource for our agents, leading to a great 2018 and beyond."
Feaser-Ryan is a member of the Greater Harrisburg Association of Realtors and the National Association of Realtors.
The Howard Hanna office is located at 1249 Cocoa Avenue in Hershey, 17033.  Wendy Feaser-Ryan can be reached there at 717-520-0020 or wendyfeaserryan@howardhanna.com.
Howard Hanna Real Estate Services is the 3rd largest real estate company in the United States, the #1 privately owned broker in the nation, and the largest home seller in Pennsylvania, Ohio, and New York. The family-owned and operated real estate company specializes in residential and commercial brokerage service, mortgages, closing and title insurance, land development, appraisal services, insurance services, corporate relocation, and property management. With 259 offices across PA, OH, NY, VA, MI, WV, NC, and MD, more than 9,000 sales associates and staff are guided by a spirit of integrity in all aspects of the real estate process. For more information, visit www.howardhanna.com, or www.facebook.com/howardhanna
Media contact:
Deborah Donahue, 412-784-3816, ddonahue@howardhanna.com
Pictured L to R:  Howard Hanna President of PA Tom Ceponis, Wendy Feaser-Ryan, Howard Hanna Central PA Regional Manager JoAnne Freidly.