Boy Scouts of America, Laurel Highlands Council to host Eagle Scout Dinner & Recognize Howard W. Hanna, Jr. for his Achievements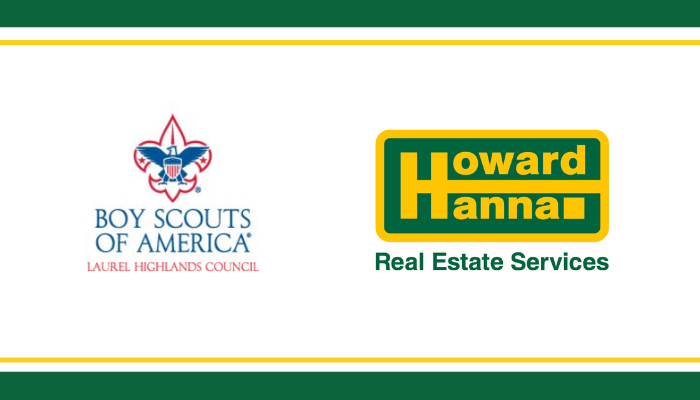 We are pleased to share the following news release, distributed by the Boy Scouts of America, Laurel Highlands Council:
Pittsburgh, PA (July 13, 2021) – The Boy Scouts of America, Laurel Highlands Council, is proud to announce the upcoming Eagle Scout Recognition Dinner on August 3, 2021, at The Westin Pittsburgh. The event marks the 72nd annual celebration and will highlight the accomplishments of 250 Eagle Scouts from the Class of 2020.
The dinner also marks the presentation of the inaugural William S. Dietrich, II Award, which will be presented to a Scouting alumnus for distinguished public witness to the Scout Oath and Scout Law in his or her chosen profession or field of endeavor.
The Laurel Highlands Council is pleased to announce that Howard W. Hanna, Jr. will be the first alumnus to be honored with this award. Mr. Hanna joined the Boy Scouts of America in 1929 and earned the rank of Eagle Scout in 1934.
Mr. Hanna founded Howard Hanna Real Estate Services in 1957 in Pittsburgh, after serving as an American Liaison Officer with the British Army in India during World War II. Mr. Hanna and his late wife, Anne Freyvogel Hanna, began the company in the Shadyside neighborhood of Pittsburgh and from that one office, the company has grown to become a real estate powerhouse as the largest family-owned and –operated real estate company in the nation. The company's second office opened in 1973 in Fox Chapel, PA, and today, there are more than 300 Howard Hanna offices located across 11 states.
Mr. Hanna is known throughout the real estate industry as a kind and caring individual who hand-writes letters and notes to associates and agents throughout the company. Celebrating his 101st birthday in February 2021, Mr. Hanna has led a life full of industry innovations and community contributions.
About the Award
As a lifelong supporter of the Scouts, Mr. Dietrich earned the rank of Eagle Scout in 1955 and would later receive the Distinguished Eagle Scout Award in 1999. He served on the Board of Directors and as Chairman of the Greater Pittsburgh Council, now known as the Laurel Highlands Council, for many years. Mr. Dietrich served his country in the military and had a long career in manufacturing leadership. A life well-lived and devoted to leadership, character and purpose, Dietrich exemplified the spirit of Scouting, thus the William S. Dietrich III Award will be presented annually to an alumnus who personified Scouting principles in his or her career and life. 
About the Event
The dinner will honor Eagle Scouts and their parents, bring potential new individual and corporate donors to the Scouting program, and allows our Eagle Scouts to meet and socialize with older Eagle Scouts from many career paths. For the August 3 event, Howard W. "Hoddy" Hanna, III, will deliver an address to the Scouts and their families. Sponsorships and tables are available for reservation. For more information on the event and sponsorship opportunities, please contact Abigail Tolbert at abigail.tolbert@scouting.org.
About Boy Scouts of America, Laurel Highlands Council: The Boy Scouts of America, Laurel Highlands Council, serves nearly 17,000 youth members and 5,000 volunteer adult leaders throughout its multi-state footprint in Western Pennsylvania, Western Maryland, and parts of West Virginia, making it one of the largest councils in the Boy Scouts of America.
Boy Scouts of America, Laurel Highlands Council Contact: Jerry Gaughan; jerome.gaughan@scouting.org; 412-325-7910
About Howard Hanna: Howard Hanna Real Estate Services is the #1 family-owned and -operated independent broker in the U.S.A. The full-service real estate company has more than 300 real estate, mortgage, insurance, title, and escrow service offices across 11 states, including Allen Tate Realtors in the Carolinas, with more than 12,000 sales associates and staff, including many of the industry's top-producing real estate agents. For more information, visit www.HowardHanna.com.
Howard Hanna Contact: Josie Schultz, josieschultz@howardhanna.com; 724-290-5916