In an article published earlier today, the Pittsburgh Business Times shared a listing of the top local agents and teams that sold more than $10 million in 2021.
The article reports that nearly every firm on the list realized sales growth in 2021, as prices increased and supply was low.
Agents reported seeing increases in all price ranges, busy open houses, short stays on the market and multiple offers. With scores more million-dollar homes selling in the region and more and more areas seeing homes approach and top seven figures, agents in the region moved more high-end inventory than ever before.

Pittsburgh Business Times, April 28, 2022
Howard Hanna was pleased to report an increase in the number of agents recognized on this year's Who's Who list.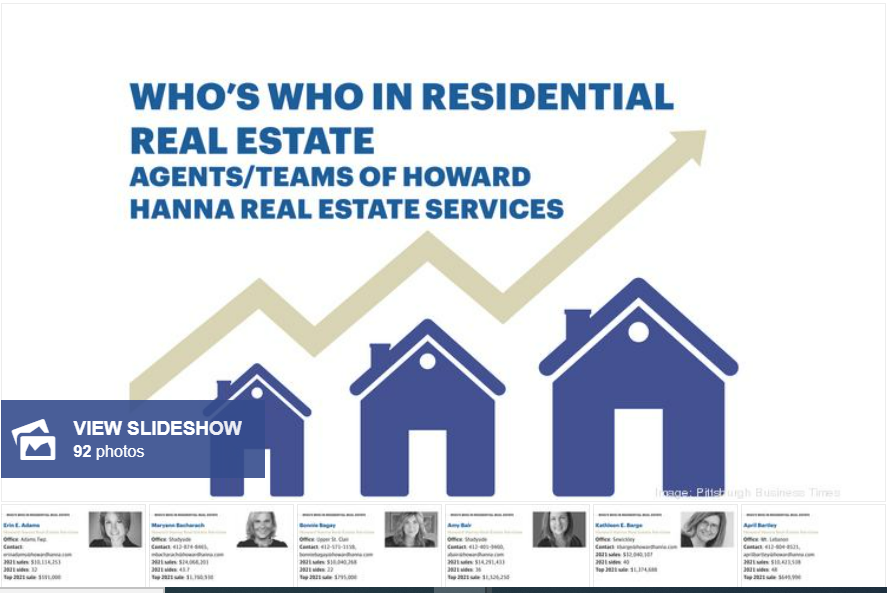 Howard Hanna Real Estate Services went from 57 agents in last year's Who's Who to 71 this year. Hanna also ranked atop The List of Largest Residential Real Estate Firms, with more than $4 billion in regional home sales in 2021.

Pittsburgh Business Times, April 28, 2022
Subscribers to the Pittsburgh Business Times can read the full article here.
(Visited 3 times, 1 visits today)
Last modified: March 14, 2023