A COVID-19 video series featuring 1st Priority Mortgage President Brooke Anderson-Tompkins.
The 1st Priority Mortgage video series "What Happens When?" continued with a video released on Friday, April 10. In the newest video, President Brooke Anderson-Tompkins thanked the many unsung heroes among us and reviewed the effectiveness of recent changes that addresses concerns of employment, asset verification, credit reports, interest rate locks, and more.
Below is a brief recap of the video, along with the video itself in case you missed it.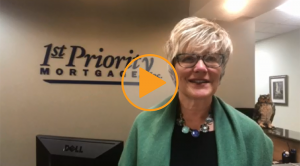 Our heartfelt gratitude goes out to those serving our communities on the frontlines. With so many unsung heroes among us, the words "thank you" seem insignificant to express our appreciation of everyone's efforts to bring us to the other side of this crisis.
Applications
A number of years ago, 1st Priority took on the adage that every file is a family, and essentially we are here to help each family work through this, whether it be in normal times or times of crisis. Please reach out; we're happy to look at the individual situations and questions, and determine a best solution and course of action given the individual circumstance.
We are open.
We are taking loan applications.

Purchase & Refinance: if you haven't considered this before, now may be a great time to refinance your mortgage for a lower rate.

We are working both onsite and remotely.
Documentation
We encourage all involved in the transaction to anticipate that there may be additional validation of documents in the loan file up to the day of closing.
Examples could include:
Employment and Wages
Bank or Asset Accounts
Credit Reports
Forbearance
Forbearance does not mean "forgiveness," but is instead a delay. Payments are expected to be made up in some fashion, potentially a lump sum. As such, it's important that if at all possible, payments be made on time.
If not, it is possible to make different arrangements. Call your servicer, which is essentially where you would send your mortgage payments, to find out the best alternative and get the most accurate information as it relates to your individual circumstance.
Contact your creditor (see your mortgage statement for contact information)
Get agreements in writing and read the fine print; save surprises for birthdays!
The Consumer Financial Protection Bureau (CFPB) out of Washington, DC did a great video that outlines some of the parameters from the federal perspective. Check it out here: https://youtu.be/br5EPugsnLs.
Closing
We are closing loans.
Call us today.
Each family has individual circumstances, so please contact your Mortgage Consultant or Loan Coordinator with any questions. Our goal is to assist with each question and the potential of domino impacts given the realities of COVID-19.
What Happens When?
To see all the videos in our What Happens When? series and for additional information related to it, please visit: https://1stprioritymortgage.com/pages/what-happens-when-covid-19
Videos released so far in the series include:
You can also check out a recap of the first two videos with our blog post 1st Priority Mortgage: What Happens When? and a recap of the third video with our blog post What Happens When? Video 3: Mortgage Transactions.
1st Priority Mortgage continues to serve.
1st Priority Mortgage is still working hard to serve you. As each day brings new information, we will adjust accordingly both internally and with the many stakeholders involved with each deal. Contact 1st Priority Mortgage for how these responses may impact your deal directly.
For a full list of Mortgage Consultants and offices, please visit: www.1stPriorityMortgage.com or call (888) 500-9733.

Contact 1st Priority Mortgage, Inc. for mortgage products and eligibility. 1st Priority Mortgage, Inc. is a Licensed Mortgage Banker, New York State Department of Financial Services, NMLS #29600. All lending products are subject to credit and property approval. Terms, conditions, and certain restrictions may apply on all programs. Interest rate and program terms are subject to change without notice. This is not a commitment to lend. Contact a 1st Priority Mortgage Consultant for full details. (888) 500-9733.
(Visited 20 times, 1 visits today)
Tags:
1st priority
,
1st priority mortgage
,
coronavirus
,
COVID-19
,
mortgage
,
what happens when
Last modified: April 22, 2020