Community Involvement: Free Care Fund Check Presentation From Westfield Legacy of Caring Fund
Spotlight Employee: New Employees
Poll: What App Do You Use to Listen to Music?
Advice From Amber: Preparing for a Stress-Free Holiday
Francis' Corner: Waiting for That Special Package
Coverage Corner: Flood Coverage
Customer Care Centers & Extended Service Hours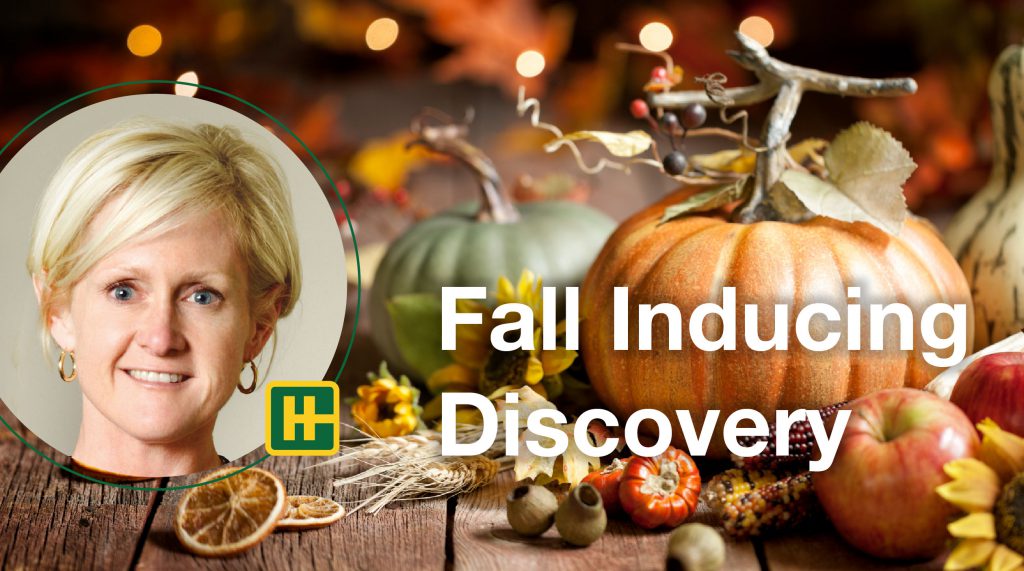 From the President's Desk
Annie Hanna Engel
As we move into the fall and the great debate over pumpkin spice lattes, pumpkin scented everything, and the change of season, I'd like to think of the other discoveries that can be made as we transition from summer to fall.
Before the rush of the new year and resolutions of change – I'm excited for the challenge of discovering what is in front of us as the season changes itself.

Annie Hanna Engel
President and Chief Operating Officer, Howard Hanna Insurance Services
Chief Legal Officer, Hanna Holdings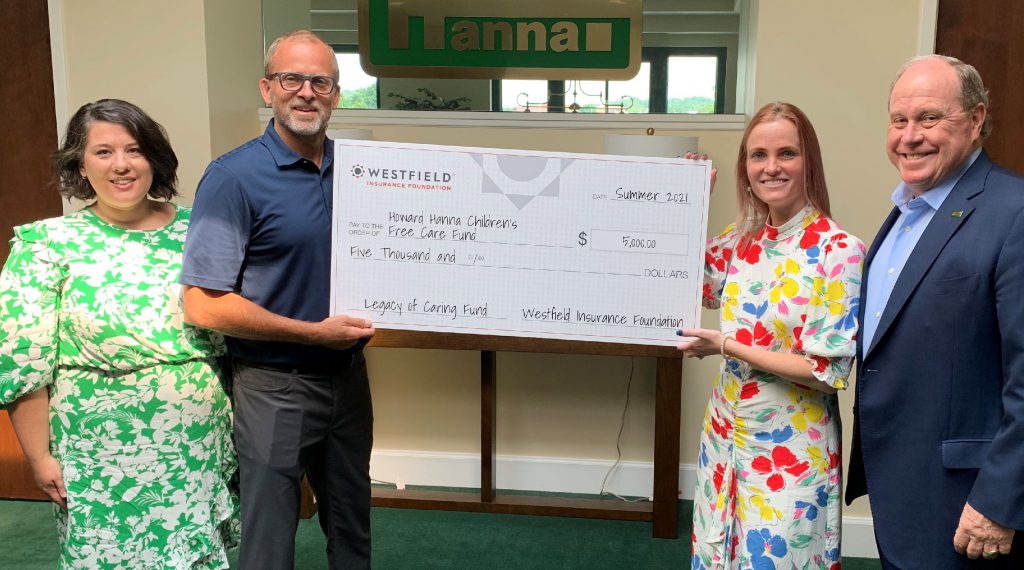 Community Involvement: Free Care Fund Check Presentation From Westfield Legacy of Caring Fund
by Josie Schultz
Howard Hanna Children's Free Care Fund was nominated by Howard Hanna Insurance Services to apply for a $5,000 grant from the Westfield Legacy of Caring program. The mission of the Howard Hanna Children's Free Care Fund is to assure that children never be denied the best medical care available. Each year, Westfield independent insurance agents are invited to nominate a local nonprofit for the Legacy of Caring program. The Westfield Insurance Foundation, an independent private foundation endowed by Westfield, awards the donation as an extension of the fundamental role that insurance plays every day in stabilizing families, businesses, and communities in times of uncertainty.
This year, the grant program, funded by Westfield Insurance Foundation, is focused on supporting nonprofits that are helping families and businesses stabilize and recover from the financial impact of the COVID-19 pandemic. In the last 15 months, nonprofits became increasingly important as the number of people in need increased while funding support simultaneously evaporated. Many agents participating in the Legacy of Caring program this year elected to nominate their local Feeding America foodbank, Urban League, or United Way because of the critical resources they provide to their communities.
The Howard Hanna Children's Free Care Fund plans to direct these funds toward programs where funding was depleted in 2020 due to COVID-related expenditures and deficiencies in fundraising opportunities.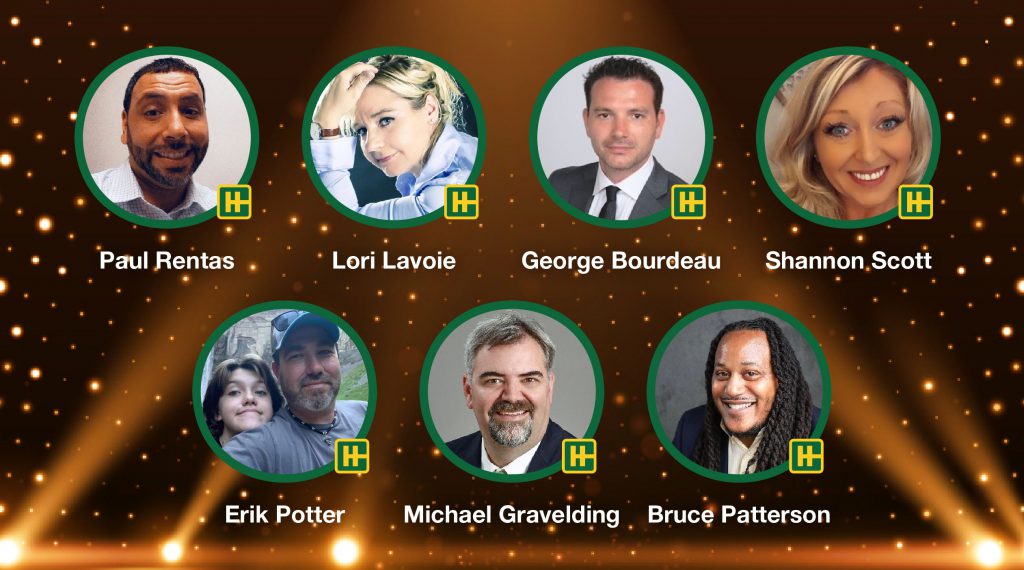 New Employees Spotlight: Meet Our New Team Members
by Ruth Driskell
When you get the email stating your company has hired new employees, typically curiosity takes over. You want to know more about the new folks and their background. Well, we left curiosity at the curb and got right to the point asking our newest team members a list of ice-breaker questions. To keep you in 'The Loop,' we wanted to share with you their answers. Here goes!
Paul Rentas – OH
Paul began his insurance career with National General Insurance in 2014 in an entry-level position. He obtained his producer license in 2016. He did not grow up wanting to be an insurance agent, rather he wanted to be a fighter jet pilot. A couple of skills he would enjoy learning are sign language and reading music. He truly enjoys all music and keeps his playlist on shuffle. He is most proud of his kids and the home he provides for them. He also owns a nice beach cruiser bicycle collection which he is ecstatic about! His favorite colors are orange and blue. Paul spends his free time playing softball when the weather is nice. He also enjoys local comedy and live music. If he won the lottery he would pay off his house, pay off his parents' house and get the few business ideas he's had for a while up and running. Then, he would take a long vacation with his family. The people Paul most admires in life are his mom and dad. Welcome to the HHIS Family!
Erik Potter – NY
Erik has been in the insurance industry for three years. Growing up, Erik wanted to be a police officer. His father was a lieutenant with the Rochester Police Department. Erik would love to learn how to play the guitar because he feels music allows you to enjoy the moment. Reggae is his favorite genre of music. He is most proud of being a father and his favorite color is red. He enjoys spending his free time doing anything outdoors. His favorite activities are hiking, biking, fishing, and sailing/boating. If he won the lottery, he would use the money to start up a nonprofit that provides camping trips for kids. Philanthropy is big in his heart. The person he admires most in his life is his late grandfather who was a WW2 Military Veteran and family man who worked hard and enjoyed the simple things in life. Welcome to the HHIS Family!
Lori Lavoie, LUTCF – NY
Lori has been in the insurance industry for 28 years, beginning at the age of 18! Growing up, Lori dreamed of being either Wonder Woman or an attorney – she did not even know what an insurance agent was back then. She would like to learn how to play the electric violin; she loves the sound it makes and would be up for the challenge. Today's favorite color is blue but that could change tomorrow. Lori says she enjoys all types of music. She is most proud of her children and all the things she said she was going to try to do and did! For example, she hiked her first 46er mountain in the Adirondacks this past summer even with the pain in her knee from a previously torn meniscus. In 12 hours and almost 40,000 steps she completed this challenge. Lori spends her free time traveling, dabbling in photography, motorcycling, camping, fishing, and hiking! However, spending time with her family, two dogs, many friends and neighbors is at the top of her list. If she won the lottery, she says she would not tell anyone. She would enjoy paying off holiday layaways and being an "anonymous donor ." She says she would definitely hire a cook, a house cleaning service, and a lawn maintenance company. The people she most admires are her sons. Her oldest lost his father at a young age and is now a Tech Sergeant in the Air Force and soon to be a father himself. Her youngest has been a type 1 diabetic since he was three. Every day is a struggle with the disease but he makes it look so easy, she says. He is now a junior in college majoring in electrical engineering. Welcome to the HHIS Family!
Michael Gravelding, CPIA – NY
Michael has been in the insurance industry for 15 years. Growing up, Michael wanted to be a zookeeper. Michael says he would like to learn how to play the guitar so he can play it around his fire pit at night in his backyard. He is most proud of his two daughters, Jaden and Ryeley. Michael likes all colors and his favorite music is classic rock. He spends his free time with his family and working outside around his home. If he won the lottery, he would donate some, give some to his church and family, and then travel. He admires his mother most of all for raising three boys on her own. Welcome to the HHIS Family!
George Bourdeau – MI
George has been in the insurance industry for 15 years. Growing up, he wanted to be a pro athlete. He says he would enjoy learning how to speak Mandarin for business purposes. He is most proud of his daughter. George's favorite color is blue and he loves old-school rock music. He spends his free time golfing and gardening. If he won the lottery, he would take care of the people close to him. The person George admires most is his dad, who he says is a selfless human who puts others before himself. Welcome to the HHIS Family!
Bruce Patterson – OH
Bruce has been in the insurance industry for six years. Growing up, he wanted to be an NFL player or a businessperson. He says he would like to learn skills related to home improvement so he can pay less for things that need to be repaired. Bruce is most proud of his children. His favorite color is blue and he loves reggae music. He spends his free time learning how to better himself. If he won the lottery, he would move to the islands and live a simple natural life with no alarm clocks. What he admires most in life is nature. Welcome to the HHIS Family!
Shannon Scott – NY
Shannon has been in the insurance industry for four years. She decided to enter the industry after she and her daughter lost their home to a tragic fire. Growing up, Shannon wanted to be a teacher. A skill she would like to learn is how to fly an airplane. Before her father passed away when she was 19, he always told her how much he loved flying and could not wait to bring her. This is something she plans to do in the near future. Shannon is most proud of her daughter, who is kind, funny, and smart, has a 4.0 GPA, and is an incredible soccer player. Shannon's favorite color is purple and she enjoys all kinds of music. She spends her free time finding new adventures and places to visit. If she won the lottery, she would: pay off debt, set up a trust for her daughter, possibly waste some money on things she never thought she would be able to afford and invest the rest. The person she admires the most is her mother, who she says is the hardest working, loving, selfless person she knows. Welcome to the HHIS Family!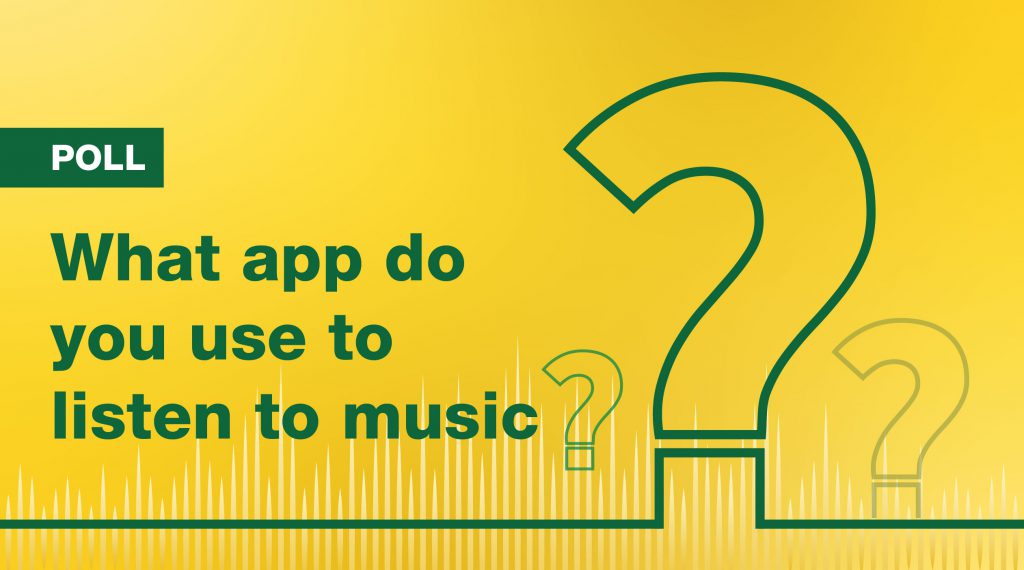 Poll Created by Katharine Marrs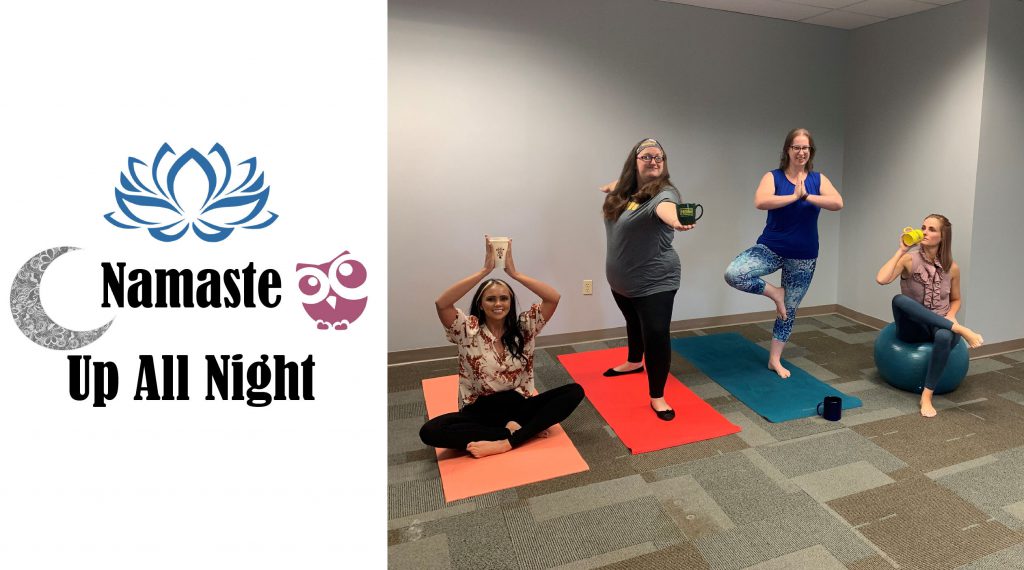 In our previous poll, we asked what we should do with our new space at the office. Your votes resulted in a tie for coffee bar and yoga studio. Welcome to Namaste Up All Night!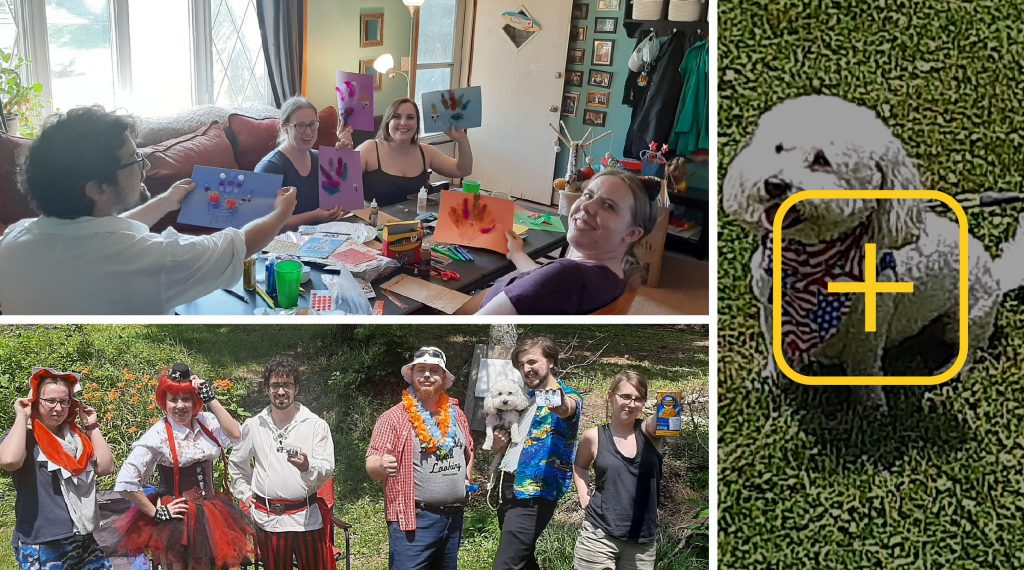 All the Things Party
by Katharine Marrs
I've found as I've grown older that time seems to compress. One minute we're ringing in a New Year, and then it's time to carve jack-o-lanterns! When you add in the difficulty of trying to wrangle plans to fit in around several different social calendars, it can seem impossible to gather a group of people in one place to celebrate a holiday. This year, my friends and I may have hit upon the perfect solution. We planned a get-together for the Fourth of July, but we would celebrate an entire year of holidays at one party. We dubbed the event "All the Things! Party."
It was easily the most bizarre party preparation I've ever done. Between wrapping Christmas gifts and hiding Easter eggs, I hardly had time to find a Halloween costume. Luckily, a fortuitous trip to Goodwill provided a child-size shark blanket that I turned around to wear on my head. One more thing checked off the list!
The day arrived and we snacked on Cinco de Mayo nachos and St. Patty's Day corned beef sliders while my husband prepared a deep-fried Thanksgiving turkey. For dessert, there was a birthday cake, since everyone had had a birthday in the last year.
We channeled a Renaissance Faire vibe for our backyard archery contest, then celebrated our Scottish heritage with a caber toss. The caber is traditionally a log about the size of a telephone pole that competitors toss straight up in the air to flip end-over-end before coming back down to earth. Ours was made of pool noodles due to limiting factors of material availability and because we are not professional caber tossers. When the wind took it, it went a fair distance.
We assembled to judge Halloween costumes, and my shark sadly could not compete with my friends' creativity. I lost out to a particularly ghoulish cosplay and Lara Kraft: Tomb Raider with her box of mac and cheese. Honorable mention went to Ace Ventura: Pet Detective featuring Ollie the adorable bichon frise.
Then we grabbed various holiday baskets and scattered them to recover the hundred and eighty plastic eggs hidden in the yard. It's quite a thing to see a pirate sprinting at top speed through your yard while wielding a Santa basket.
We took a break for arts and crafts after all that exertion and created classic Valentine's Day mailboxes out of brown paper bags and feathered hand turkey drawings for Thanksgiving. It was starting to get late, so we played one quick round of Bingo and went fishing for prizes. I won a new fuzzy unicorn friend!
We ended the evening with a white elephant gift exchange. Everyone got one gift that they could unwrap or try their luck by stealing a gift from someone else. One friend ended up with popcorn paired with some of the most cinematic masterpieces Dollar Tree had to offer. But my husband unwrapped the beautiful bow on his gift to find only a piece of paper wishing him "April Fool's!"
By the time the fireworks faded and we had toasted our New Year's champagne, I certainly felt like I had experienced a whole year in one day. It was so nice to get to spend that time with friends and share our various holiday traditions. I don't know if celebrating all the things at once will become a new yearly tradition, but we definitely might try it again. After all, there are still two more Easter eggs hidden in my yard somewhere that we never found…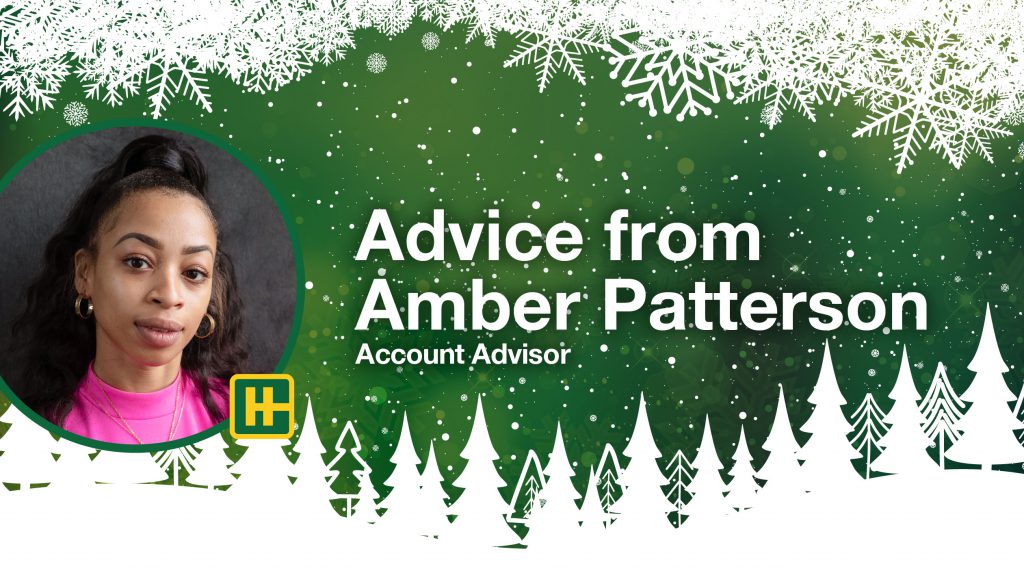 Advice From Amber: Preparing for a Stress-Free Holiday
by Amber Patterson
Q: I love to give presents, but I sometimes worry that the recipient won't enjoy what I've picked out for them. Any advice on how to manage my anxiety over what other people might think of my gifts?
A: Always remember it's the thought that counts when it comes to picking out gifts for friends or family. When shopping for a gift for a special someone, think about their personality and what specifically fits them. Gifts are not required to be materialistic. If you start to feel anxiety coming on or if shopping gets a little overwhelming, think about something special about that person: maybe, it's their smile or a memory you share.
Q: There's so much to do around the holidays. I find myself wanting to bake the perfect cookies from scratch, decorate my house like Martha Stewart, and wrap every gift with a flawless bow – basically everything I need to be the hostess with the mostest. But this leaves me feeling rushed and stressed out, and then the holidays are over way too quickly. How can I let go of needing everything to be perfect and just enjoy the moment?
A: Being the hostess with the mostest does not require being perfect! You can totally be the hostess with the mostest without having to go all out like baking, decorating, and wrapping gifts. As the host, you are the ringleader to creating a memorable experience. Who cares about cookies!! Create a holiday trivia. No need to decorate like Martha Stewart!! You can decorate the house to be colorful and soothing but remember this is not a holiday lights competition so no stress. As the host, you are in control of that experience so make it your best! Focus on the loved ones around you and the joy that is being shared throughout the moment.
Q: Any advice on stopping spending on myself when I am out shopping for others. I find that when I'm looking for gifts for others I'm constantly finding things I like and want for myself. This leads to way too much spending that was not planned or budgeted for, which then leads to stress.
A: When you are shopping for others, it's best to set a budget to spend on those gifts. Make shopping for others rewarding by creating rules and following them. One rule can be to buy a gift for others that is within budget. If successful, treat yourself to a gift!!
Q: Is it okay to not bake cookies or make a gingerbread house? Somehow I feel like I'm missing out if I don't do those things but they always stress me out. Really, I'm just left with a gingerbread house that looks like it belongs in a haunted house while serving as a hazard on the counter for the cats to get into.
A: It's totally okay to not bake cookies or make a gingerbread house! Try other baking challenges that can be done with family or others to make it a little more fun and less overwhelming. If you don't want to bake, that's fine too. Part of the holidays is about sharing memories with each other and creating your own traditions!! Instead of baking… you can decorate, throw a holiday party, or do whatever it is that will fit your own personal holiday tradition. We want to make sure fur babies are included so dress them up for a party of their own!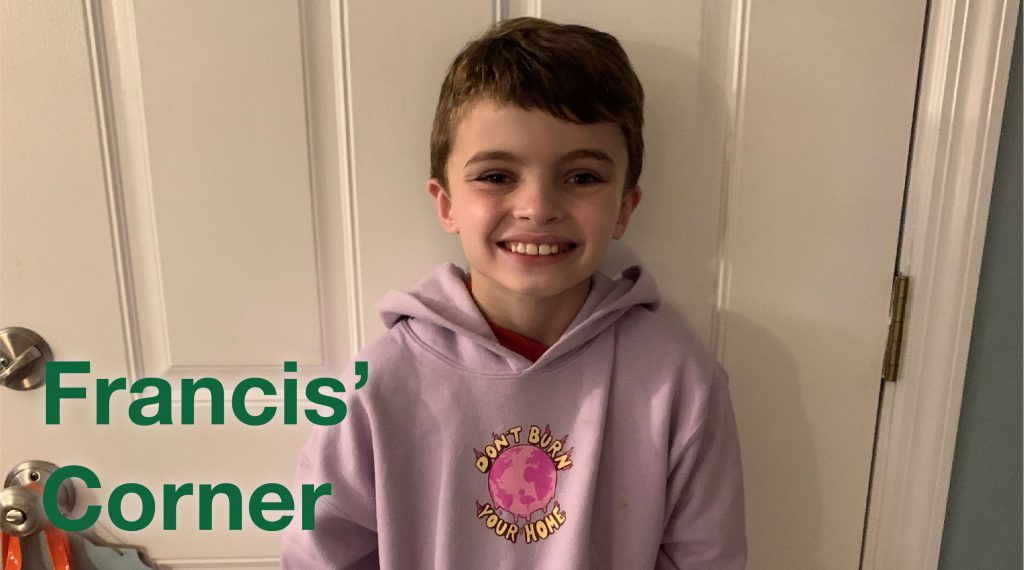 Francis' Corner: Waiting For That Special Package
by Danielle Shearer
Everyone can likely remember a time when they anxiously awaited something special in the mail. Maybe it was a letter from a pen pal, a package from grandma or grandpa, or a gift you ordered for yourself. I tried explaining to Francis that sometimes the anticipation is the best part! He disagrees.
Francis had been asking me since June to order some apparel from his favorite YouTuber. He had done well at the close of his 3rd grade school year and I had promised to reward him. I thought I'd buy myself some time, and possibly he'd forget about it, by telling him he had to work harder on chores around the house. I then came out with the words every kid dreads hearing: "We'll see."
As luck would have it, Francis did not ask me again until another month went by and then again right at the start of school. With fall right around the corner, I gave in to ordering not only one but two hoodies. The anticipation began….
Francis had a friend who ordered from the same YouTuber, and he told Francis it took FOREVER for the package to arrive. Francis said to me, "Mommy, I mean how long can it take, the YouTuber lives in Florida. What is it about a 15-hour drive? We did that on our vacation, that's easy!" As the days passed on with no word from UPS, Francis grew impatient and advised, "My package is probably with a lazy driver that stops every few hours (thinking his package is being driven from Florida) and that's what is taking so long. Just my luck!"
Finally, a week-and-a-half later I had an email from UPS that stated, "Your package is on the way!" Francis' excitement was quickly followed by disappointment once I read him the scheduled delivery date. It was four days away still. After a brief outburst of anger, he pulled it together and told himself he could do this, he could continue to wait – well, he had to, there was no choice. The delivery date finally came and with it, another email from UPS that stated, "Your delivery date has been rescheduled." I was horrified at the idea of telling Francis but luckily, he peeked at my email and was dealt the blow with his own two eyes. We were in a public place at the time of this news so his anger was muttered under his breath. He again blamed what he believed was a "lazy driver," stopping for snacks and to sleep on his long journey from Florida to Pittsburgh with Francis' package. By the next day, I held my breath waiting for another delivery update. Before I could check my email, I received a text on my phone from Francis that read: "Hi mommy, I got the merchandise!" followed by two photos of the hoodies. I expressed my excitement back and he said, "I know finally!"
Lesson learned, next time we'll order from a YouTuber down the street so we can drive to their home, pick up the package and drive it home. Same-day delivery!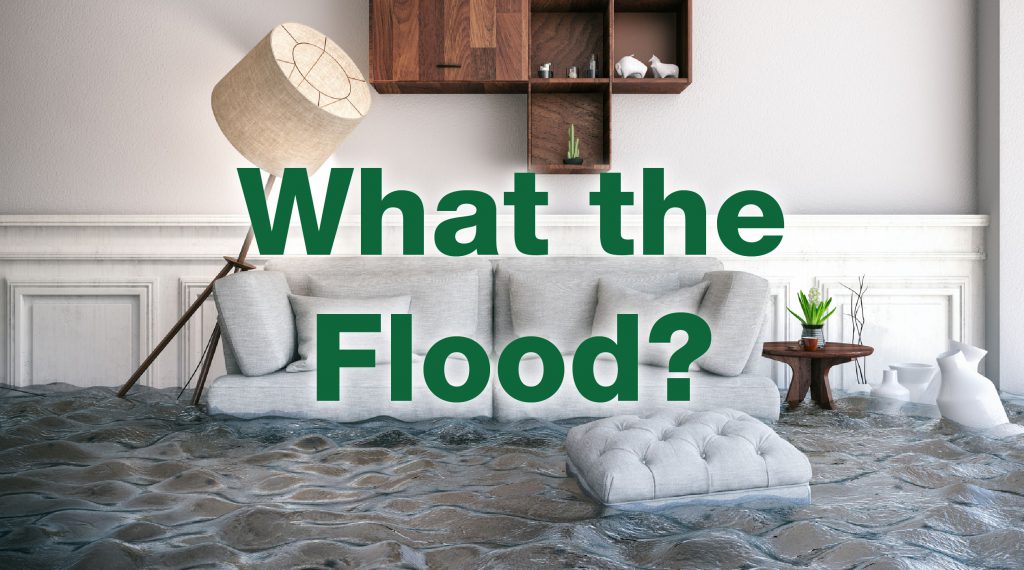 Coverage Corner: Flood Insurance
by Katie Lynn Zurawka
The coverage under the homeowner's policy offers many coverage endorsements for better peace of mind in protecting your home. One coverage not offered on the home policy and too often overlooked is flood coverage. More and more areas have become prone to flooding, which can lead to quite a financial burden if an active flood policy is not in place. The most common misconception is that flood coverage is not needed. Check out this fun and interactive quiz provided by the National Association of Insurance Commissioners to help with understanding the risk and importance of flood insurance: "What the Flood!". Better yet, give our agents a call for a no-obligation quote!
Request more info on flood insurance here.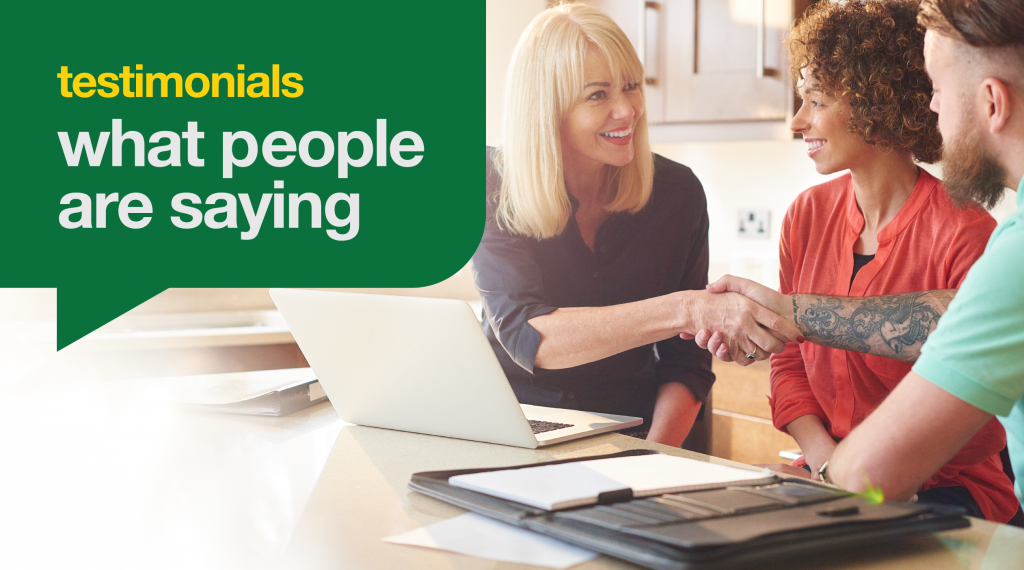 Testimonials From Our Clients
by Howard Hanna Insurance Services
Rates and service are second to none.
—Gary B. | Customer since 2019
Friendly and fast service. Quick answers. Valuable advice.
—Michael C. | Customer since 2011
Very responsive service
—Daniel C. | Customer since 2021
Very straightforward, knowledgeable, and very helpful.
—James M. | Customer since 2021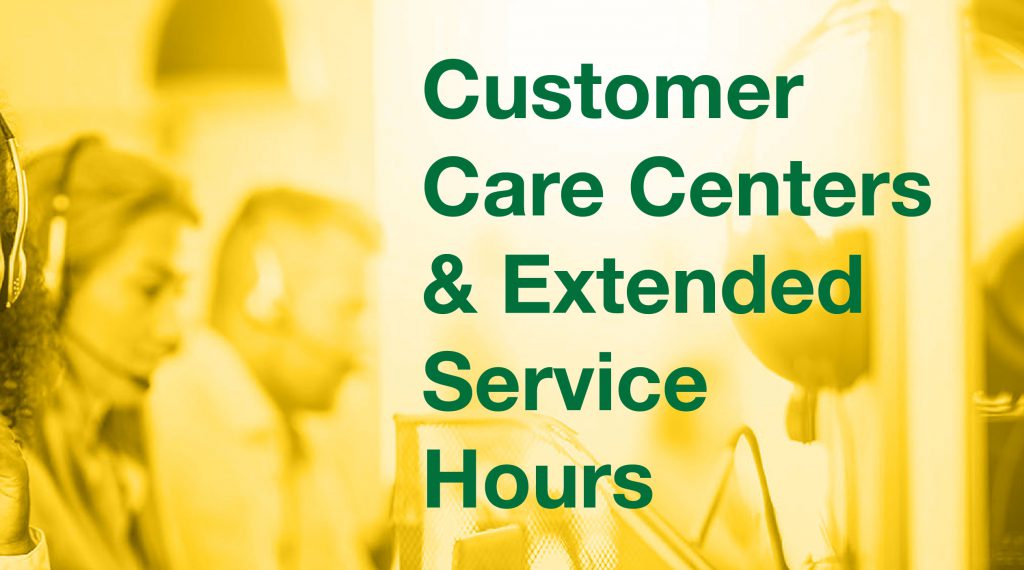 Customer Care Centers & Extended Service Hours
by Howard Hanna Insurance Services
At Howard Hanna Insurance Services, we're committed to delivering the very best customer experience.
That's why we are pleased to announce an enhancement to the insurance services provided exclusively for our customers. We've teamed up with several of our insurance carriers to provide our clients with extended hours of operation and service when it's convenient for you. As always, our office remains available should you have any policy-related questions. Here is a list of carriers for which we are proud to offer extended hours for your service needs:
Chubb Insurance: 800-777-2131
Hours of Operation: Monday-Friday 8am-8pm EST, Saturday 10am-6pm
Donegal Service Center: 800-504-6635
Hours of Operation: Monday-Friday 8am-6pm EST
Encompass Insurance: 866-882-9513
Hours of Operation: Monday-Friday 8am-11pm EST, Saturday 9am-5pm
Grange Insurance: 855-293-3828
Hours of Operation: Monday-Friday 8am-7pm EST, Saturday 9am-12pm
Hanover Insurance: OH/MI clients: 800-782-8385, all other states: 855-255-4264
Hours of Operation: Monday-Friday 7am-9:30pm EST, Saturday 9am-5pm
Nationwide Insurance: 800-282-1446
Hours of operation: Monday-Friday 8am-9pm EST, emergency services available on the weekend
Progressive: Auto: 877-776-2436
Hours of operation: 24/7/365
Safeco: 866-472-3326
Hours of operation: 24/7/365
Travelers: 877-872-8737
Hours of operation: 24/7/365
Westfield: personal lines: 844-948-1893, commercial business: 800-236-3884
Hours of operation: Monday-Friday 8am-6pm EST, Saturday 10am-3pm (no Saturdays for commercial). Westfield billing open 8am-8pm Monday-Friday.

What is the Client Portal?
Howard Hanna Insurance Services is pleased to offer our clients exclusive access to our Client Portal. The Client Portal is a personalized web account that provides 24/7 access to your individual policy information. You can access it at home or on the go from your desktop computer, laptop, tablet, or smartphone. You can even access it via a special app, InsurLink!
InsurLink gives you full access to your insurance agency with the intuitive user interface and flexibility of a mobile app. Now you can connect to your insurance agency on your terms and your schedule. Visit the app store and download it from there.
What can I use it for?
View a summary of your policy information.
Request policy changes by sending a direct message to our team.
View, download and print current auto ID cards for all vehicles on your policy.
Manage users to allow other members of your household access to your Client Portal.
Obtain certificates of insurance for commercial policies.
Upload documents securely.
Contact your Howard Hanna Insurance team!
How can I sign up?
It's easy! Email us at insurance@howardhanna.com or call us at 412-696-0310 to request an invitation. We'll send you an email with a link to activate your account.
At Howard Hanna Insurance, we're committed to protecting what matters most to you. Learn more today: HowardHanna.com/Insurance

412-696-0310

(Visited 92 times, 1 visits today)
Tags:
howard hanna insurance services
,
Howard Hanna Insurance Services The Loop
Last modified: October 14, 2021