Community Involvement: Donegal Insurance Presents Free Care Fund Check
Spotlight Employee: All About Susie
Poll: What To Do With Our New Office Space?
Advice From Amber: The Struggles of Being a Parent of Fur Babies
Francis' Corner: The "I love you" Text
Coverage Corner: Umbrella Coverage
Customer Care Centers & Extended Service Hours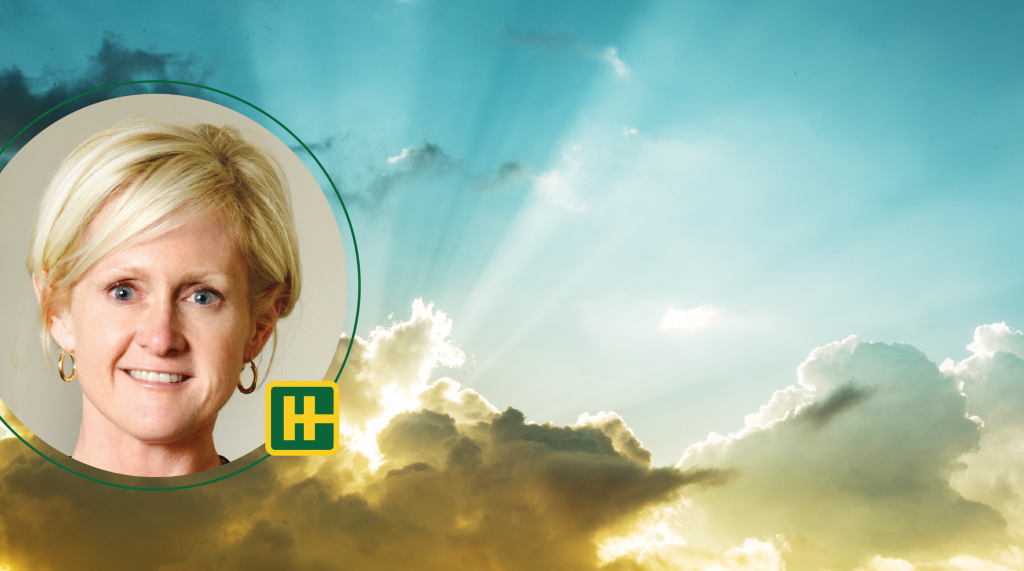 From the President's Desk
Annie Hanna Engel
I was recently part of a podcast series for the Ohio Association of REALTORS®. The opening question was, "What is the best view you've ever had?"
I know this podcast – I knew this question was likely coming – so I thought a little bit about creating a "clever" answer—questioning whether it should be literal, metaphysical, spiritual, or a hundred other things.
I mean, I've had a lot of great views of PLACES in my life. And every time I see a great view, I think, 'This is the best view I've ever had of anything!' I take a picture, and of course the picture never accurately portrays the beauty that my eyes saw at that moment, be it a misty mountain, a beautiful green valley, or an ancient structure. So I've learned that even if I do take a picture, I have to capture that view in my mind and keep it for another time, because it's much more than what my eyes are seeing in that moment.
So I thought about an answer based on "points of view." If you listen to any podcasts, you know that could be dangerous territory regardless of what your point of view is, so I set that aside pretty quickly.
And I came back to what my eyes see and thought a lot about what my mind captures at that moment. And I made a little joke about it seeming very cliché, someone in the real estate industry saying that the best food they had is from their home. I went on to explain that it wasn't just what my eyes saw, it's what my head and heart feel, as well. The sights of my family and friends inside or out of my home capture exactly what I wanted to get today in describing the best view I'd ever seen—because it isn't just with my eyes.
Think about what your best view is and enjoy it… whether it's right in front of you or just in your mind's eye.

Annie Hanna Engel
President and Chief Operating Officer, Howard Hanna Insurance Services
Chief Legal Officer, Hanna Holdings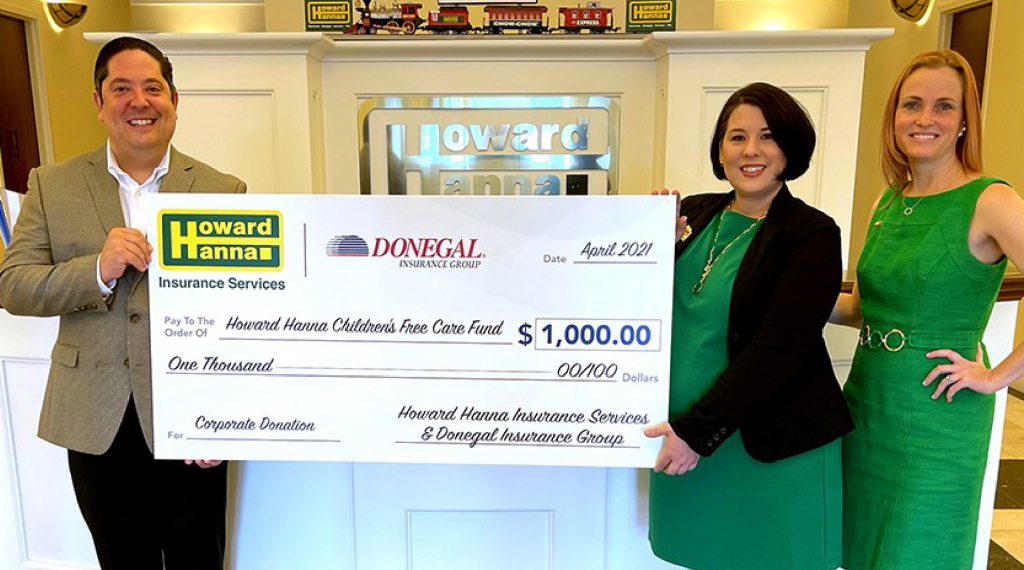 Community Involvement: Donegal Insurance Presents Free Care Fund Check
by Danielle Shearer
On behalf of Howard Hanna Insurance Services, Donegal Insurance generously donated $1,000 to the Howard Hanna Children's Free Care Fund. We are most grateful for the donation!
Our fundraising events for the Children's Free Care Fund are currently underway: Please visit the Facebook page to view all events and consider donating to this amazing charity.
Thank you to everyone for your support!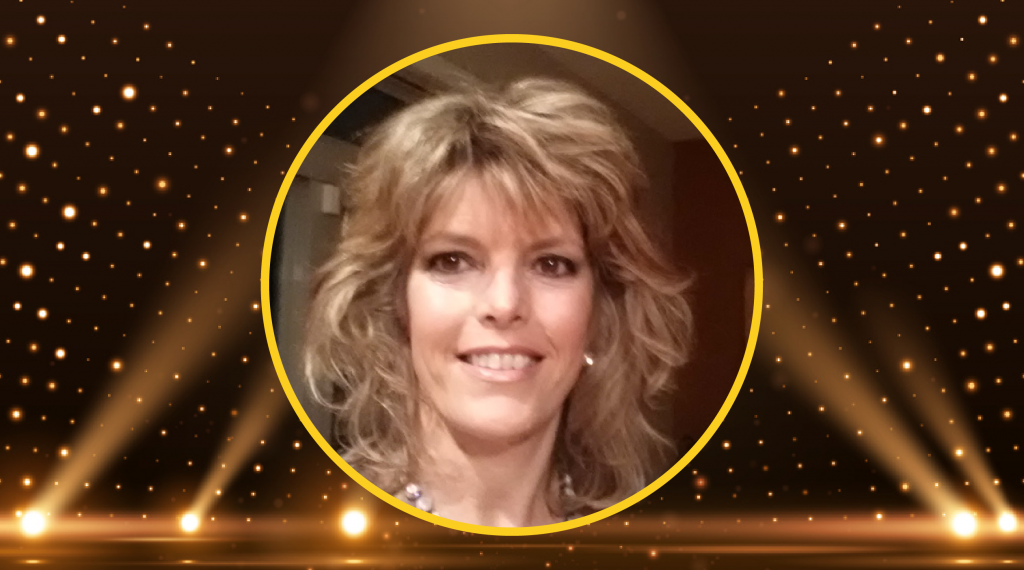 Spotlight Employee: All About Susie
by Ruth Driskell
Susan Rivers, or "Susie" as we fondly refer to her, has been a member of the Howard Hanna Insurance Services family for around nine years now. In that time, we have gotten to know her as spunky, energetic, happy, and always smiling. She is also humble about the fact that she is consistently a top sales producer.
Susie has the ability to make quick, friendly connections with our clients, all the while providing the very best-in-class insurance services. Recently, we sat down with Susie and asked her to share a bit more about herself. We found that her ambition and drive were only some of the wonderful things we know about her.
Q: What is your best childhood memory?
A: Living across the street from the neighborhood playground. I always had tons of friends to play with and activities to do. It was like summer camp every day. We went swimming, weekly art classes, sports tournaments with other local playgrounds. It was awesome.
Q: What do you feel most proud of?
A: Having my own business for 20 years.
Q: What is your favorite music?
A: Top hits.
Q: If you could travel anywhere, where would you go and why?
A: Italy – so much history. I would love to see Rome – the Vatican, Colosseum, Milan-hopping, Amalfi coast – beautiful beaches, architecture, the churches, and of course it is wine country, and I love wine.
Q: If you could only keep two possessions, what would they be?
A: Family and phone.
Q: What teacher in school made the most impact on you and why?
A: Mr. Kolakowski – he was my 10th grade chemistry teacher. That was a class I thought I would never like and would never do well in. He made it so fun and interesting that I ended up getting all A's in the class that year.
Q: What was one of your most defining moments in life?
A: Getting my driver's license.
Q: Why did you choose the insurance profession?
A: I got into insurance later in life because there was a volatile period in my life where every time I would start a job and do well at it, the economy would go south and the job would end due to company closures or layoffs. I wanted to find a job that was stable and would last through tumultuous times. Insurance was definitely the right choice – case proven during COVID.
Q: How do you spend your free time?
A: Working out, biking, going out to dinner with friends, having family over.
Q: If you won the lottery, what would you do?
A: I would still keep working but I would pay off all of my debt, my family's debt, and help some friends out. Then I would invest the rest until I was ready to retire and travel.
Q: What is your strongest personal quality?
A: I never give up!
Q: What age do you feel right now and why?
A: 40, I am in great health and I still have a lot of energy.
Q: What is a skill you'd like to learn and why?
A: Cooking – it would take the agony away of having to cook every night.
Q: What does a perfect day look like to you?
A: A day that nothing goes wrong.
Q: If you were president, what is the first thing you would do?
A: A 4-day workweek.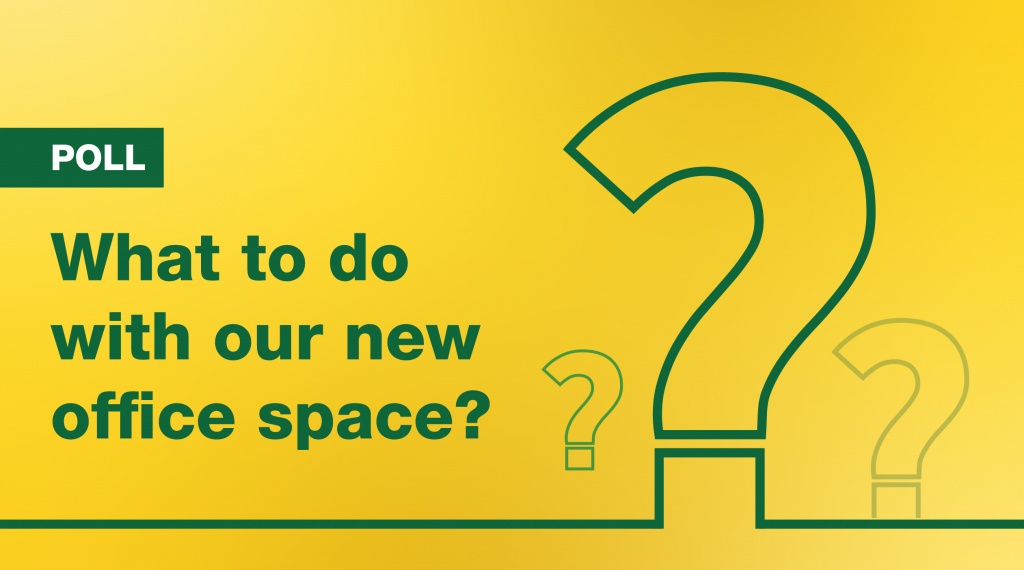 Poll Created by Katharine Marrs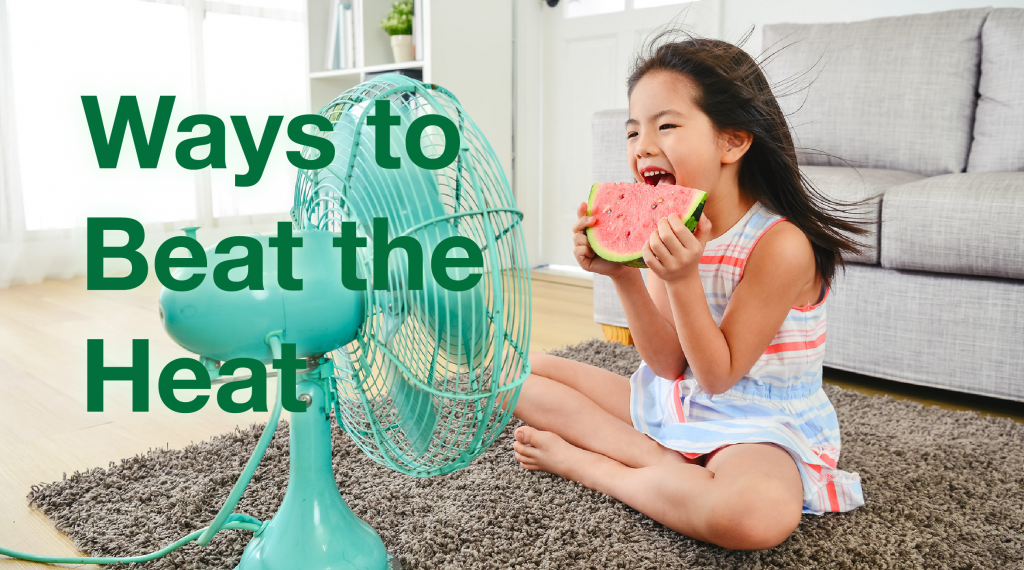 Ways to Beat the Heat!
by Katharine Marrs
Summer heat got you feeling down? Try one of these ideas to cool off!
1. Instead of using the oven or stove to cook dinner, try a crockpot or grill outside to avoid heating up the house.
2. Close off unused space in the house when running air conditioners. If no one's staying in the guest room, it probably doesn't need to be cooled off.
3. Take a quick, cold shower to lower your body temperature.
4. Close curtains to keep extra sunlight from heating up your rooms. Blackout curtains are especially good for this.
5. Keep a couple ice packs or bags of frozen veggies in the freezer, and pull one out to use on your forehead or the back of your neck for some relief.
6. Open windows to get a cross breeze. You can use fans to your advantage here. In the evening, place a fan facing in to your home to capture the cooler air from outside. Then during the day, point the fan outward to send warm air outside.
7. Keep a spray bottle of cold water nearby and give a quick spritz for instant refreshment.
8. Opt for loose fitting, cotton clothing in a light color.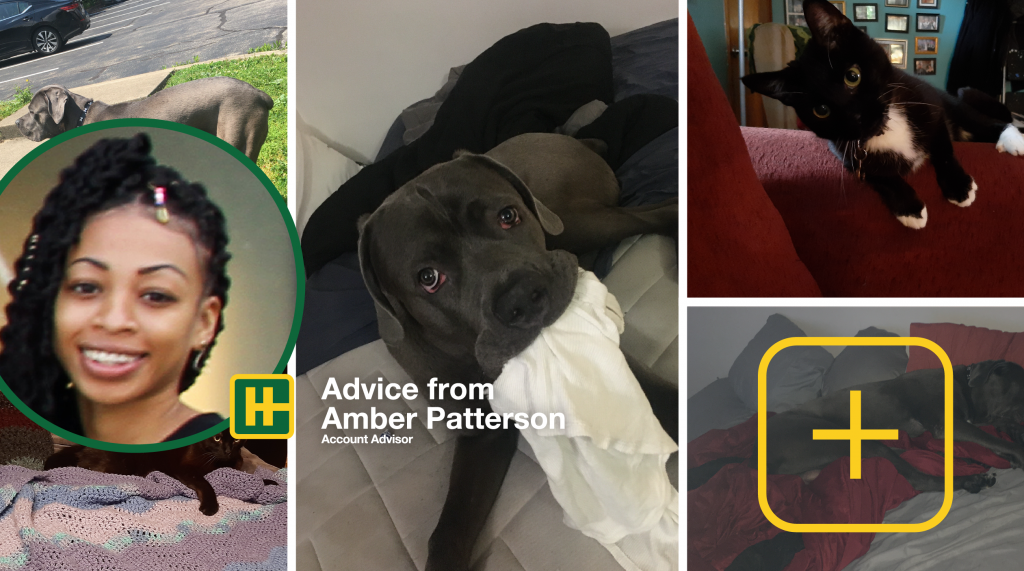 Advice From Amber: The Struggles of Being a Parent of Fur Babies
by Amber Patterson
Q: My cat loves to sleep on the pillows on our bed at night, but my husband is allergic. How can I enjoy my kitty snuggles without setting off his sneezes?
A: I love that Brix is not the only fur baby that does this! Anytime I get out of the bed, Brix tends to keep my spot warm for me. Being a parent of a fur baby, sometimes you have to deal with a little fur, or maybe all the time! Here a few suggestions that may help:
Remove the pillows from the bed until bedtime.
Keep the bedroom or designated sleeping area off limits (baby gates can be great for this).
Give your fur babies pillows of their own to snuggle.
Target training: teaching your fur baby what they're allowed to touch and not allowed to touch can be beneficial, especially when it comes to your contents.
Q: My pets beg for people food all the time. How can I teach them that my snacks are not for them?
A: This is pretty normal! Fur babies can get quite testy when it comes to snacks and treats. When having guests over, you want to make sure they're comfortable, as well as your fur babies. When your guests come over, give them a goodie bag of treats to give to your fur baby. It would help build bonds between your guests and your fur babies and give your guests a little space to move around. During meal time or snack time, I would create a rule for your fur babies that will help them determine that the snacks are not necessarily for them.
Here some suggestions:
If eating at the dinner table, create a line where your fur babies would not be able to cross until meals are finished.

Gates: Gating off the eating area can be very effective.

During meal/snack time, give your fur baby a special snack of their own to help them feel included.
Click here to contact Howard Hanna Insurance Services and discuss your pet insurance options!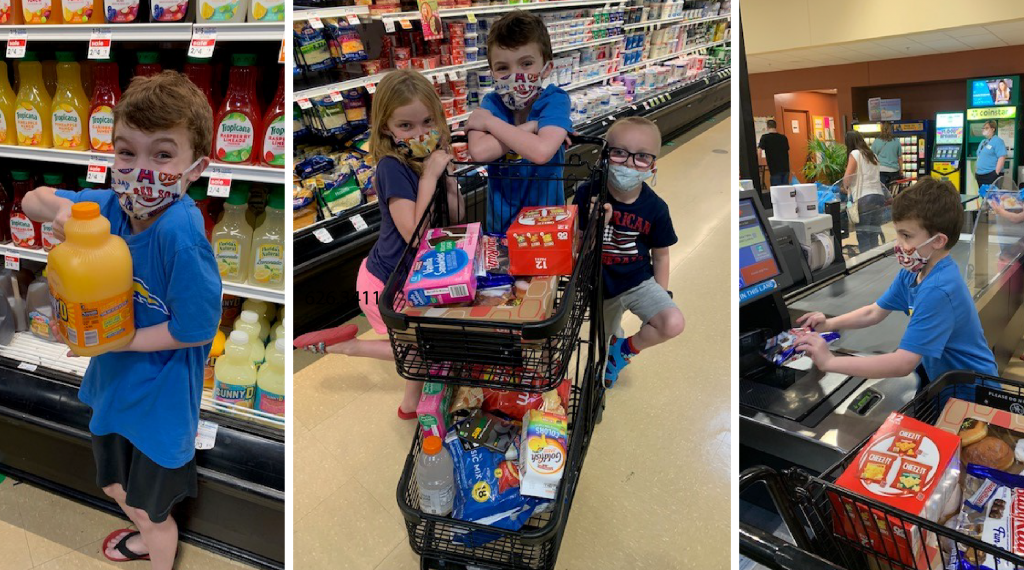 Francis' Corner: The "I love u" Text
by Danielle Shearer
I'll admit, as a mother, I've been a bit naïve when it comes to Francis, or any of my kids, professing their love for me. When I say naïve, I mean I believe that their 'out of the blue' declaration of love for me is pure with no strings attached. Don't get me wrong, I get that sometimes, but typically speaking, it is followed up by an outlandish request.
Just the other night, Francis texted my phone – which was a first by the way! I had never texted with him before. He was texting from an iPad at home and I was on my way home from the office. I found it to be entertaining and stressful all in one—especially after what was a long day. The conversation went something like this. Oh, and I should preface that he calls me "Gigky" instead of "mom." He also made up "Gigky language" when he was young, which is a language where every word in the English language begins with a "g." Now, on to the conversation: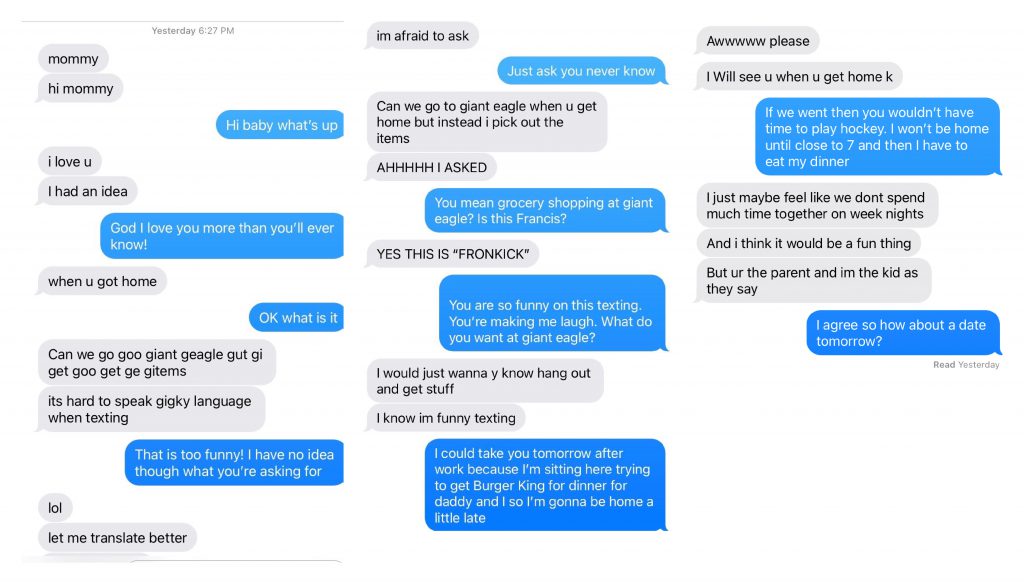 Much to Francis' dismay, we did not end up going to the grocery store that night but when I arrived home, I asked him for the real reason he wanted to go to Giant Eagle. He told me because he wanted to know how it felt to be a grown up and buy his own groceries, plus he wanted snacks to put in his bedroom. And he snuck in wanting a Robux (online currency) gift card. Here are some photos of our "date" to the grocery store. If there is one thing I keep in mind, no matter what the "idea" is, if it includes spending time together, then I'm in!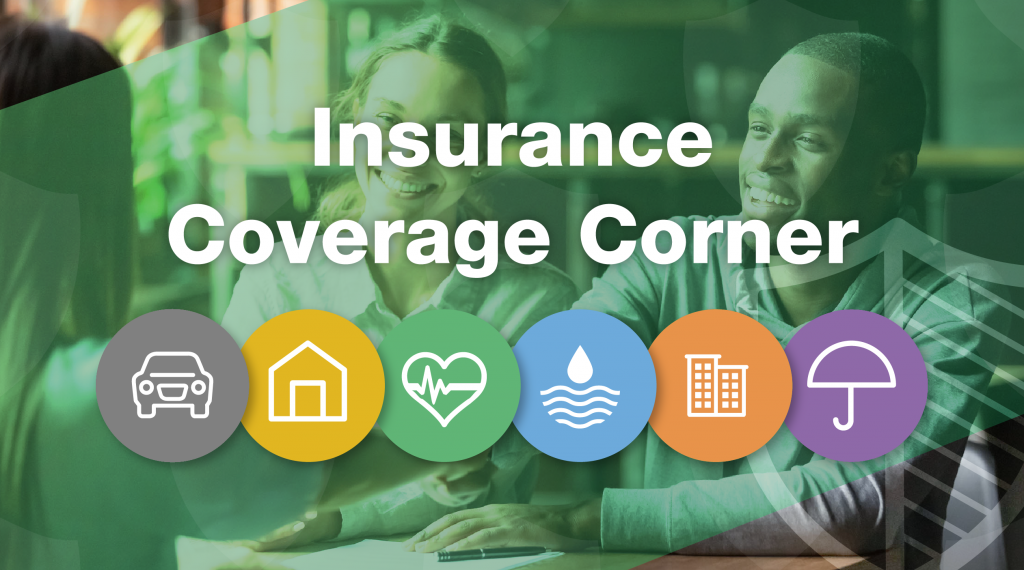 Coverage Corner: Umbrella Coverage
by Katie Zurawka
The umbrella coverage provides extra protection for your assets such as money in the bank, investments, personal property, future wages and retirement funds in the event of an at-fault auto accident, or an incident where you are found liable for damages that exceed the limits on your auto or homeowner's insurance policies.
An expensive judgement is the last thing you want to worry about; and when you require legal defense for a covered claim, the umbrella policy helps cover defense costs such as attorney's fees and other expenses. Everyone can benefit from an umbrella policy. Watch this quick one-minute video, which speaks to the importance of the coverage, and reach out to our team with any questions!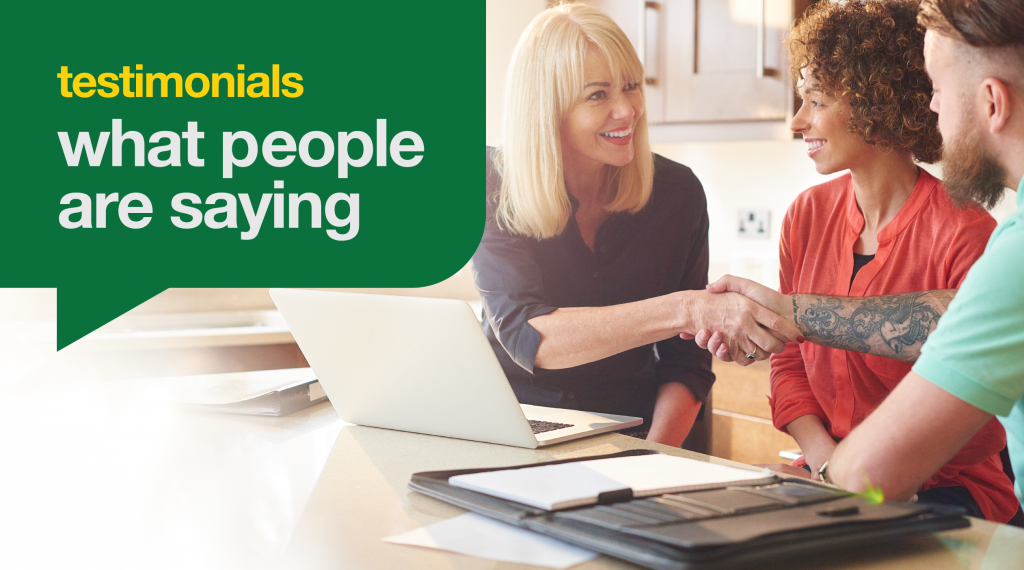 Testimonials From Our Clients
by Howard Hanna Insurance Services
Very straightforward, knowledgeable, and very helpful.
—James M | Cleveland, OH
Great service and good price. Made it easy at closing.
—Warren G. | Newville, PA
Great service. We really loved our agent. They took care of all the details!
—Neal C. | Scottsville, NY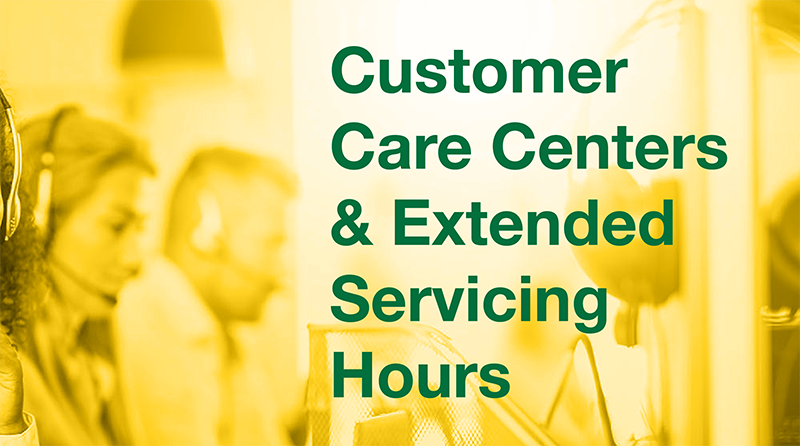 Customer Care Centers & Extended Service Hours
by Howard Hanna Insurance Services
At Howard Hanna Insurance Services, we're committed to delivering the very best customer experience.
That's why we are pleased to announce an enhancement to the insurance services provided exclusively for our customers. We've teamed up with several of our insurance carriers to provide our clients with extended hours of operation and service when it's convenient for you. As always, our office remains available should you have any policy related questions. Here is a list of carriers for which we are proud to offer extended hours for your service needs:
Chubb Insurance: 800-777-2131
Hours of Operation: Monday-Friday 8am-8pm EST, Saturday 10am-6pm
Donegal Service Center: 800-504-6635
Hours of Operation: Monday-Friday 8am-6pm EST
Encompass Insurance: 866-882-9513
Hours of Operation: Monday-Friday 8am-11pm EST, Saturday 9am-5pm
Grange Insurance: 855-293-3828
Hours of Operation: Monday-Friday 8am-7pm EST, Saturday 9am-12pm
Hanover Insurance: OH/MI clients: 800-782-8385, all other states: 855-255-4264
Hours of Operation: Monday-Friday 7am-9:30pm EST, Saturday 9am-5pm
Nationwide Insurance: 800-282-1446
Hours of operation: Monday-Friday 8am-9pm EST, emergency services available on the weekend
Progressive: Auto: 877-776-2436
Hours of operation: 24/7/365
Safeco: 866-472-3326
Hours of operation: 24/7/365
Travelers: 877-872-8737
Hours of operation: 24/7/365
Westfield: personal lines: 844-948-1893, commercial business: 800-236-3884
Hours of operation: Monday-Friday 8am-6pm EST, Saturday 10am-3pm (no Saturdays for commercial). Westfield billing open 8am-8pm Monday-Friday.

What is the Client Portal?
Howard Hanna Insurance Services is pleased to offer our clients exclusive access to our Client Portal. The Client Portal is a personalized web account that provides 24/7 access to your individual policy information. You can access it at home or on the go from your desktop computer, laptop, tablet, or smartphone. You can even access it via a special app, InsurLink!
InsurLink gives you full access to your insurance agency with the intuitive user interface and flexibility of a mobile app. Now you can connect to your insurance agency on your terms and your schedule. Visit the app store and download it from there.
What can I use it for?
View a summary of your policy information.
Request policy changes by sending a direct message to our team.
View, download and print current auto ID cards for all vehicles on your policy.
Manage users to allow other members of your household access to your Client Portal.
Obtain certificates of insurance for commercial policies.
Upload documents securely.
Contact your Howard Hanna Insurance team!
How can I sign up?
It's easy! Email us at insurance@howardhanna.com or call us at 412-696-0310 to request an invitation. We'll send you an email with a link to activate your account.
At Howard Hanna Insurance, we're committed to protecting what matters most to you. Learn more today: HowardHanna.com/Insurance

412-696-0310

(Visited 65 times, 1 visits today)
Tags:
howard hanna insurance services
,
Howard Hanna Insurance Services The Loop
Last modified: July 13, 2021