From the President's Desk
Community Involvement: Meals for Families at the Ronald McDonald House
Share Your Pictures!
Francis' Corner: Roblox Obsession
Customer Care Centers & Extended Servicing Hours
What I've Learned About Myself This Year…
The View From Home
What is the Client Portal?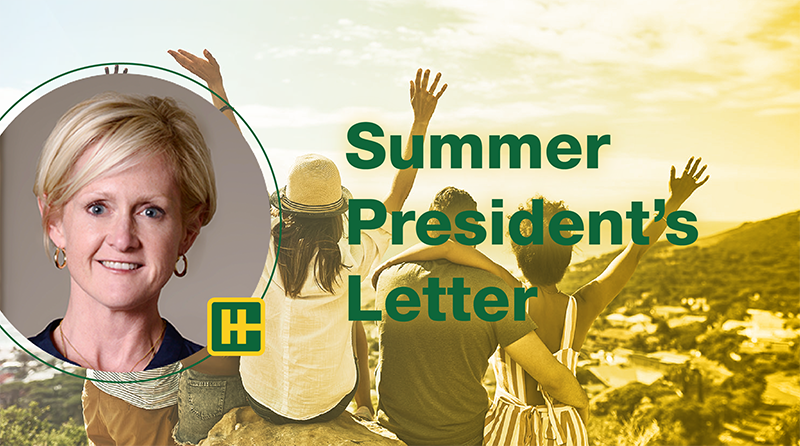 From the President's Desk: Summer President's Letter 2020

Annie Hanna Engel
To say that "we are in unusual times" is an understatement. We hear the phrase "new normal" so often—I've used it myself and paused when I've said it. I've paused because I've been thinking about the opportunities in this normal. The opportunities in these unusual times.
What comes to mind primarily is the opportunity for a better life. It is sad that we get the world that we deserve. The opportunity now is to work harder to make our communities, our citizens, our country and our world a better place. A better life for those who have been challenged, for those who have faced disparity or disparate treatment, a better life for the next generations. Take this time, take this opportunity, to see what steps you can take. Little things mean a lot and there are little opportunities every single day. Stay safe and stay strong.


Annie Engel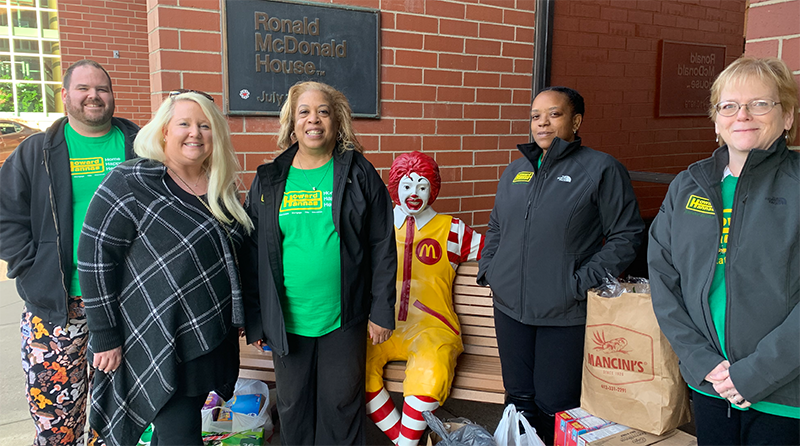 Community Involvement: Meals for Families at the Ronald McDonald House
by Howard Hanna Insurance Services
Howard Hanna Insurance Services recently donated $500 to the Ronald McDonald House of Pittsburgh.
Our agency has volunteered our time there over the past few years, and one of our favorite things to do was to host and cook a meal for the families at the house. Typically, we do this in November during our service week celebration. Anticipating the fact that we will not be able to host or cook this year, we have decided to make this donation instead, especially at a time when they most need it.
The $500 donation will specifically go to the Ronald McDonald House of Pittsburgh and to providing a meal for the families. Our hope is that next year we will be able to resume our volunteer efforts in person!
Tara McHenry, Development Associate: Corporations and Foundations, said of the donation, "$500 will really go a long way, and if I am correct, it should be able to provide TWO full meals for all families currently staying in the House. Thank you! As always, I look forward to continue working together and even more so look forward to a time when your group will be able to join us back in the House. I will keep you posted as our volunteer guidelines change, later in the summer."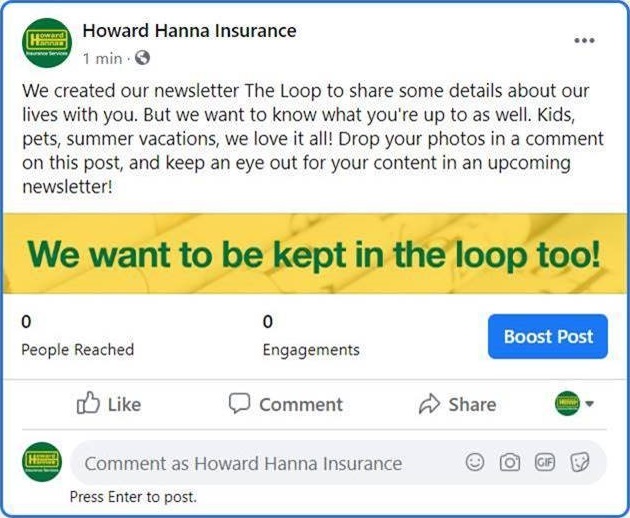 Share Your Pictures!
by Katharine Marrs
We want to know what you're up to as well! Kids, pets, summer vacations, we love it all!
Drop your photos in a comment on our Facebook post by clicking the image above, and keep an eye out for your content in an upcoming newsletter!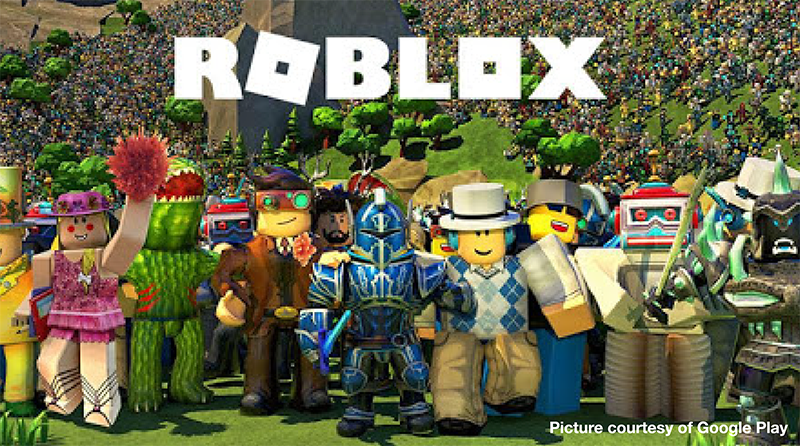 Francis' Corner: Roblox Obsession
by Danielle Shearer
"Oof, trading posts, hammers, gem stones."
Those are just some of the terminology I hear on a regular basis now. In case you are unfamiliar, these terms are unique to an online global platform where millions of people gather together every day to play games and live in an alternate reality. That platform is Roblox.
Francis is obsessed with it and recently has been speaking a language that I have trouble understanding, otherwise known as "Roblox slang." For instance, just the other night he said, "Sissy, I have two blue gemstones to take to the trading post and I just changed my avatar to include a Doge scarf."
He also has decided purchasing Robux (virtual currency) is more important than his college education. In other words, he's fine with depleting his savings account if that means he can purchase a watermelon shark and an Uno card to add to his avatar attire.
It's all a bit overwhelming to me, including dinner time when he's finished and blasting YouTube videos of others playing Roblox. I've asked him why he does that and he says so he can get ideas from them on how to play the games better. If I had a dollar for every time I said, "Francis, turn it down," I'd be able to buy some gemstones of my own!
Why am I telling you all of this? Well, I guess I'm hoping someone else out there can relate.
There is some positive though that has come of all of this madness: LEVERAGE. For example:
"Francis, take out the garbage."
He ignores me.
Again, "Francis, take out the garbage."
He continues to ignore me.
"Francis, no Roblox for a week."
Somehow the garbage is done! Plus, he's asking what other chores need to be done?
As they say, "this too shall pass," and he'll be on to the next craze before I know it.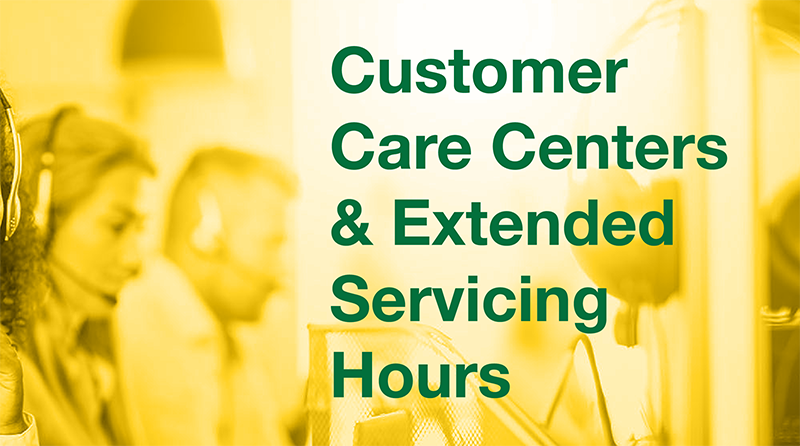 Customer Care Centers & Extended Servicing Hours
by Howard Hanna Insurance Services

At Howard Hanna Insurance Services, we're committed to delivering the very best customer experience.
That's why we are pleased to announce an enhancement to the insurance services provided exclusively for our customers. We've teamed up with several of our insurance carriers to provide our clients with extended hours of operation and service when it's convenient for you. As always, our office remains available should have you have any policy related questions. Here are the following carriers for which we are proud to offer extended hours for your servicing needs:
Chubb Insurance: 800-777-2131
Hours of Operation: Monday-Friday 8am-8pm EST, Saturday 10am-6pm
Encompass Insurance: 866-882-9513
Hours of Operation: Monday-Friday 8am-11pm EST, Saturday 9am-5pm
Grange Insurance: 855-293-3828
Hours of Operation: Monday-Friday 8am-7pm EST, Saturday 9am-12pm
Hanover Insurance: OH/MI clients: 800-782-8385, all other states: 855-255-4264
Hours of Operation: Monday-Friday 7am-9:30pm EST, Saturday 9am-5pm
Nationwide Insurance: 800-282-1446
Hours of operation: Monday-Friday 8am-9pm EST, emergency services available on the weekend
Progressive: Auto: 877-776-2436
Hours of operation: 24/7/365
Safeco: 866-472-3326
Hours of operation: 24/7/365
Travelers: 877-872-8737
Hours of operation: 24/7/365
Westfield: personal lines: 844-948-1893, commercial business: 800-236-3884
Hours of operation: Monday-Friday 8am-6pm EST, Saturday 10am-3pm (no Saturdays for commercial). Westfield billing open 8am-8pm Monday-Friday.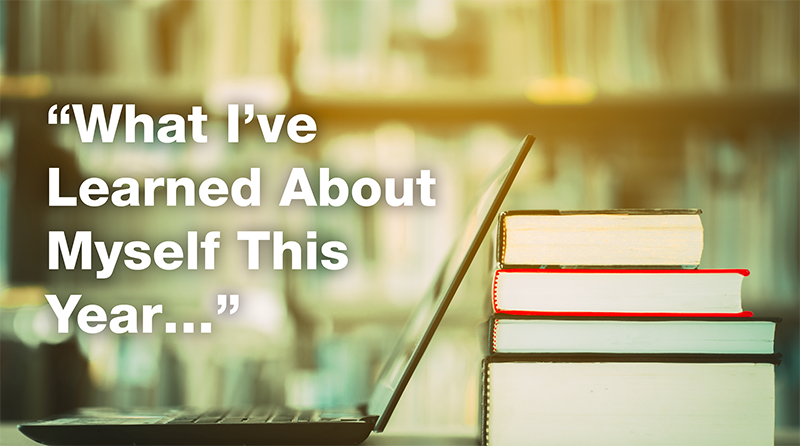 What I've Learned About Myself This Year…
by Jessica Entwistle

In uncertain times, I have witnessed strength, courage, hope and unity among my colleagues, and thought I would take a moment to share the perspectives and tidbits of wisdom we've gained on this year's journey!
What I've learned about myself this year:
"Maintaining a positive, helpful attitude and learning patience rules the day." ~SR
"I've learned I am resilient in the face of change. No matter where my work space may be, I will continue to be efficient and deliver high levels of service." ~JE
"My husband and I have opposite work schedules. Before working from home, we saw each other, at most, an hour in the mornings and over the weekend. Over the last few months, I've loved seeing him throughout the day and enjoying lunch and dinner together. I am thankful for the extra time we spend together." ~DG
"I've learned about awareness and how good deeds affect and impact others." ~MK
"I have learned that I can sit very, very still for long periods of time while I work, so as not to disturb the cat on my lap." ~KM
"I've learned to appreciate what I have. In being humbled, I now know there is a strength in me I never knew existed." ~AJ
"I am determined, excited about change and how it has opened my mind to many possibilities. I'm working on challenging myself and changing my mindset to welcome the unknown." ~DS
Embrace your strength, recognize your courage, believe in hope and unite in solidarity. 2020's not over yet!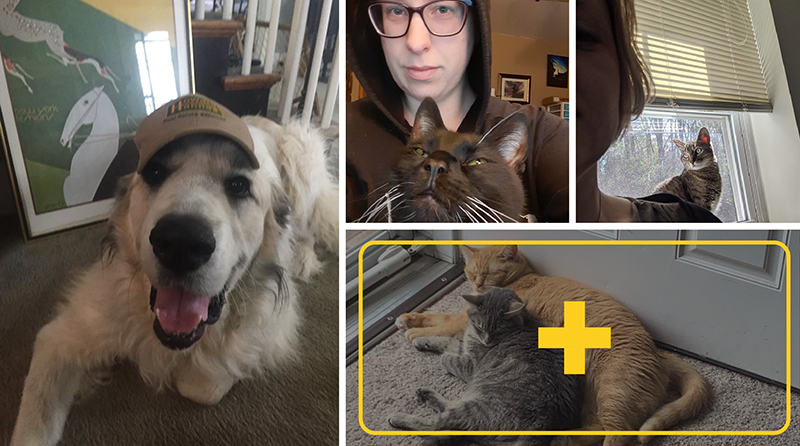 The View From Home
by Katharine Marrs
The office looks a little different now with more team members staying connected by Zoom call instead of face-to-face. We've learned to operate in some new ways to make sure we're still caring for our clients in a way that makes us proud every day.
But working from home does mean we've got some of the cutest little helpers as honorary team members. We'd like to share our view from home with you. Here's what we've been up to!

What is the Client Portal?

Howard Hanna Insurance Services is pleased to offer our clients exclusive access to our Client Portal. The Client Portal is a personalized web account that provides 24/7 access to your individual policy information. You can access it at home or on the go from your desktop computer, laptop, tablet, or smartphone. You can even access it via a special app, InsurLink!
InsurLink gives you full access to your insurance agency with the intuitive user interface and flexibility of a mobile app. Now you can connect to your insurance agency on your terms and your schedule. Visit the app store and download it from there.
What can I use it for?
View a summary of your policy information.
Request policy changes by sending a direct message to our team.
View, download and print current auto ID cards for all vehicles on your policy.
Manage users to allow other members of your household access to your Client Portal.
Obtain certificates of insurance for commercial policies.
Upload documents securely.
Contact your Howard Hanna Insurance team!
How can I sign up?
It's easy! Email us at insurance@howardhanna.com or call us at 412-696-0310 to request an invitation. We'll send you an email with a link to activate your account.
At Howard Hanna Insurance, we're committed to protecting what matters most to you. Learn more today: HowardHanna.com/Insurance
412-696-0310

(Visited 65 times, 1 visits today)
Tags:
Howard Hanna Insurance Services The Loop
Last modified: July 16, 2020